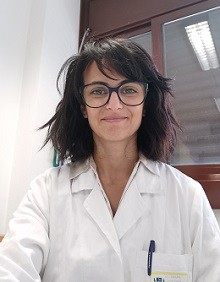 Dr. Paola Di Benedetto graduated with a degree in Biological Science from "La Sapienza" University of Rome. In 2013, she received her PhD in Internal Medicine and Applied Immunology at University of L'Aquila. Afterwards, from 2013 until 2015, she was a post-doc fellow at University of L'Aquila. Furthermore, she was invited Visiting Research Fellow at University of Leeds (UK), focusing her research activity on the identification of new biomarkers in autoimmune diseases. She has carried out several studies on Systemic Sclerosis pathogenesis, focusing on the mechanisms that starting with vascular damage leads to fibrosis. Beginning with the characterization of mesenchymal stem cells isolated from SSc patients, she has systematically documented the molecular alterations and immunomodulatory properties of these MSCs. At present, Paola Di Benedetto is Assistant Professor in Clinical Pathology at University of Aquila and co-author of over 49 published scientific articles and reviews.
RESEARCH
Interleukin-32 in systemic sclerosis, a potential new biomarker for pulmonary arterial hypertension
Paola Di Benedetto et al.
Arthritis Research & Therapy 2020 22:127
Published on: 1 June 2020

Other published articles in Arthritis Research & Therapy by Dr. Di Benedetto can be found here.