Arthritis and pain. Future targets to control osteoarthritis pain
Arthritis Research & Therapy
2007
9:212
Abstract
Clinical presentation of osteoarthritis (OA) is dominated by pain during joint use and at rest. OA pain is caused by aberrant functioning of a pathologically altered nervous system with key mechanistic drivers from peripheral nerves and central pain pathways. This review focuses on symptomatic pain therapy exemplified by molecular targets that alter sensitization and hyperexcitability of the nervous system, for example, opioids and cannabinoids. We highlight opportunities for targeting inflammatory mediators and their key receptors (for example, prostanoids, kinins, cytokines and chemokines), ion channels (for example, NaV1.8, NaV1.7 and CaV2.2) and neurotrophins (for example, nerve growth factor), noting evidence that relates to their participation in OA etiology and treatment. Future neurological treatments of pain appear optimistic but will require the systematic evaluation of emerging opportunities.
Keywords
Nerve Growth FactorDorsal Root GanglionNeuropathic PainCapsaicinTransient Receptor Potential Vanilloid
Introduction
Osteoarthritis (OA) is recognized by degeneration of articular cartilage, synovitis, remodeling of subchondral bone and atrophy/weakness of joint muscles. Clinical presentation is dominated by pain during joint use and often at rest. There are circadian variations in pain severity in both knee and hand OA, with pain worsening in the evening [1, 2]. Pain frequency and intensity has been related to obesity, helplessness and education as well as a significant co-morbid association with anxiety and depression [3].
There are major distinctions between physiological and pathophysiological (chronic) pain. Physiological pain is a necessary defense mechanism, related directly to the degrees of existing or imminent tissue damage, and is essential for survival. On the other hand, chronic pain serves no defensive or helpful function, since neither the intensity nor quality of chronic pain is related to the degree of tissue damage and may persist long after the resolution of any initial insult. Chronic pain (nociceptive or neuropathic) is now recognized as a manifestation of an aberrant functioning of a pathologically altered nervous system. Pain therapy, and the emerging pharmacology, is seen in terms of symptomatic treatment (through modulation of aberrant function, that is, neural excitability) and disease modification (through neural restoration of physiological pain processing). This is the context in which we will develop new therapies and will be the focus of this review. However, this does not deny that disease modifying approaches, for example, to resolve joint or cartilage degeneration, may also impact on OA pain.
Pain in OA, like other chronic pain conditions, is a complex integration of sensory, affective and cognitive processes that involves a number of abnormal cellular mechanisms at both peripheral (joints) and central (spinal and supraspinal) levels of the nervous system. The relative contribution of these processes in the OA population appears to be strongly segmented. Intra-articular anesthetic studies in hip and knee OA support a peripheral drive to pain in approximately 60% to 80% of patients, depending on the affected joint [3, 4]. In some individuals, however, central mechanisms, for example, dysfunction of descending inhibitory control [5] or altered cortical processing of noxious information, may play a greater role [6].
With such patient heterogeneity, identifying pharmacological targets of the future is fraught with issues. Biomarker development and patient stratification will need to be progressed in parallel to ensure 'tailor-made treatment'. More narrow titration of preclinical activities, for example, animal models, in vitro assays and so on, to specific patient subsets may also be required to improve predictability in humans. Nevertheless, rational mechanistic approaches can be taken. Alterations in the physiology of sensory pathways, such as sensitization (reduced threshold for stimulation), hyper-excitability (amplification or prolongation of nerve discharge) or spontaneous nerve activity, can be associated with specific molecular changes.
In this review we have selected examples of emerging pharmacology for the treatment of OA pain (Figure
1
). Where appropriate, examples of inflammatory and neuropathic pain pharmacology have been highlighted, since there is continuing discussion as to whether components of osteo-arthritic pain are also neuropathic (see [
7
] for a review). Ultimately, in any patient, multiple algogenic mechanisms may underpin the pain experience. Combinations of pharmacological approaches may, therefore, be a requirement for effective pain management. However, 'chasing' efficacy with combinations will need to be balanced against the cumulative safety burden of treatments. Indeed, OA patients (particularly the elderly) may be willing to forgo efficacy in favor of lower adverse event risk [
8
].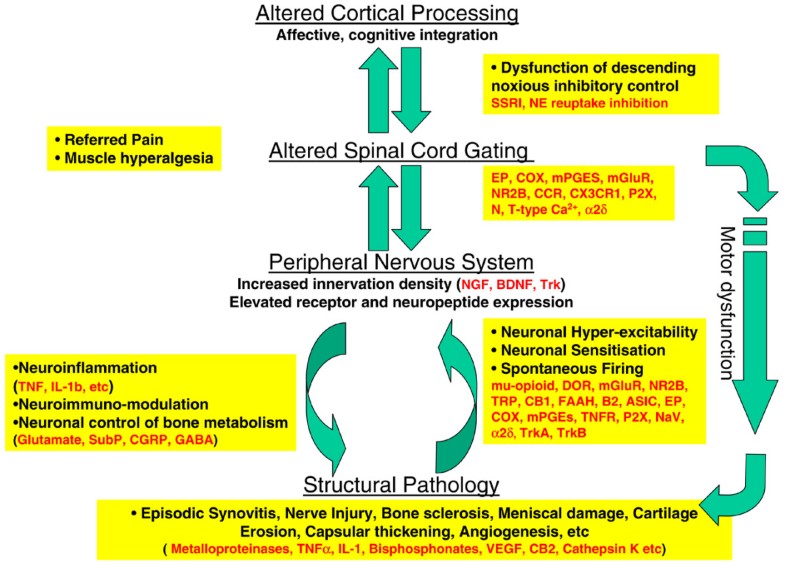 Functional assessment and animal models
Predicting efficacy of novel targets in patients using preclinical models has been a key theme in analgesic drug development. Animal models of cutaneous inflammatory pain were developed initially as pharmacodynamic assays of anti-inflammatory drug activity, particularly for NSAIDs. Typically, primary endpoints were reduction in hindpaw swelling, induced by Freund's adjuvant or carrageenan, and reflex limb withdrawal to a mechanical stimulation. At this time, the lack of activity of NSAIDs in models of acute nociceptive pain, such as the tail-flick [165] and hot plate assays [166], raised an awareness that clinical pain pathophysiology and pharmacology, in which a sensitized state is induced in the presence of inflammation (or nerve damage), differ significantly from normal physiological pain observed in healthy animals. From that time a major emphasis on models that reproduce specific elements of chronic pain have allowed the systematic mechanistic exploration of excitability changes in pain pathways [167]. This has also provided the building blocks for rational translation of findings in animal models, for example, pharmacodynamic/pharmacokinetic measures of the reduction of neuro-excitability and pain behavior to reduction of clinical pain.
However, there is concern that current models still lack the tissue and disease specificity of some key patient populations. OA pain is an example where an improved clinical understanding of joint pathology and its relationship to pain can focus disease specific approaches. Magnetic resonance imaging studies have reported significant association of specific tissue pathologies such as subchondral bone lesions, synovial thickening and knee effusion with pain [168–170]. These clinical observations, along with histopathology samples from joint arthroplasty, synovial fluid collections and so on, allow an investigation of specific elements of structural pathology, the potential mediators involved and the presence/absence of pain. It is clear that while no single animal model replicates human OA, specific elements can be modeled in animals. The choice of model, interpretation of endpoints and translation to the clinic are critical future challenges in therapeutic development.
While a comprehensive analysis of OA models is beyond the scope of this review, recent developments have focused on intra-articular injection of monoiodoacetate into rodent femorotibial joint or surgical destabilization of the joint in rats and guinea pigs. These models seek to emulate aspects of OA pathology. For example in the monoiodoacetate model following chondrocytic cell death and cartilage fragmentation, a subchondral bone lesion develops with active resorption and remodeling of cancellous bone typically by day 21. Inflammation is observed as mononuclear cell infiltrates and hyperplastic synovium but this is transient and resolves [171–173]. In addition, mechanical allodynia (weight bearing) [173, 174] and mechanical hyperalgesia (von Frey hair stimulation) [175] are exhibited. Further characterization shows that, in the early stages, there is sensitivity to NSAIDs [173, 174] whereas later stages appear to demonstrate evidence of nerve damage with elevated activating transcription factor-3 (ATF-3) immunoreactivity in innervating cell bodies of lumber-DRG and sensitivity to morphine, amitriptyline and gabapentin [173, 176]. The correlation of bone lesion with onset of ATF-3 immunoreactivity makes osteoclast-induced injury or mechanical compression of bone Aδ and C-fibres candidate mechanisms for nerve damage. These observations indicate the importance of relating animal model histopathology with clinical samples to gain understanding of putative analgesic targets and to propose clearer hypotheses for testing. Detailed translation of this kind may also be applied to the analysis of OA heterogeneity and the evaluation of personalized approaches to OA treatments.
Summary and conclusion
Clinical presentation of OA is dominated by pain during joint use and often at rest. Effective pain therapy has been a key therapeutic challenge not only in OA but in a variety of chronic pain disorders. OA represents a complexity of pain conditions, including manifestations of both nociceptive and neuropathic mechanisms driven by joint pathophysiology and abnormal excitability in peripheral and central pain pathways. A mechanisms-based focus on the key molecular drivers of neural excitability offers a multiplicity of possible intervention points. Indeed, a rich diversity of molecular events has been identified in the pathophysiology of chronic pain, representing most families of regulatory proteins. Many molecules are inflammatory mediators and their key receptors (kinins, mPGES) while others, such as ion channels (TRPV1, NaV1.7) and NTs (NGF), are key regulators of membrane excitability and cellular phenotype. We have highlighted these and a number of other important targets for future pain therapy, noting in particular evidence that relates to their participation in animal model systems of OA, translatability to humans as well as efficacy in the clinical setting. The future treatment of pain appears optimistic but will require the systematic evaluation of emerging opportunities.
Abbreviations
ATF-3:

= activating transcription factor-3
AMPA:

= α-amino-3-hydroxy-5-methylisoxazole-4-proprionate
ASIC:

= acid-sensing ion channel
BDNF:

= brain-derived neurotrophic factor
BoNT:

= botulinum toxin
CCL:

= CC chemokine ligand
CGRP:

= calcitonin gene-related peptide
CNS:

= central nervous system
COX:

= cyclo-oxygenase
cPGES:

= cytosolic PGE synthase
DOR:

= delta opioid receptor
DRG:

= dorsal root ganglion
EP:

= E prostanoid receptor
GFR:

= glial cell line-derived neurotrophic factor receptor
GDNF:

= glial-derived neurotrophic factor
iGluR:

= ionotropic glutamate receptor
IL:

= interleukin
mGluR:

= metabotropic glutamate receptor
MPEP:

= 2-methyl-6 [phenylethynyl]-pyridine
mPGES:

= membrane or microsomal PGE synthase
NGF:

= nerve growth factor
NMDA:

= N-methyl-D-aspartate
NSAIDs:

= non-steroidal anti-inflammatory drugs
NT:

= neurotrophin
OA:

= osteoarthritis
P2X:

= purinergic 2X ionotropic receptor
PG:

= prostaglandin
PGES:

= PGE synthase
TNF:

= tumor necrosis factor
TNP-ATP = 2':

3'-O-(2,4,6-trinitrophenyl)-adenosine triphosphate
Trk:

= tyrosine kinase
TRP:

= transient receptor potential
TRPV:

= TRP vanilloid
TTX:

= tetrodotoxin
UV:

= ultra-violet
VAS:

= visual analogue scale.
Authors' Affiliations
(1)
AstraZeneca R&D Montreal, Montreal, Canada
(2)
AstraZeneca R&D, Macclesfield, UK
Copyright
© BioMed Central Ltd 2007