Antiphospholipid syndrome
Arthritis Research & Therapy
2008
10:230
Published: 15 December 2008
Abstract
Antiphospholipid syndrome is diagnosed when arterial or venous thrombosis or recurrent miscarriages occur in a person in whom laboratory tests for antiphospholipid antibodies (anticardiolipin antibodies and/or lupus anticoagulant and/or anti-beta 2-glycoprotein I) are positive. Despite the strong association between antiphospho-lipid antibodies and thrombosis, their pathogenic role in the development of thrombosis has not been fully elucidated. Novel mechanisms involving both the complement pathway and micro-particles have been described. The knowledge of these new pathogenic approaches might identify novel therapeutic targets and therefore may improve the management of these patients.
Keywords
Systemic Lupus Erythematosus
Systemic Lupus Erythematosus Patient
Tissue Factor
Thrombotic Thrombocytopenic Purpura
Fetal Loss
Introduction
Antiphospholipid syndrome (APS) is characterized by venous or arterial thromboses, fetal losses and thrombocytopenia, in the presence of antiphospholipid antibodies (aPL) (namely lupus anticoagulant (LA)), anticardiolipin antibodies (aCL) or antibodies directed to various proteins, mainly beta 2-glycoprotein I (β2GPI), or in the presence of all three [1].
Despite the strong association between aPL and thrombosis, the pathogenic role of aPL in the development of thrombosis has not been fully elucidated. The aPL have been implicated in reactions that interfere with almost all known hemostatic and endothelial cell reactions [2]. Some evidence regarding the effect of aPL on the complement has been described recently, and related to pregnancy complications and thrombosis [3]. Given the heterogeneity of clinical manifestations in APS it is likely that more than one pathophysiological process may play a role.
Regarding the clinical spectrum of APS, any combination of vascular occlusive events may occur in the same individual and the time interval between the events also varies considerably from weeks to months or even years. Deep vein thrombosis is the most frequently reported manifestation in this syndrome, whereas cerebrovascular accidents are the most common arterial thrombotic manifestations. Early and late fetal losses, premature births and pre-eclampsia are the most frequent fetal and obstetric manifestations [4]. Additionally, several other clinical features such as thrombocytopenia, livedo reticularis, and heart valve lesions are relatively common in these patients. Finally, a large variety of unusual clinical manifestations, with prevalence <5%, have been described in APS patients. These unusual manifestations include, among others, large peripheral artery occlusions, chorea, transverse myelopathy, adult respiratory distress syndrome, and avascular necrosis of the bone [5].
With respect to the treatment of APS, there is consensus in treating patients with APS and first venous thrombosis with oral anticoagulation to a target International Normalized Ratio of 2.0 to 3.0 [6]. A recent systematic review recommended a target International Normalized Ratio >3.0 in the group of patients with APS and arterial thrombosis [7]. The approach for women with obstetric manifestations of APS is based on the use of aspirin plus heparin [8].
The aim of the present review is focused on some recent aspects of pathogenesis, clinical manifestations, and treatment of APS.
Pathogenetic mechanisms in APS
Clinical aspects of APS
The classical clinical picture of APS is characterized by venous, arterial or small vessel thrombosis, fetal losses, and thrombocytopenia, in the presence of aPL. Deep vein thrombosis is the most frequently reported manifestation in this syndrome. Conversely, cerebrovascular accidents are the most common arterial thrombotic manifestations. Early fetal loss, late fetal loss, premature births, and pre-eclampsia are the most frequent fetal and obstetric manifestations [45].
In spite of the persistence of aPL, clinical manifestations of APS only appear occasionally. The aPL are not able to produce their effects by themselves, and they need a priming factor. This fact has been demonstrated in vitro by Fischetti and colleagues [31]. They showed a growing thrombus after infusion of aPL in rats only after a prior stimulation with intra-peritoneal lipopolysaccharide. In vivo, Vega-Ostertag and colleagues demonstrated platelet aggregation induced by aPL only in the presence of suboptimal doses of thrombin [46]. These priming factors might be the initial step in inducing cellular activation by aPL.
Nonthrombotic manifestations of APS
Other clinical manifestations, not directly associated with the presence of underlying thrombotic lesions, have been less frequently described in patients with APS. For instance, some neurologic manifestations such as cognitive dysfunction or demyelinization might be related to aPL–cellular interactions, possibly because of a disrupted blood-brain barrier or an increased intrathecal synthesis of aPL [47]. Experimental studies have demonstrated the inhibition of astrocyte proliferation and the nonspecific permeabilization and depolarization of synaptoneurosomes induced by aPL. Furthermore, not only thrombotic occlusion of capillaries but also a combination with mild inflammation were the main findings in mouse brain tissue examination.
The exact etiologic role of aPL in APS-associated transverse myelitis remains to be established. A direct interaction between aPL and cellular elements of the central nervous system, rather than aPL-associated thrombosis, seems to be a more plausible mechanism. Patients with an APS-related transverse myelitis, especially those with recurrent episodes, may have an unrecognized myelin-specific antibody.
Pulmonary capillaritis, not thrombosis, appears to be the predominant pathology of the APS patients with diffuse alveolar hemorrhage. Deane and West provide a speculative hypothesis to explain the development of vasculitis as the etiology of this entity [48]. In accordance with their hypothesis, aPL-induced upregulation of endothelial cell adhesion molecules with subsequent neutrophil recruitment and migration into the alveolar septae may induce tissue destruction and hemorrhage. The C5a-mediated neutrophil activation may contribute to this tissue injury [3].
Another example of inflammation as a basis of pathogenic mechanisms of aPL is the abovementioned role of complement in fetal losses in APS patients [49]. In short, complement activation products may cause an imbalance of angiogenic factors required for normal pregnancies. Insufficient placental vasculature has been associated with obstetric problems [3].
Catastrophic APS
A small number of patients suffer from a potential life-threatening variant of APS – catastrophic APS, characterized by multiple small vessel thromboses that can lead to multiorgan failure [50]. Catastrophic APS is an unusual form of presentation that represents <1% of APS cases. Patients with catastrophic APS, however, usually end-up in a life-threatening situation [51].
In the recent paper from Bucciarelli and colleagues, the mortality has clearly fallen by some 20% [
52
] – due, in all probability, to energetic and early therapies such as plasma exchange, intravenous immunoglobulin, full anticoagulation, and parenteral steroids (Figure
2
). The disorder is characterized by a diffuse thrombotic microvasculopathy, with microthrombosis being the main finding of necropsy studies [
52
].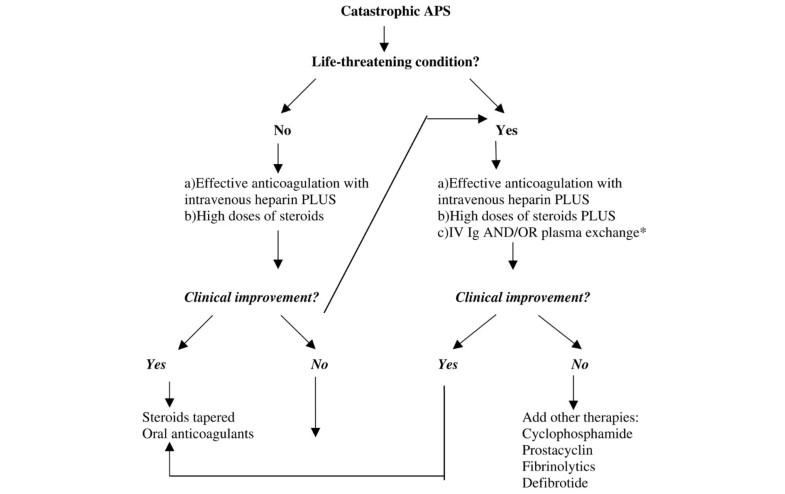 The mechanisms of causation and pathogenesis of catastrophic APS are not completely understood. A possible mechanism for catastrophic APS is the systemic inflammatory response syndrome, which is presumed to be due to excessive cytokine release from affected and necrotic tissues. Catastrophic APS is characterized by multiple microvascular thrombotic events, of rapid onset, causing multiorgan failure – a picture suggestive of septic shock in which there is a massive, acute inflammatory response. At present, this hypothesis remains theoretical.
Microangiopathic APS
The term microangiopathic APS has been introduced recently to refer patients with aPL and clinical features of thrombotic microangiopathy, such as thrombotic thrombocytopenic purpura or hemolysis, elevated liver enzymes, and low platelet count syndrome [53]. There is usually accompanying hemolytic anemia, often severe thrombocytopenia, and the presence of schistocytes. At present, it is suggested that the aPL detected in this group of patients may be generated by endothelial cell perturbation and damage.
Therapeutic aspects of APS
In accordance with a recent systematic review, patients with definite APS with first venous thrombosis have to be treated with prolonged oral anticoagulation at a target International Normalized Ratio of 2.0 to 3.0 and >3.0 for those with recurrent and/or arterial events [7]. The approach for women with obstetric manifestations of APS is based on the use of aspirin plus heparin [8]. Aspirin in monotherapy, however – best started before conception – still has a role to play in particular patients such as those with recurrent early miscarriages [54].
How can the treatment of APS patients be improved?
One important and novel aspect of APS is that patients should be stratified and treated according to some clinical and immunologic characteristics in addition to the aPL positivity [1].
Additional vascular risk factors
It is advisable to categorize APS patients according to the presence or not of classic thrombophilic risk factors such as hypertension, diabetes mellitus, hypercholesterolemia, or tobacco use because they may contribute to modifications in the eventual risk factor profile [55]. Close control of these factors has to be an important clue in the management of patients with APS and thrombosis. In addition, it is also important to take into account whether the patient has an inherited thombophilia.
Profile of antiphospholipid antibodies
Patients with LA, aCL IgG at high titers, or anti-β2GPI antibodies plus LA or aCL have the highest thrombotic risk [9]. Closer clinical and therapeutic monitoring (to ensure a correct International Normalized Ratio) is advisable in patients with thrombosis and any of these immunological profiles. In the newly revised classification criteria for APS, it is advisable to classify APS patients into different categories according to their aPL profile [1]. There is no evidence, however, for the effectiveness of more intensive therapy in these patients.
Persistence of antiphospholipid antibody positivity
Another point to bear in mind is the profile and the persistence of aPL positivity with time. At present, there is no evidence for the usefulness of repeat aPL testing on patients who meet the criteria for APS. A recent prospective study in patients with systemic lupus erythematosus, however, has demonstrated that LA-positive patients had a highly increased risk of thrombosis, both at the arterial and venous levels. Interestingly, LA-negative patients with persistently positive aCL (defined as positive in more than two-thirds of the determinations) had increased risk of thrombosis at the expense of arterial events, whereas in LA-negative and transiently aCL-positive patients (defined as positive on at least two occasions but on less than two-thirds of the determinations) the risk of thrombosis – both arterial and venous – was no different from that in aPL-negative systemic lupus erythematosus patients [56]. Similar results were obtained by our group in patients with APS [57]. The adjusted risk for recurrent thrombosis during follow-up was increased in persistently positive aPL patients (defined as >75% of the aPL determinations positive during follow-up) compared with transiently positive aPL patients. The profile of persistently positive aPL related with the appearance of thrombosis during follow-up was the combination of aCL IgG plus LA. The role of high aCL titers (≥ 40 GPL or MPL), a laboratory criterion for APS diagnosis, in the recurrent thrombosis risk was not performed in these two studies.
These findings open the door to identify a subset of APS patients in which the aPL test turns repeatedly negative and who possibly are no longer at increased risk for thrombosis. Although the anticoagulation withdrawal may be safe in APS patients when aCL antibodies become negative [58], further evidence describing the clinical importance of a disappearance of aPL is needed to recommend this approach.
The dark zone
Although a set of classification criteria has been established to stratify the thrombotic risk of APS, some patients present diagnostic and therapeutic dilemmas. One example of this is the patient with thrombosis and repeated low titers of aCL or anti-β2GPI antibodies and negative LA. In this case, the diagnostic problem is due to the absence of data to establish the threshold between moderate–high levels and low levels. From the therapeutic point of view, commonsense dictates the need for anticoagulation in a similar manner to a patient who follows the laboratory criterion of APS. Another important diagnostic problem is to know the sensitivity and the specificity of some clinical features such as livedo reticularis, nonbacterial thrombotic endocarditis, seizures, or nephropathy. The recently updated classification criteria for APS indicate that these clinical characteristics are frequently related with aPL. Their inclusion as classification criteria for definite APS, however, may decrease the diagnostic specificity [1]. Using commonsense, faced with a patient with renal thrombotic microangiopathy and persistent positivity for aPL, we have to act as is suitable for classic APS; that is, initiate long-term anticoagulation.
Another interesting group of patients who represent diagnostic problems is constituted of those with classic features of APS whose tests remain persistently negative. These patients suffer from the named seronegative APS, and anticoagulation is required [59].
Apart from these diagnostic controversies, the second dark point is the therapeutic approach in asymptomatic carriers of aPL. Based on current evidence, it seems very important to stratify these individuals according to the presence of traditional congenital or acquired procoagulant risk factors, the coexistence of an underlying autoimmune disease (systemic lupus erythematosus in particular), and the profile of aPL (persistently positive aCL and/or anti-β2GPI antibodies at moderate/high titers and/or unequivocal LA) to consider a primary prophylactic therapy with low-dose aspirin (75 to 100 mg daily) [60]. In addition, cessation of estrogen-containing oral contraceptive use, treatment of vascular risk factors if present, and the avoidance of smoking are all additional recommended therapeutic measures. Prophylaxis with heparin administered subcutaneously should certainly be given to cover higher-risk situations, such as surgery. Moreover, hydroxychloroquine may be protective against the development of thrombosis in aPL-positive patients with systemic lupus erythematosus.
The future
The extensive knowledge of new pathogenic mechanisms of aPL allows the identification of potential therapeutic targets in APS patients [61]. In this sense, statins that have shown anti-inflammatory properties inhibiting the aPL-mediated increase of tissue factor in cultured human endothelial cells and angiotensin-converting enzyme inhibitors that inhibit the monocyte tissue factor expression might have a role in the armamentarium of APS in the future. The inhibition of complement, NFκβ, and p38 mitogen-activated protein kinase will probably open new therapeutic possibilities in these patients.
The molecular mimicry between bacterial or viral antigens and certain regions of the β2GPI structure to explain the induction of aPL from infectious agents is the basis for using synthetic peptides to inhibit the thrombogenic properties of aPL [62]. A similar method is performed by β2GPI toleragen. In this case, a polyvalent conjugate of recombinant domain I of human β2GPI cross-links with specific surface immunoglobulins to target and induce tolerance in B cells to β2GPI.
Abbreviations
aCL:

anticardiolipin antibodies
aPL:

antiphospholipid antibodies
APS:

antiphospholipid syndrome
β2GPI:

beta 2-glycoprotein I
LA:

lupus anticoagulant
NF:

nuclear factor
TLR:

Toll-like receptor
TNF:

tumor necrosis factor.
Authors' Affiliations
(1)
Department of Autoimmune Diseases, Institut Clínic de Medicina i Dermatologia, Hospital Clínic, Barcelona, Spain
Copyright
© BioMed Central Ltd 2008