Heterogeneity of human effector CD4+T cells
Arthritis Research & Therapy
2009
11:257
Published: 9 December 2009
Abstract
For many years the heterogeneity of CD4+ T-helper (Th) cells has been limited to Th1 and Th2 cells, which have been considered not only to be responsible for different types of protective responses, but also for the pathogenesis of many disorders. Th1 cells are indeed protective against intracellular microbes and they are thought to play a pathogenic role in organ-specific autoimmune and other chronic inflammatory disorders. Th2 cells provide protection against helminths, but are also responsible for the pathogenesis of allergic diseases. The identification and cloning of new cytokines has allowed one to enlarge the series of functional subsets of CD4+ Th effector cells. In particular, CD4+ Th cells producing IL-17 and IL-22, named Th17, have been initially implicated in the pathogenesis of many chronic inflammatory disorders instead of Th1 cells. However, the more recent studies in both humans and mice suggest that Th17 cells exhibit a high plasticity toward Th1 cells and that both Th17 and Th1 cells may be pathogenic. More recently, another two subsets of effector CD4+ Th cells, named Th9 and Th22 cells, have been described, even if their pathophysiological meaning is still unclear. Despite the heterogeneity of CD4+ effector Th cells being higher than previously thought and some of their subsets exhibiting high plasticity, the Th1/Th2 paradigm still maintains a strong validity.
Keywords
Th17 CellExperimental Autoimmune EncephalomyelitisChronic Inflammatory DisorderInflammatory Bowel DisorderPurify Th17 Cell
Introduction
CD4+ T-helper (Th) lymphocytes represent a heterogeneous population of cells that play an essential role in adaptive immunity. These cells include effector cells, which are devoted to protection against pathogens, and regulatory T cells (Tregs), which protect against effector responses to autoantigens and also against responses to exogenous antigens when they may become dangerous for the host. The term Th derived from the observation that these cells were critical for helping B cells to produce antibodies in the primary response (humoral immunity). On the other hand, CD4+ T cells were also found to be responsible for the so-called cell-mediated immunity, or delayed-type hypersensitivity, which was characterized by the ability of these cells to induce inflammatory reactions mainly characterized by the activation of macrophages. The prototypic cell-mediated immune response was considered to be the skin papular reaction induced by intradermal injection of tuberculin or purified protein derivative (PPD) in animals infected with tubercular bacilli or in humans naturally infected by Mycobacterium tuberculosis or vaccinated with Bacillus Calmette-Guérin (BCG).
The first demonstration of the existence of at least two different populations of CD4+ effector T cells was given in 1972 by Parish and Liew [1]. Injection of multiple doses of flagellin in Wistar rats allowed them to demonstrate that suppression of delayed-type hypersensitivity was observed when enhancement of antibody response occurred, suggesting an inverse relationship between humoral and cell-mediated immune response. In 1986 Mosmann and his coworkers showed that the functional heterogeneity of murine CD4+ T cells was due to their different profile of cytokine production [2], a finding that was also confirmed in humans [3, 4]. Murine and human CD4+ T cells were categorized into two main subsets, which were defined as Th type 1 (Th1) or Th type 2 (Th2) [2–4].
The T-helper type 1/T-helper type 2 paradigm
The reason for the heterogeneity of effector CD4+ Th cells is mainly related to their protective function, because it enables the best type of response according to the nature of the invading microorganism. Th1 cells produce high levels of IFNγ and are responsible for both phagocyte activation and the production of opsonizing and complement-fixing antibodies, thus playing an important role in protection against intracellular pathogens. Th2 cells produce IL-4, IL-5, IL-9 and IL-13, thus being mainly involved in the protection against parasitic helminths [5]. IL-4 and IL-13 are the major mediator of IgE class switching in B cells [6]. IgE binds to FcεRI on basophils and mast cells, and their interaction with a multivalent ligand induces cross-linking of FcεRI - which leads to the secretion of active mediators such as histamine and serotonin, and to the production of several cytokines and chemokines, including IL-4, IL-13, TNFα and eotaxins. IL-5 positively regulates a large number of eosinophil functions, including eosinophilopoesis, bone marrow release, activation and survival [7]. IL-9 production following infection by helminths contributes to the general mast cell and IgE response characteristic of these infections [8]. In addition to its effect on mast cells and lymphocytes, IL-9 induces mucin production in epithelial cells [9]. To say that Th1 cells are responsible for cell-mediated immunity and Th2 cells are responsible for humoral immunity, however, is not correct. Indeed, Th1 cells allow the production of IgG2a antibodies in mice and of IgM, IgA, IgG1, IgG2 and IgG3 antibodies in humans, whereas Th2 cells induce IgG1 and IgE antibodies in mice and IgM, IgG4 and IgE in humans.
The mechanisms responsible for Th1 or Th2 polarization were also discovered. Based on the observation that IL-12 and IFNα, two cytokines produced by dendritic cells, acted as powerful inducers of human Th1 polarization [10–12], I hypothesized that the type of innate immunity response was the main conditioning mechanism for the type of subsequent adaptive immunity [13]. This hypothesis was found to be true when the existence in dendritic cells of the so-called Toll-like receptors was observed [14]. The Toll-like receptors are able to interact with a group of highly conserved structures of many bacteria and viruses, and this interaction usually results in the production by dendritic cells of high amounts of IL-12 and/or IFNα, thus explaining the Th1 polarization usually induced by microbial infections. Indeed, IFNα produced by dendritic cells and/or IFNγ produced by natural killer cells upon stimulation by IL-12 activates the signal transducer and activator of transcription (STAT)-1 in the naive CD4 T cells. Activated STAT-1 upregulates T-box expressed in T cells (T-bet) expression, which in turn induces early T-cell IFNγ production and upregulates IL-12Rβ2 expression. The IL-12Rβ2-expressing T cells can then directly respond to IL-12 that, through activation of STAT-4, induces high IFNγ production and sustains the expression of IL-12R β2 [15].
Collaboration between interferons and IL-12 therefore induces full Th1 differentiation [15–18]. At later stages of Th1 differentiation, IL-18Rα is also upregulated. IL-18Rα upregulation requires IL-12/STAT-4 signalling and is further increased by IFNγ. IL-12 and IL-18 jointly induce IFNγ production by Th1 cells in the absence of T-cell receptor stimulation. Such antigen-independent cytokine production is probably important for amplifying Th1 responses by recruiting other pre-existing Th1 cells [19, 20].
At that time it was also found that Th2 polarization was mainly due to the early production of IL-4 during the primary response [12]. The cell and the mechanisms responsible for this early IL-4 production, however, remained unclear for a long time. Only recently was it found that IL-4 could be produced by the naïve Th cell itself, upon Notch triggering, as a consequence of the expression by the dendritic cells of its ligand Jagged-1 in both mice and humans [21–23]. Another possibility is the production by other cell types, such as mast cells and macrophages present in the gut of worm-infested animals or lung epithelial cells, of a more recently discovered cytokine, named IL-25. IL-25 can induce the early production of IL-4 by a non-T, a non-B, c-kit+, a FcεR1- cell or by the Th naïve cell itself, thus allowing its Th2 polarization [24, 25].
The interaction of the endogenous and/or exogenous IL-4 with its receptor results in the activation of STAT-6, which in turn upregulates GATA-binding protein-3 (GATA-3) and c-maf expression [26–30]. GATA-3 has been reported to induce its own expression [31], probably when it reaches a threshold level. GATA-3 binds to regions of the Il4/Il13 loci, including DNaseI hypersensitive site Va and conserved noncoding sequence-1 sites. GATA-3 alone, however, is not sufficient to induce IL-4 production. IL-2-mediated activation of STAT-5 plays a critical role in inducing/maintaining accessibility at the second intron HSII and HSIII DNase I hypersensitive sites of the Il4 locus [32]. Indeed, STAT-5 is bound to these two sites in Th2 cells, but not in Th1 cells. The collaboration of STAT-5 and GATA-3 accounts for full Th2 differentiation in vitro [33]. Of note, there is a mutual regulation of Th1 and Th2 polarization induced not only by IL-4 and IFNγ, respectively, but also by the Th1-specific and Th2-specific transcription factors. Accordingly, GATA-3 has been reported to downregulate STAT-4 [34]. Strong STAT-5 activation inhibits T-bet expression [32]. On the other hand, T-bet can suppress GATA-3 expression [35].
In addition to Th1 and Th2 cells, another series of CD4+ T cells were identified as able to produce at the same Th1-related and Th2-related cytokines, which were named Th type 0 (Th0) cells [36]. Because of their functional differences, Th1 and Th2 cells - in addition to having different protective functions against invading pathogens - also contribute to the development of different human disorders: Th1 cells have been thought to be involved in the pathogenesis of organ-specific autoimmune diseases, as well as other chronic inflammatory disorders such as Crohn's disease, sarcoidosis and atherosclerosis [37]; and Th2 cells certainly play a central role in the development of allergic disorders [38].
Beyond the T-helper type 1/T-helper type 2 paradigm
Concluding remarks
Very recent studies demonstrate that CD4
+
Th effector cells represent a population much more heterogeneous than previously suggested. Beyond Th1 cells and Th2 cells, Th17 cells, Th9 cells and Th11 cells have now been recognized. These main populations of CD4
+
effector T cells are depicted in Figure
1
. Moreover, CD4
+
Th cells seem to exhibit a great plasticity not only in the context of effector responses, but also of regulatory responses. Th2 cells can shift to Th1 cells or to Th9 cells, whereas Th17 cells can shift to Th1 cells. Among different CD4
+
effector T cells, the Th1 cells appear to be the more stable. Although this complex situation makes it more difficult to extrapolate the role of different subsets of CD4
+
effector cells, the validity of the Th1/Th2 paradigm seems to maintain its validity. Indeed, there is no doubt regarding the main and essential role of Th2 responses against allergens in accounting for the great majority of pathophysiological manifestations in allergic subjects. On the other hand, even if Th17 cells certainly play a pathogenic role in autoimmune disorders and other chronic inflammatory disorders, classic Th1 cells or Th17-derived Th1 cells are also co-pathogenic or even truly responsible for the inflammatory processes that underlie these diseases.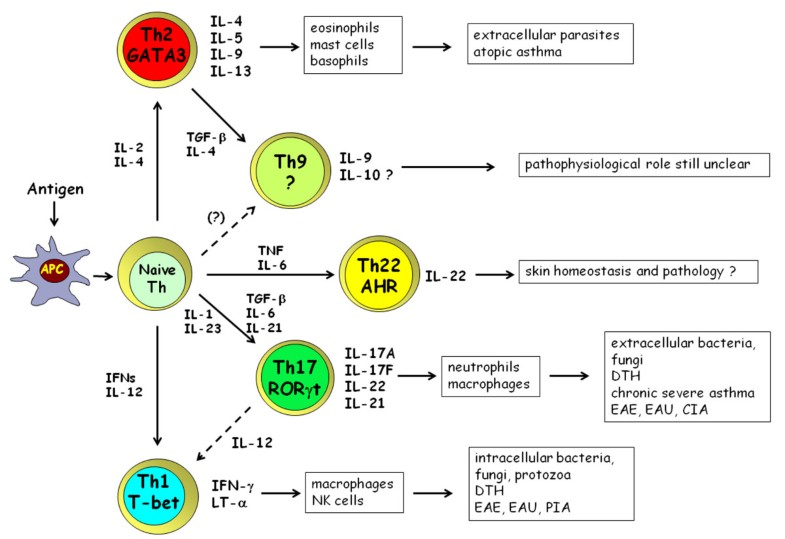 Note
This article has been published following the 15ème Journée Romande d'Immunologie Clinique symposium on 20th November 2008, in honour of Prof Jean-Michel Dayer
Abbreviations
EAE:

experimental autoimmune encephalomyelitis
GATA-3:

GATA-binding protein-3
IFN:

interferon
IL:

interleukin
ROR:

retinoic acid-related orphan receptor
STAT:

signal transducer and activator of transcription
T-bet:

T-box expressed in T cells
TGFβ:

transforming growth factor beta
Th:

T-helper
TNF:

tumour necrosis factor
Treg:

regulatory T cell.
Declarations
Acknowledgements
Our work was supported by grants from the European Commission (project number LSHB-CT-2005-518167, INNOCHEM, FP6), the Italian Ministry of University and Research (PRIN prot. 20077NFBH8) and the Associazione Italiana per la Ricerca sul Cancro AIRC.
Authors' Affiliations
(1)
Center of Excellence for Research, Transfer of Research and High Education for the Development of Novel Therapies (DENOthe), Department of Internal Medicine, University of Florence, Florence, Italy
Copyright
© BioMed Central Ltd 2009