Hypertrophic differentiation of chondrocytes in osteoarthritis: the developmental aspect of degenerative joint disorders
Arthritis Research & Therapy
2010
12:216
Published: 16 September 2010
Abstract
Osteoarthritis is characterized by a progressive degradation of articular cartilage leading to loss of joint function. The molecular mechanisms regulating pathogenesis and progression of osteoarthritis are poorly understood. Remarkably, some characteristics of this joint disease resemble chondrocyte differentiation processes during skeletal development by endochondral ossification. In healthy articular cartilage, chondrocytes resist proliferation and terminal differentiation. By contrast, chondrocytes in diseased cartilage progressively proliferate and develop hypertrophy. Moreover, vascularization and focal calcification of joint cartilage are initiated. Signaling molecules that regulate chondrocyte activities in both growth cartilage and permanent articular cartilage during osteoarthritis are thus interesting targets for disease-modifying osteoarthritis therapies.
Keywords
Articular CartilageGrowth PlateArticular ChondrocytesCartilage DegradationEndochondral Ossification
Introduction
Osteoarthritis (OA) is the most common joint disorder in western populations. Its incidence increases with age, and thus this degenerative disease is a major problem in ageing populations. The disease is characterized by a progressive degradation of articular cartilage leading to loss of joint mobility and function accompanied by chronic pain. On the biochemical level, OA is characterized by uncontrolled production of matrix-degrading enzymes, including aggrecanases (a disintegrin and metalloprotease with trombospondine motifs (ADAMTSs)) and matrix metalloproteinases (MMPs), which result in the destruction of cartilage matrix [1]. Other hallmarks of the disease are new bone formation at the joint margins (osteophytes), limited inflammation (synovitis), and changes in subchondral bone structure (sclerosis). The molecular mechanisms regulating pathogenesis and progression of OA, however, are only poorly understood, and no proven disease-modifying therapy is currently available. Remarkably, some characteristics of OA - that is, articular chondrocyte proliferation, the expression of hypertrophy markers (for example, MMP-13 and collagen X), remodeling of the cartilage matrix by proteases, vascularization and focal calcification of joint cartilage with calcium hydroxyapatite crystals - resemble chon drocyte differentiation processes during skeletal development by endochondral ossification (EO). Signaling molecules regulating chondrocyte activities in growth cartilage may thus also be involved in OA pathogenesis.
In the present review, current concepts for the control of late chondrocyte differentiation in EO will be discussed in the light of analogous events observed during the development of OA. This knowledge is essential for the successful development of future therapeutic strategies.
Endochondral ossification
EO is important for development, growth, and repair of long bones. EO is initiated by the formation of cartilage templates of future bones, built by mesenchymal progenitor cells, which condensate and differentiate into chondrocytes. Within these bone anlagen, the differentiated cartilage cells then transit through a temporospatial cascade of late differentiation events that sequentially include proliferation and several steps of maturation, culminating in chondrocyte hypertrophy. After invasion of blood vessels from the subchondral bone, the majority of hypertrophic cells undergo apoptosis and the cartilage template is remodeled into trabecular bone [2]. Proliferation of chondrocytes, hypertrophic differentiation of chondrocytes, remodeling and mineralization of the extracellular matrix (ECM), invasion of blood vessels and apoptotic death of chondrocytes correspondingly occur during OA.
Each phase of EO is accompanied by a change in cell shape or cell arrangement [
3
,
4
] (Figure
1
) and the expression of a specific protein repertoire. Collagen I, besides collagens III and V, is the major fibrillar component of undifferentiated mesenchymal progenitor cells [
5
]. After differentiation into chondrocytes, the cells cease to produce collagens I, III, and V but start to express typical cartilage components, including collagens II, IX, and XI and the proteoglycan aggrecan [
6
]. During this differentiation stage these so-called resting chondrocytes are small, uniform and characterized by low proliferation rates. These cells occur singly or in pairs, and in the resting zone the ECM takes more space than the cells. In the adjacent proliferative stage, the chondrocytes divide several times and the flat cells arrange into longitudinal columns. The expression repertoire now includes collagen VI [
7
] and matrilin 1 [
8
] in addition to the collagens II, IX and XI and aggrecan. During prehypertrophy, Indian hedgehog (Ihh) is expressed [
9
]. Further differentiation into hypertrophic chondrocytes induces the production of collagen X. Hypertrophic chondrocytes also reduce, or even terminate, their production of collagens II, IX, and XI, and express MMP-13, alkaline phosphatase, vascular endothelial growth factor (VEGF), osteopontin, and the transcription factor Runx2 [
10
]. Collagen X, MMP-13, and alkaline phosphatase are well-established markers for the overt hypertrophic stage of late chondrocyte differentiation.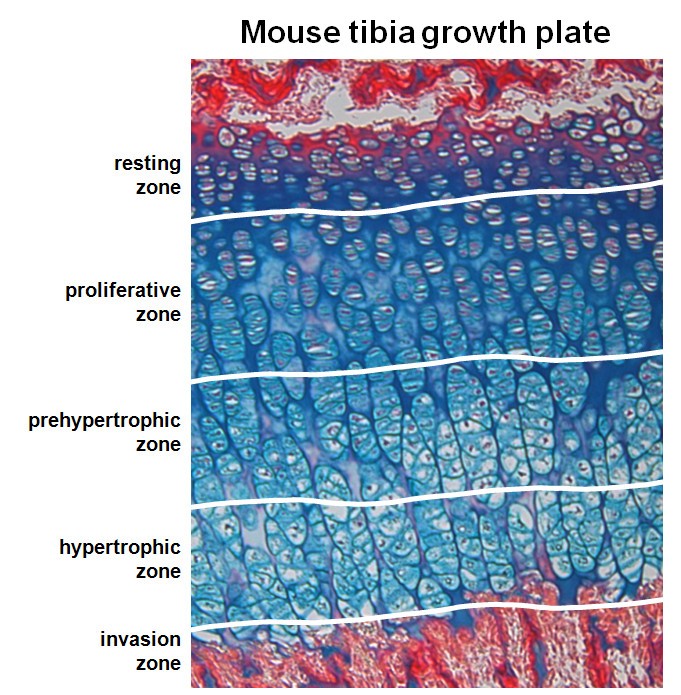 Regulation of chondrocyte differentiation in growth cartilage
Chondrocyte differentiation in growth cartilage is subject to positive and negative control elements that interact within a signaling network to regulate the rate and progression of the process. EO is controlled by locally acting autocrine signals derived from chondrocytes themselves or by paracrine signals derived from cells of surrounding tissues (for example, the perichondrium or subchondral blood vessels). The interaction of chondrocytes with their surrounding matrix via cell surface receptors is also thought to play a key role in the regulation of survival, proliferation and maturation of cartilage cells. Many stationary and diffusible regulators of chondrocyte differentiation as well as their cell surface receptors are proteins. Proteinases are thus not merely destructive effectors of ECM degradation but also intervene in regulatory networks, both by eliminating control elements (for example, endoplasmic reticulum protein 57 (ERp57) [11]) and by converting precursors into active agents (for example, transforming growth factor beta (TGFβ) [12]). In addition, proteinases modulate mediator activities by direct cleavage or by release from ECM stores (for example, VEGF [13]). Most signaling events culminate at the level of gene expression; thus transcription factors are also essential regulatory elements [10]. Several positive and negative feedback mechanisms exist, however, which complicate the signaling network.
Conclusions
A number of signaling factors involved in chondrocyte proliferation and differentiation during EO were also shown to play a regulative role in articular cartilage during OA, pointing towards analogous signaling events that are critical for both scenarios (Table
1
). All events leading to a structurally altered ECM in articular cartilage - for example, reduction in cartilage collagen production or induction of degradative enzymes - have to be taken into account as the driving force in the pathogenesis or progression of OA. Future work is necessary to investigate both of these processes in further detail in order to take advantage of the understanding of developmental aspects for pathogenetic mechanisms of degenerative joint disorders, and hence the successful development of future therapeutic strategies.
Table 1
Different signaling factors involved in both chondrocyte differentiation processes during endochondral ossification and in osteoarthritis
Signaling factor

Effects on growth plate chondrocytes

Role in OA

Bone morphogenic proteins

Induce proliferation

Stimulation of MMP-13

Inhibit hypertrophy

Fibroblast growth factors

Decrease proliferation

Stimulation of ADAMTS-5

Decrease hypertrophy

Decrease matrix production

TGFβ

Variable effects depending on species and concentration

Stimulation of MMP-13

Wnt/β-catenin

Positive regulator of hypertrophy and ossification

Activation of maturational genes

Induction of matrix degradation

Induction of MMPs and aggrecanases mediated by WISP-1

Indian hedgehog

Stimulates proliferation

Induction of ADAMTS-5 via Runx2

Inhibits hypertrophy via parathyroid hormone-related peptide

Directly induces hypertrophy in vitro

Retinoic acid

Positive regulator of hypertrophy and matrix mineralization

Induction of MMP-13 and aggrecanases

Growth hormone/IGF-I

Stimulate proliferation

Growth hormone is a beneficial factor in OA

Initiate hypertrophy

IGF-I signaling is antagonized by IGF-binding proteins

Collagen IX

Stimulates chondrocyte proliferation

Essential for tissue integrity, loss of collagen IX induces OA

Essential for columnar organization of growth plate chondrocytes

β1 integrins

Mediate adhesion to surrounding matrix and motility

Essential for normal knee joint development

Essential for proliferation

Minor influence on cartilage homeostasis

Discoidin domain receptors

Regulate cell proliferation, adhesion and motility

Induction of MMP-13 and MMP-derived type II collagen

Fragments

Control matrix remodeling

MMPs/ADAMTSs

Essential for matrix remodeling

Key factors in matrix degradation during OA

Influence bioavailability of VEGF

Matrix degradation is accompanied by terminal

chondrocyte differentiation, positive feedback

mechanism?

Sox 9

Regulate proliferation and hypertrophic differentiation

Involved in MMP-13 expression

Runx2/3

Positive regulation of chondrocyte hypertrophy

Induction of chondrocyte hypertrophy

Influence on angiogenesis by up regulation of VEGF

Induction of MMP-13 expression

CCAAT/enhancer binding

Inhibition of proliferation

Mediates cartilage destruction protein beta

Stimulation of hypertrophy

Activation of collagen X expression
Abbreviations
ADAMTS:

a disintegrin and metalloprotease with trombospondine motifs
BMP:

bone morphogenic protein
C/EBPβ:

CCAAT/enhancer binding protein beta
DDR:

discoidin domain receptor
ECM:

extracellular matrix
EO:

endochondral ossification
FGF:

fibroblast growth factor
GADD:

growth arrest and DNA damage
GH:

growth hormone
IGF:

insulin-like growth factor
Ihh:

Indian hedgehog
IL:

interleukin
MMP:

matrix metalloprotease
OA:

osteoarthritis
Smad:

Sma and Mad related proteins
Sulf:

heparan sulfate 6-O-endosulfatase
TGFβ:

transforming growth factor beta
VEGF:

vascular endothelial growth factor.
Declarations
Acknowledgements
The author wishes to thank Peter Bruckner for support and helpful discussions concerning the manuscript. The studies on chondrocyte differentiation in EO and OA were supported by Deutsche Forschungsgemeinschaft (German Research Council) Grant SFB492-B18.
Authors' Affiliations
(1)
University Hospital of Münster, Institute for Physiological Chemistry and Pathobiochemistry, Münster, Germany
Copyright
© BioMed Central Ltd 2010