Novel autoantibodies and clinical phenotypes in adult and juvenile myositis
Arthritis Research & Therapy
2011
13:209
Abstract
Autoantibodies targeting intracellular proteins involved in key processes are detected in patients with idiopathic inflammatory myopathies. These myositisspecific autoantibodies have been increasingly demonstrated to correlate with distinct clinical phenotypes within the myositis spectrum. This review highlights the clinical associations of the myositisspecific autoantibodies, with particular attention to the recently identified and characterized novel myositis autoantibodies: p155/140, p140 (MJ), CADM-140 (MDA5), SAE, and 200/100.
Keywords
MyositisSignal Recognition ParticleIdiopathic Inflammatory MyopathycDNA Expression LibraryMyositis Patient
Introduction
The idiopathic inflammatory myopathies (IIMs) poly-myositis (PM) and dermatomyositis (DM) are heterogeneous conditions that are historically diagnosed by proximal muscle weakness, evidence of muscle inflammation or necrosis, and characteristic skin lesions [1, 2]. However, it is now well recognized that patients can present with other overlapping features, including arthritis and systemic involvement (including interstitial lung disease, or ILD), and this has led to the proposal of alternative diagnostic criteria [3]. In recent years, it has become even more apparent that autoantibodies have a role in distinguishing between further subtypes of myositis patients, and clinico-serological classifications have been proposed. The myositis autoantibodies can be divided into myositis-associated autoantibodies (MAAs) and myositis-specific autoantibodies (MSAs). The MAAs - anti-PMScl, anti-Ku, anti- U1RNP, and anti-U3RNP (fibrillarin) - are commonly found in myositis patients who have features of other connective tissue diseases (CTDs) (in particular, overlap with systemic sclerosis). In contrast, the MSAs are found exclusively in IIM and are directed to specific proteins found in both the nuclear and cytoplasmic regions of the cell; these MSAs correlate with genotype and clinical manifestations [4, 5]. Investigations into these specific autoantibodies help classify myositis patients into increasingly homogeneous subgroups, may guide specific treatment regimes, and importantly increase our understanding of the pathogenesis of IIM.
The 'traditional' MSAs - anti-Jo-1 (and the less common non-Jo-1 anti-synthetases), anti-SRP, and anti-Mi-2 - can be detected by routine commercial assays and are identified in approximately 40% to 50% of adult myositis patients and in less than 10% of juvenile dermatomyositis (JDM) patients [
6
]. More recently, a number of groups have reported the identification of novel MSAs, including anti-p155/140, anti-SAE, anti-CADM-140 (melanoma differentiation-associated gene 5, or MDA5), anti-p140, and anti-200/100, the clinical and genetic associations of which are described in this review. With the inclusion of the latter MSAs, it is now possible to identify a positive MAA or MSA in approximately 80% of myositis patients, allowing a clearer serological stratification of patients (Table
1
and Figure
1
).
Table 1
Myositis-specific autoantibodies, target autoantigens, and clinical associations
Frequency, percentage

Autoantibody

Target autoantigen

Clinical associations

Adults

JDM

Anti-ARS

Amino-acyl-tRNA synthetase

Anti-synthetase syndrome

Overall: 30-40

Overall: 1-3

- Jo-1

- Histidyl

Myositis

Jo-1: 15-20

- PL7

- Theronyl

Interstitial lung disease

PL7: <5

- PL12

- Alanyl

Raynaud phenomenon

PL12: <5

- OJ

- Isoleucyl

Arthritis

OJ: <5

- EJ

- Glycyl

Mechanic's hands

EJ: <5

- KS

- Asparaginyl

Fever

KS: <5

- Ha

- Tyrosyl

Ha: <1

- Zo

- Phenylalanyl

Zo: <1

Anti-Mi-2

Nucleosome remodeling deacetyalse complex (NuRD)

DM

< 10

4-10

Anti-p155/140

Transcriptional intermediary factor 1 gamma (TIF1-γ)

JDM: DM and ulceration

13-21

22-29

Adults: DM and malignancy

Anti-p140

Nuclear matrix protein 2 (NXP2)

JDM: DM and calcinosis

< 5

23

Adults: DM and ILD

Anti-SAE

Small ubiquitin-like modifier activating enzyme (SAE)

DM

< 5

< 1

Anti-CADM-140

Melanoma differentiation-associated gene 5 (MDA5)

CADM and ILD

50-73 CADM (not in Caucasians)

Not known

Anti-SRP

Signal recognition particle (SRP)

Necrotizing myopathy

5-10

< 3

Anti-200/100

Unknown 100- and 200-kDa proteins

Necrotizing myopathy

< 10 necrotizing myopathy

Not known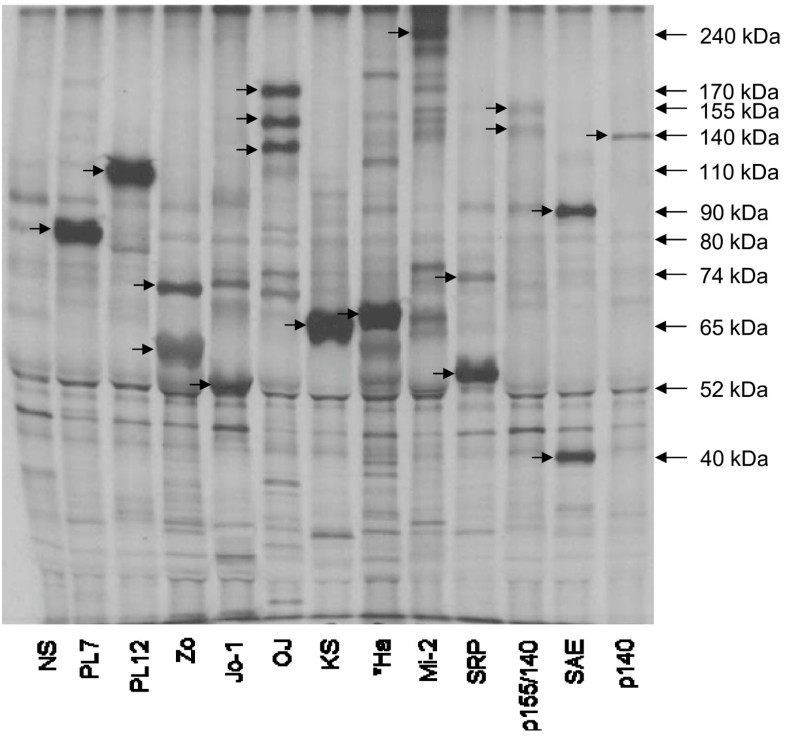 Anti-synthease syndrome
Anti-synthetase autoantibodies
The most prevalent group of MSAs consists of the anti-synthetase autoantibodies. These autoantibodies target the amino-acyl-tRNA synthetases (ARSs) which catalyze the binding of amino acids to the corresponding tRNAs. Each amino acid has a separate ARS, and autoantibodies targeting 8 of the 20 ARSs have been identified. The most common of these is anti-Jo-1 (anti-histidyl tRNA synthe-tase), which is found in approximately 20% of adult IIM patients. The remaining anti-synthetases - PL-12 (alanyl), PL-7 (threonyl), EJ (glycyl), OJ (isoleucyl), KS (asparginyl), and the more recently identified Ha (tyrosyl) and Zo (phenylalanyl) - have been collectively described in a further 20% of patients, and the frequency of each individual autoantibody is between 1% and 5% [4]. In contrast, the prevalence of ASAs in juvenile myositis patients is much lower: less than 3% [7]. With a few exceptions, each ASA-positive patient develops autoantibodies to only a single ARS. Patients with these autoantibodies are classed as having the anti-synthetase syndrome (ASS) with clinical associations of myositis, ILD, non-erosive arthritis, mechanic's hands, Raynaud phenomenon, and fever, and some patients also have a DM rash.
The presence of an ASA has also been shown to indicate response to corticosteroid treatment, particularly in the context of ILD, with ASA-positive patients responding better to initial therapy but having relapses more frequently than ASA-negative patients [8]. Further-more, it has been demonstrated that titers of anti-Jo-1 autoantibodies moderately correlate with serum creatine kinase levels as well as joint and muscle disease activity [9], demonstrating that the presence and titer of MSAs can help predict disease course and treatment response.
Recently, it has been shown that, while the ASS covers all eight anti-synthetase autoantibodies, the precise clinical manifestations associated with each autoantibody are not identical. It has been reported that anti-Jo-1 autoantibodies are closely associated with what would be classically described as PM, with the majority developing clinically significant myositis over the full disease course [10]. In comparison, anti-OJ, anti-KS, and anti-PL-12 have been more closely associated with DM skin lesions and are strongly associated with ILD. The development of clinically evident myositis in these patients is less frequent than with anti-Jo-1 and often occurs after the onset of ILD [11–13]. In addition, patients with anti-PL-7 may have lower serum muscle enzyme levels and milder muscle weakness in comparison with anti-Jo-1 patients [14].
Anti-Ha, the seventh ASA to be identified, was identified by means of a combination of immunoaffinity purification and mass spectrometry. So far, it has been demonstrated in only one patient who displayed clinical manifestations of ILD and myositis [15]. Anti-Zo, the most recent ASA to be identified, was identified by means of immunoprecipitation (IPP) and mass spectrometry. It was first detected in an index case with myositis and ILD [16] and has since been found in a further three patients with classic ASS features (ZEB and NJM, unpublished data).
Further studies have been completed on the pathogenic roles of the ASAs and their corresponding autoantigens. Seminal work by Casciola-Rosen and colleagues [17] has shown that Jo-1 autoantigen expression is enhanced in the muscle of myositis patients in comparison with normal controls, suggesting a role for autoantigens in the pathogenesis of IIM. This group has shown that certain ARSs can be cleaved by granzyme B which may reveal autoantigenic epitopes [18], and Levine and colleagues [19] demonstrated that the cleavable conformation of Jo-1 is found predominantly in alvelolar cells, suggesting that the lung microenvironment is the site of disease initiation in the Jo-1 syndrome. Further work has shown that Jo-1, KS, and Ha autoantigens have chemoattractant properties and can induce leukocyte migration, hence potentially propagating the immune response [20]. A study by Barbasso Helmers and colleagues [21] demonstrated that serum from anti-Jo-1-positive patients had a significantly stronger effect on the expression of inter-cellular adhesion molecule 1 (ICAM-1) in human micro-vascular endothelial cell (HMVEC) lung tissue in comparison with serum from healthy controls or patients with other autoantibodies. Endothelial cell activation by increased ICAM-1 expression may contribute to the multiorgan involvement of myositis and ILD in anti-Jo-1-positive patients [21]. Finally, in vitro studies demonstrating the potential for anti-Jo-1 autoantibodies to induce type 1 interferon may suggest a direct pathogenic role in disease propagation [22].
Dermatomyositis clinical phenotypes
Immune-mediated necrotizing myopathy
Anti-signal recognition particle
Autoantibodies to the signal recognition particle (SRP) were first demonstrated in IIM by Reeves and colleagues [51]. SRP is a cytoplasmic protein with a role in the recognition and translocation of newly synthesized proteins across the endoplasmic reticulum. Anti-SRP auto-antibodies are present in approximately 5% of adult myositis patients and have been associated with acuteonset severe necrotizing myopathy and with systemic features that may be refractory to standard immunomodulatory treatments [52–54]. Muscle biopsies from anti-SRP patients classically demonstrate muscle fiber necrosis with minimal inflammatory cell infiltrate [53–55]. Conversely, anti-SRP autoantibodies are rarely detected in juvenile patients. A study by Rouster-Stevens and colleagues [56] detected anti-SRP in 3 of 123 children with clinical manifestations similar to those of anti-SRP adult patients. Interestingly, all of the anti-SRP-positive cases were of African-American origin, suggesting a specific immunogenetic association [56].
Anti-200/100
The most recent myositis autoantibody to be described, by Christopher-Stine and colleagues [57], is the anti- 200/100 autoantibody. Muscle biopsies from 225 myositis patients were screened for necrotizing myopathy features. Thirty-eight patients demonstrated predominant necrosis without histological findings of perifascicular atrophy or red-rimmed vacuoles, and 26 of these patients had no known MSA. After radiolabeled IPP using HeLa cells, 16 (62%) of these MSA-negative patients were found to immunoprecipitate 200-kDa and 100-kDa proteins. Since both of these proteins were immunoprecipitated together in all cases, the authors suggested that the subunits are likely to be part of the same protein complex. This pattern was found in only one patient (from 187) without necrosis and in no healthy controls, indicating that this novel autoantibody is associated with immune-mediated necrotizing myopathy. Interestingly, 63% of patients with this autoantibody were found to have a history of exposure to statins. Further studies now need to be completed, identifying the 200/100-kDa doublet, assessing the frequency of this autoantibody in additional cohorts, and clarifying the potential association of this autoantibody with statin exposure.
Conclusions
In this review, we have highlighted the recent studies identifying and characterizing novel myositis autoantibodies and their associated autoantigens. The increasing number of patients with a known MSA aids the clinicoserological classification of myositis and may help to predict complications of disease, prognosis, and responses to treatment. The identification of these novel autoantibodies has lead to an increasing demand for the development of commercial assays in order to allow the screening of patients in the routine clinical setting. The recent development and validation of a line blot assay containing a number of the MSAs demonstrate progression in this field [58, 59] and further work is currently in progress. Studies of MSAs and their corresponding targets have also provided insights into the pathogenesis of IIM, and links between environmental, immunogenetic, and autoantibody status have been described. Further studies are now required to identify novel targets in patients who are currently viewed as autoantibody-negative and to further elucidate the role of autoimmunity in the pathophysiology of IIM subtypes.
Abbreviations
AOMIC:

Adult Onset Myositis Immunogenetic Collaboration
ARS:

amino-acyl-tRNA synthetase
ASS:

anti-synthetase syndrome
CADM:

clinically amyopathic dermatomyositis
CTD:

connective tissue disease
DM:

dermatomyositis
ICAM-1:

intercellular adhesion molecule 1
IIM:

idiopathic inflammatory myopathy
ILD:

interstitial lung disease
IPP:

immunoprecipitation
JDM:

juvenile dermatomyositis
MAA:

myositis-associated autoantibody
MDA5:

melanoma differentiation-associated gene 5
MSA:

myositis-specific autoantibody
PM:

polymyositis
SAE:

small ubiquitin-like modifier activating enzyme 1 and 2
SRP:

signal recognition particle
TIF1-γ:

transcription intermediary factor 1 gamma.
Authors' Affiliations
(1)
Royal National Hospital for Rheumatic Diseases, NHS Foundation Trust, Upper Borough Walls, Bath, UK
Copyright
© BioMed Central Ltd 2011