Imaging in gout - What can we learn from MRI, CT, DECT and US?
Arthritis Research & Therapy
2011
13:246
Published: 4 November 2011
Abstract
There are many exciting new applications for advanced imaging in gout. These modalities employ multiplanar imaging and allow computerized three-dimensional rendering of bone and joints (including tophi) and have the advantage of electronic data storage for later retrieval. High-resolution computed tomography has been particularly helpful in exploring the pathology of gout by investigating the relationship between bone erosions and tophi. Magnetic resonance imaging and ultrasonography can image the inflammatory nature of gouty arthropathy, revealing synovial and soft tissue inflammation, and can provide information about the composition and vascularity of tophi. Dual-energy computerized tomography is a new modality that is able to identify tophi by their chemical composition and reveal even small occult tophaceous deposits. All modalities are being investigated for their potential roles in diagnosis and could have important clinical applications in the patient for whom aspiration of monosodium urate crystals from the joint is not possible. Imaging can also provide outcome measures, such as change in tophus volume, for monitoring the response to urate-lowering therapy and this is an important application in the clinical trial setting.
Keywords
GoutBone ErosionSerum UrateTophaceous GoutSmall Detectable Difference
Introduction
Gout is a form of inflammatory arthritis that is characterized initially by acute attacks of active synovitis related to the presence of monosodium urate (MSU) crystals in the joints and periarticular soft tissues. Chronic gouty arthropathy may supervene after a period of years, featuring ongoing synovitis in peripheral and, occasionally, axial joints, often associated with the presence of tophi and accompanied by bone erosion. Plain radiography (XR) tends to be normal in early gout, but in chronic gout, typically after 7 to 10 years, 'punched out' extramarginal, articular, or para-articular erosions may become apparent with typical preservation of the joint space and bone density [
1
]. In advanced tophaceous disease, extreme bone destruction can develop with large periarticular lytic lesions associated with apparent joint space widening (Figure
1
) [
2
], and concomitant osteoarthritis frequently accompanies these changes, especially in the feet.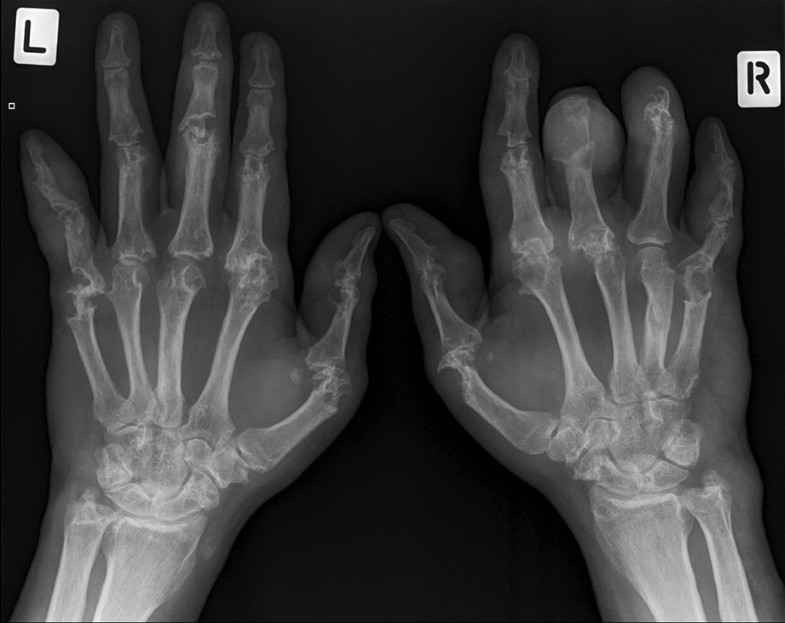 In recent years, advanced imaging techniques, including magnetic resonance imaging (MRI), computed tomography (CT) using high-resolution multislice scanners, and ultrasonography (US), have led to new insights into the pathology of many forms of inflammatory arthritis [3]. Scoring systems have been developed to quantify joint inflammation and destruction by using imaging and these are now in routine use in clinical trials to provide sensitive measures of drug efficacy in rheumatoid arthritis (RA) and psoriatic arthritis (PsA) [4, 5]. In gout, the applications of advanced imaging are only now starting to be explored and are of particular relevance to the clinician assessing the impact of urate-lowering therapies [6]. These applications include (a) imaging to investigate joint pathology in gout, (b) imaging to assist in the diagnosis of gout, and (c) monitoring of joint inflammation and damage, especially in response to therapy. This review presents a critical appraisal of the current literature pertaining to advanced imaging in gout and provides specific discussion of these areas related to each modality.
1. Joint pathology in gout
Before the advent of advanced imaging, an understanding of the pathology of gout was based primarily on light microscope examination of tophi and periarticular bone, supplemented by XR to define the radiographic morphology and distribution of erosions [7]. This approach was biased toward investigating severe erosive gouty arthropathy, and specimens obtained for histopathology were usually derived from amputated digits or limbs, where chronically discharging tophi were often secondarily infected [8]. By contrast, advanced imaging techniques open a window into the pathology of gout at any stage of the disease process, including at presentation and in early disease, when XRs are characteristically normal and histopathological specimens are unavailable.
2. Diagnosing gout by using advanced imaging
A diagnosis of gout currently rests on a demonstration of MSU crystals in synovial fluid or joint tissue or a typical clinical picture that might include acute joint swelling of abrupt onset and remission within 2 weeks, the occurrence of podagra, a raised serum urate, and, in some patients, the presence of tophi. According to 2006 European League Against Rheumatism (EULAR) evidence-based recommendations [20], 'radiographs have little role in diagnosis, though in late or severe gout radiographic changes of asymmetrical swelling and subcortical cysts without erosion may be useful to differentiate chronic gout from other joint conditions'. The contribution of advanced imaging would be to assist the diagnosis of gout at an earlier phase by revealing acute joint inflammation, bone erosion, or tophi or a combination of these. Ideally, such imaging would identify certain specific features that would confirm a diagnosis of gout without the necessity for joint aspiration. Most of the advanced imaging modalities take us some way down this path but do not deliver ultimate certainty of diagnosis. No study comparing the diagnostic accuracy of any of these techniques with the current clinical gold standard outlined above has yet been done.
3. Monitoring disease activity and damage - response to therapy
Plain XR provides a very blunt imaging instrument with which to try to track the progress of joint damage in gout and its response to therapy. McCarthy and colleagues [34] studied a group of 39 patients for 10 years and found no correlation between XR changes and serum urate concentration, and this suggests that XR may not be sufficiently sensitive to monitor change in bony damage over this time frame. More recently, a specific gout radiographic scoring method has been developed and validated and may improve sensitivity to change in longitudinal studies [2]. With the development of powerful and often costly urate-lowering therapies, the focus has shifted to the possibility that advanced imaging could be useful in this context, providing sensitivity to change over a shorter timeframe that would be clinically relevant. Of these modalities, MRI and CT have the facility to allow storage of standardized digital images and so are particularly suitable for use in longitudinal studies.
Perez-Ruiz and colleagues [23] examined the US measurement of tophi in 25 patients with gout, including change in tophus size and its association with serum urate concentrations over the course of 12 months. The authors reported excellent intraobserver (intraclass correlation coefficient (ICC) of 0.98 for volume) and good interobserver reliability (ICCs of 0.83 for maximal diameter and 0.71 for minimal diameter). They also provided data comparing US and MRI diameters of the same lesions. Interestingly, these measurements were similar but not identical, and the R 2 value for the correlation was 0.65. This suggests that definition of the outer limit of the tophus may vary according to how it is imaged. MRI diameters in this study were generally larger than US diameters, and this could be related to better imaging (by MRI) of the soft tissue component of the tophus, which may contain regions of inflammation and hypervascularity. In 14 patients, urate-lowering therapy (with allopurinol and later benzbromarone in some) was commenced, and repeat US examination was performed at 12 months. When a reduction greater than the smallest detectable difference (SDD) was taken as indicating real change, 20 out of 38 tophi were reduced in maximal diameter at the endpoint. These patients had a significantly lower average serum urate than the group in which tophus diameter did not change. To look at this another way, in patients with an average serum urate of less than 6 mg/dL, 19 out of 28 tophi (68%) showed reduction compared with 1 out of 10 tophi (10%) in patients with urate of greater than 6 mg/dL. The authors concluded that US fulfills the Outcome Measures in Rheumatoid Arthritis Clinical Trials (OMERACT) filter [35, 36] as a feasible, valid, and discriminative measure for evaluating changes in tophus size in gout patients on urate-lowering therapy.
Schumacher and colleagues [37] performed a multi-center study assessing the intra- and inter-reader reproducibilities of tophus volume assessment using MRI scanning. Volume measurements were made in 17 tophi from 14 subjects. These lesions ranged from very large at the elbow (mean volume of 14.1 cm3) to smaller lesions at the foot/ankle and hand/wrist (6.9 and 5.3 cm3, respectively). Reproducibility in this study was expressed as the absolute percentage difference between volume readings taken by one observer twice (intra-reader) or two observers (inter-reader). Oddly, intra-reader reproducibility in this study was slightly worse (17.2% difference between volume readings) than inter-reader reproducibility (14.2% difference between readers). These differences translated into small actual changes in volume (0.07 to 2.2 cm3). The authors felt that MRI scans without gadolinium contrast were optimal for assessing tophus volume as post-contrast scans were associated with artifact that complicated measurement. It is difficult to extrapolate from these findings whether MRI scanning would be a suitable tool for assessment of change in tophus volume in the therapeutic setting, and further studies are required.
CT has been evaluated for assessment of tophus size by our own group [28]. Forty-seven hand tophi were analyzed from 20 patients with gout, and measurements were made with a 16-slice scanner with thin (0.8 mm) slices. Two observers separately determined tophus volume with the 3D software available. Reliability was very high between and within observers (ICCs of 0.989 and 1.0, respectively). Physical measurement of subcutaneous tophi was also included in this study and, interestingly, compared well with CT in terms of reliability. For tophi that were identified by both physical measurement and CT (89%), there was good correlation between physical measurement of the longest diameter and CT measurement of volume (r = 0.91), providing further validation of CT as a measurement instrument. Currently, there are no published studies evaluating change in CT tophus volume in patients on urate-lowering therapy.
Abufayyah and colleagues [38] recently reported a proof-of-concept study investigating the use of DECT in monitoring reduction of tophus volume in 12 patients on urate-lowering therapy. Scans were performed of four peripheral joint areas - elbows, wrists/hands, knees, and ankles/feet - at baseline and were repeated 11 to 29 months later. Ten patients improved on urate-lowering therapy, with a reduction in serum urate levels and lower frequency of gout attacks. Tophus volume was reduced in all of these responders; the median reduction was 64% (from 322 to 107 cm3). By contrast, the two non-responders showed a 36% increase in total tophus volume. The authors concluded that DECT scanning had potential as a sensitive, quantitative imaging tool for assessing tophus (and therefore urate) volume changes in patients with tophaceous gout.
Using advanced imaging to monitor responses to therapy in arthritic conditions has led to the development of measuring instruments by OMERACT-led international working parties in RA and PsA [4, 39]. The MRI scoring systems - Rheumatoid Arthritis MRI Score (RAMRIS) and Psoriatic Arthritis MRI Score (PsAMRIS) - are now in use in clinical trials and similar systems are being evolved for studies in US [40]. The utility of these instruments lies in their ability to reproducibly measure joint inflammation and damage, incorporating characteristic pathological features including bone erosion, bone oedema and synovitis for RA, with additions now available for scoring tenosynovitis and cartilage [41, 42]. For PsA, additional features such as bone proliferation and periarticular inflammation have been included in PsAMRIS to capture relevant pathology [39]. Clearly, measuring tophus volume alone in gout is incomplete as successful therapy also needs to be associated with a reduction in chronic synovitis (or acute flares) and slowing the progression of bone erosion. Thus, an all-inclusive measurement tool is needed for comprehensive assessment of gouty arthropathy and perhaps a Gouty Arthritis MRI Score or "GAMRIS" is called for. Alternatively an US or CT score could be devised for gout, keeping in mind that the different modalities have different strengths and weaknesses. For example, MRI has the advantage of revealing all components (inflammation, damage, and tophi) but probably has lower resolution and reproducibility for tophus measurement than CT scanning, whereas US can reveal all components except bone edema (and some deep tissue tophi), appears to have fair reproducibility for tophus measurement, but tends to be operator-dependent.
In summary, advanced imaging techniques are currently poised to fulfill their potential in gout. This review has summarized the great advances that have already occurred in terms of revealing pathological features in this condition. The 3D rendering of tophi is allowing computation of volume from CT and MRI, and the development of DECT means that tophaceous deposits can now be recognized not just by their morphology and tissue density characteristics but by their chemical composition. US allows a 'hands on' approach for the practicing clinician to assess tophi, erosions, and synovitis and may be particularly applicable in the longitudinal setting. It can also be used to guide aspiration of the joint or tophus to obtain material for crystal examination. Advances are being made in defining the reproducibility of imaging measurements, and ultimately the goal will be for the practicing clinician to employ these tools in the assessment of the activity and severity of gout and to determine clinically meaningful responses to therapy.
Abbreviations
3D:

three-dimensional
CT:

computed tomography
DECT:

dual-energy computed tomography
ICC:

intraclass correlation coefficient
MRI:

magnetic resonance imaging
MSU:

monosodium urate
OMERACT:

Outcome Measures in Rheumatoid Arthritis Clinical Trials
PsA:

psoriatic arthritis
PsAMRIS:

Psoriatic Arthritis Magnetic Resonance Imaging Score
RA:

rheumatoid arthritis
T2w:

T2-weighted
US:

ultrasonography
XR:

radiography.
Authors' Affiliations
(1)
Department of Molecular Medicine and Pathology, Faculty of Medicine and Health Sciences, University of Auckland, Grafton, New Zealand
(2)
Department of Radiology, Auckland City Hospital, Auckland District Health Board, Auckland, New Zealand
(3)
Department of Medicine, Faculty of Medicine and Health Sciences, University of Auckland, Grafton, New Zealand
Copyright
© BioMed Central Ltd 2011