Inhibitory function of parathyroid hormone-related protein on chondrocyte hypertrophy: the implication for articular cartilage repair
Arthritis Research & Therapy
2012
14:221
Published: 31 August 2012
Abstract
Cartilage repair tissue is usually accompanied by chondrocyte hypertrophy and osseous overgrowths, and a role for parathyroid hormone-related protein (PTHrP) in inhibiting chondrocytes from hypertrophic differentiation during the process of endochondral ossification has been demonstrated. However, application of PTHrP in cartilage repair has not been extensively considered. This review systemically summarizes for the first time the inhibitory function of PTHrP on chondrocyte hypertrophy in articular cartilage and during the process of endochondral ossification, as well as the process of mesenchymal stem cell chondrogenic differentiation. Based on the literature review, the strategy of using PTHrP for articular cartilage repair is suggested, which is instructive for clinical treatment of cartilage injuries as well as osteoarthritis.
Keywords
Articular Cartilage
Cartilage Repair
Articular Chondrocytes
Autologous Chondrocyte Implantation
Endochondral Ossification
Introduction
Articular cartilage injuries and osteoarthritis (OA) are commonly encountered in joint diseases. Current treatments aim at generating hyaline-like repair tissue with a stable, permanent chondrocyte phenotype. However, the repair tissue is often accompanied by chondrocyte hypertrophy and bony outgrowths, in particular with respect to bone marrow-eroding techniques [1, 2]. The progressive abnormal hypertrophy may result in degradation of the matrix, impairing the function of the repair tissue. A role for parathyroid hormone-related protein (PTHrP) in regulating endochondral ossification by inhibiting chondrocytes from hypertrophy has been demonstrated. Moreover, the inhibitory effect of PTHrP on expression of hypertrophy-related markers in articular chondrocytes and during chondrogenic differentiation of mesenchymal stem cells (MSCs) has been reported by a number of studies [3–7]. Those findings indicate that PTHrP has potential for cartilage repair through inhibiting chondrocyte hypertrophy.
This review presents, compares and discusses the inhibitory function of PTHrP on chondrocyte hypertrophy in articular cartilage and during the process of endochondral ossification, as well as the process of MSC chondrogenic differentiation. Moreover, a strategy for using PTHrP for articular cartilage repair is suggested.
Chondrocyte hypertrophy
Chondrocyte hypertrophy is commonly found during both endochondral ossification and the process of articular cartilage repair. The former is a physiological process of bone formation, during which chondrocytes become larger and produce collagen type × (Figure
1A,B
). These cells are called hypertrophic chondrocytes (quite different from normal chondrocytes, which secrete and maintain the cartilaginous matrix rich in collagen type II and aggrecan). Hypertrophic chondrocytes mineralize surrounding matrix, secrete vascular endothelial growth factor to induce blood vessel formation, and finally undergo apoptosis. Then osteoblasts fill up the vacancy left by hypertrophic chondrocytes and synthesize bone matrix, a process that results in new bone formation [
8
]. Because chondrocytes go through a series of orderly changes during endochondral ossification, the cartilage is referred to as 'transient' cartilage. In articular cartilage, hypertrophic chondrocytes usually exist quiescently in calcified layers under the tidemark [
9
] (Figure
1C,D
). The upper healthy articular chondrocytes maintain a stable phenotype and are resistant to hypertrophic differentiation [
10
]. So articular cartilage is called 'permanent' cartilage, which maintains the structure of functional hyaline cartilage throughout life. Under pathological conditions, however, such as cartilage injuries and OA, chondrocyte hypertrophy can be reactivated in the repair process (Figure
2
). The normal articular chondrocytes thus enter hypertrophic differentiation, resembling the process of endochondral bone formation [
11
,
12
], which can cause the upper cartilage to become calcified and a relatively thin repair tissue to be formed [
1
,
9
]. Hypertrophic chondrocytes in endochondral ossification and cartilage repair tissue show similar characteristics, like the production of collagen type × [
13
] and matrix metalloproteinase 13 (MMP-13) [
14
], promoting degradation of the cartilage matrix. The close link between aberrant hypertrophy and the inferior quality of cartilage repair tissue indicates that chondrocyte hypertrophy might be a potential therapeutic target to improve cartilage repair.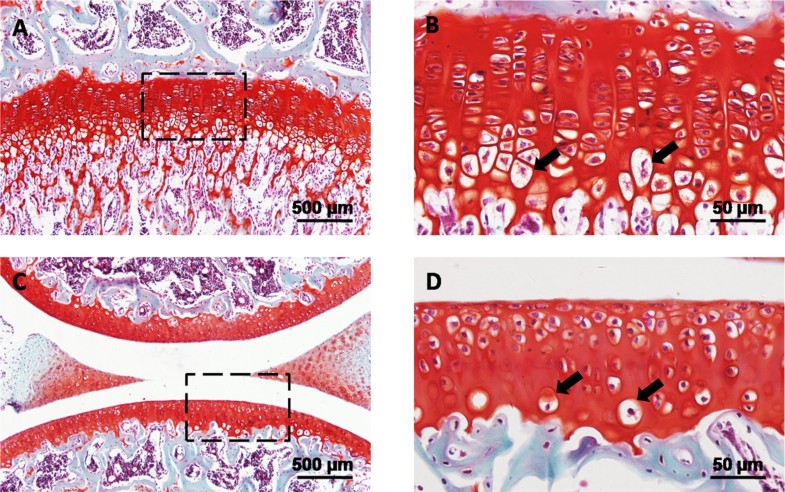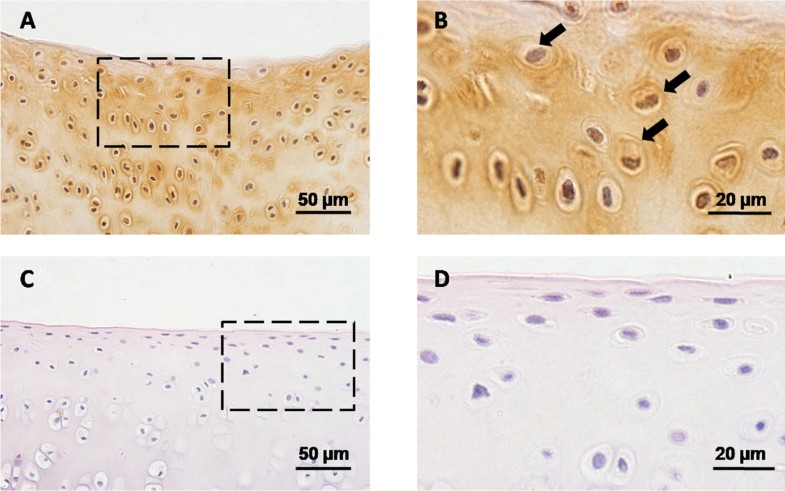 Biology of PTHrP and its correlation with chondrocyte hypertrophy
Application of PTHrP for articular cartilage repair
As described above, it is likely that PTHrP can be used to restrain abnormal hypertrophy in the cartilage repair process. Treatment with PTHrP would consist of two main methods: administration of recombinant protein or gene therapy using genetic manipulation (Figure
4
).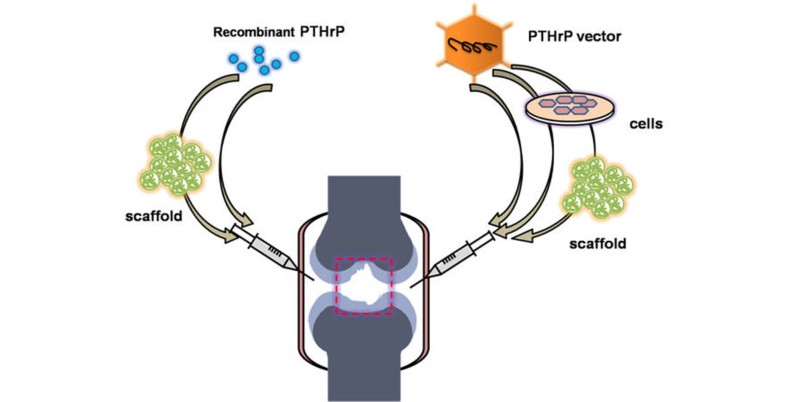 Recombinant protein treatment
Recombinant PTHrP protein used in most studies includes only its functional domains, such as PTHrP (1-34) [3, 5, 6], to which the PTHrP receptor binds. Experiments have been conducted where MSC pellets have been pre-treated with recombinant human PTHrP (1-34) and then the pellets transplanted subcutaneously into SCID mice [6]. Hypertrophy was inhibited during in vitro chondrogenesis but subsequent in vivo calcification was not repressed. This inefficacy is possibly due to the absence of PTHrP in ectopic transplantation sites, which implies the importance of sustained and sufficient PTHrP for complete inhibition of hypertrophy.
Injection of PTHrP in sites can maintain the working concentration to some extent. Direct delivery of recombinant PTHrP without scaffolds, however, requires frequent injections to compensate for its rapid degradation and removal. Chang and colleagues [3] reported that injection of 10 nM PTH (1-34) intra-articularly every 3 days delayed progression of OA in rats. Kudo and colleagues [23] and Mizuta and colleagues [24] demonstrated that constant PTH administration into the joint cavity by an osmotic pump placed subcutaneously avoided the complexities of frequent injection.
Tissue engineering approaches are potent methods for cartilage repair. Biodegradable injectable scaffolds are utilized as a delivery system for the controlled release of PTHrP. Various kinds of materials have been developed to improve local delivery in cartilage tissue engineering, such as collagen-alginate [62]. Release rate and degradation time change with the scaffold materials and structures and an appropriate release system should be chosen according to the release profile of PTHrP, the specificity of the target region, and the actual target effect.
On the other hand, the treatment time must be optimized to avoid the side effects of early or prolonged PTHrP treatment. Mizuta and colleagues [24] demonstrated that a 2-week treatment with PTHrP for full-thickness articular cartilage defects resulted in successful regeneration, while a 4-week treatment resulted in an inferior repair, although the effect on hypertrophy inhibition in repair tissue was not assessed in this study. As mentioned above, our unpublished data indicate that it is quite important to choose a suitable time window for PTHrP administration post-injury. We injected 50 μg/ml hPTHrP (1-40) into rabbit joint cavity once a week at three different time windows: 4 to 6 weeks, 7 to 9 weeks and 10 to 12 weeks after osteochondral defect construction. All rabbits in the three groups were sacrificed 16 weeks post-injury. The results showed that joint cartilage injected at 4 to 6 weeks after osteochondral defect construction exhibited a better morphological and histological appearance than the other groups. The repair tissue with PTHrP injection at 4 to 6 weeks displayed less expression of collagen type × and other hypertrophic markers than the groups without PTHrP injection or treated over different time windows (unpublished data). These results suggest that 4 to 6 weeks post-injury is a suitable time window to administer PTHrP for osteochondral defect repair in rabbit, but further tests are needed to determine whether this is the case for other animal models or PTHrP concentrations. Kudo and [23] colleagues administrated hPTH (1-84) continuously or intermittently for 2 weeks after creation of full-thickness defects. The repair tissue was found to be fibrous or fibrocartilaginous with continuous treatment after 8 weeks post-injury, while intermittent treatment resulted in restoration of hyaline-like cartilage. Based on the above-mentioned studies, we conclude that short-term and intermittent treatment using PTHrP in the early phase (but not the initiation) after injury may lead to superior cartilage repair. However, those pilot studies were done by different groups under different situations, and systematic research must be carried out to determine the conditions leading to the best therapeutic effect.
Gene therapy
Gene therapy represents another new approach, providing persistent synthesis of required proteins at target sites in vivo. Wang and colleagues [54] generated bovine articular chondrocytes that were transfected with human PTHrP constructs, demonstrating that PTHrP-transfected chondrocytes resisted mechanical strain-induced hypertrophy. This effect was not confirmed by in vivo experiments. Though few studies on PTHrP gene therapy have been conducted, studies focusing on cartilage repair with other genes are numerous, making PTHrP gene transfer feasible and applicable.
PTHrP gene therapy could be carried out in two ways. The PTHrP gene (delivered by adenovirus, lentivirus, adeno-associated virus or other vectors) could be directly introduced to the joint space to affect surrounding cells, such as synovial lining cells, articular chondrocytes and MSCs [63], so that they secrete PTHrP. Alternatively, the PTHrP gene could be transfected into cultured cells, such as chondrocytes, MSCs and other cells, following transplantation of those cells to the target locations [64] for sustained production of PTHrP. In both methods, gene constructs or genetransfected cells can be pre-mixed with tissue engineered scaffolds before transplantation to guarantee more durable delivery.
However, the problem of unrestrained PTHrP production, similar to excessive administration of recombinant PTHrP mentioned above, could occur with gene therapy, so the level of PTHrP would need to be precisely controlled. According to previous research, 1 ng/ml PTHrP was suitable for MSC chondrogenesis while higher doses suppressed collagen type II expression [6]. Thus, PTHrP expression should be confined to a certain level for better therapy.
The time window for PTHrP expression also requires consideration. According to our results from protein treatment, PTHrP administration at 4 to 6 weeks post-injury is the optimum time window. Therefore, it would be better to switch the PTHrP gene on during this period. Various kinds of regulatory strategies have been explored to achieve temporal control of transgene expression. Besides the conventional exogenous stimuli, such as tetracycline [65], that have been utilized for years, new types of stimuli, such as light [66] and ultrasound [67], have emerged and can be applied to control of PTHrP expression.
Conclusions and perspectives
Chondrocyte hypertrophy is found in the process of cartilage repair and endochondral bone formation. PTHrP has long been recognized as a potent inhibitor of hypertrophic differentiation during endochondral ossification. Pilot studies demonstrated PTHrP's capacity to suppress abnormal hypertrophy in both the articular cartilage and MSC chondrogenic differentiation processes. So, it could be reasoned that PTHrP may potentially inhibit chondrocyte hypertrophy in cartilage repair tissue as well. Like other bioactive factors, therapy with PTHrP could be achieved using recombinant protein or gene manipulation. However, to develop an efficient and applicable way for functional cartilage repair with PTHrP, several key issues need to be further investigated.
First, a suitable PTHrP concentration should be determined. This should be sufficient to inhibit hypertrophy but have no adverse effects on chondrogenesis. The concentration changes depending on the animal model, PTHrP fragments used, administration time, and so on.
Second, the time over which PTHrP functions best should be determined. This should be early, short and intermittent to avoid side effects of earlier or prolonged PTHrP treatment. The release frequency and duration need to be optimized according to practical requirements.
Third, the PTHrP delivery system should be optimized, including the delivery material, methods of recombinant protein injection, as well as methods of PTHrP gene transfer.
Finally, more in vivo studies are necessary to gain more direct evidence on the efficacy of PTHrP on articular cartilage repair and to elucidate the underlying mechanisms more clearly in a variety of animal models.
Abbreviations
hPTHrP:

human parathyroid hormone-related protein
Ihh:

Indian hedgehog
MSC:

mesenchymal stem cell
OA:

osteoarthritis
PK:

protein kinase
PLC:

phospholipase C
PTH:

parathyroid hormone
PTH1R:

parathyroid hormone 1 receptor
PTHrP:

parathyroid hormone-related protein.
Declarations
Acknowledgements
We appreciate Dr Yangzi Jiang and Dr Hua Liu's comments on the manuscript. This work was supported by National Key Basic Research Program (2012CB966600), National Natural Science Foundation of China (81125014, 81071461, J1103603, 31000436), International Science & Technology Cooperation Program of China (2011DFA32190), Zhejiang Province Grants (Z2100086, 2011C23079).
Authors' Affiliations
(1)
Center for for Stem Cell and Tissue Engineering, School of Medicine, Zhejiang University, Hangzhou
(2)
Zhejiang Provincial Key Laboratory of Tissue Engineering and Regenerative Medicine, Hangzhou, China
(3)
Department of Sports Medicine, School of Medicine, Zhejiang University, Hangzhou, China
Copyright
© BioMed Central Ltd 2012