Epidemiology and genetics of rheumatoid arthritis
Arthritis Research & Therapy
2002
4(Suppl 3):S265
Received: 27 February 2002
Accepted: 13 March 2002
Published: 9 May 2002
Chapter summary
The prevalence of rheumatoid arthritis (RA) is relatively constant in many populations, at 0.5–1.0%. However, a high prevalence of RA has been reported in the Pima Indians (5.3%) and in the Chippewa Indians (6.8%). In contrast, low occurrences have been reported in populations from China and Japan. These data support a genetic role in disease risk. Studies have so far shown that the familial recurrence risk in RA is small compared with other autoimmune diseases. The main genetic risk factor of RA is the HLA DRB1 alleles, and this has consistently been shown in many populations throughout the world. The strongest susceptibility factor so far has been the HLA DRB1*0404 allele. Tumour necrosis factor alleles have also been linked with RA. However, it is estimated that these genes can explain only 50% of the genetic effect. A number of other non-MHC genes have thus been investigated and linked with RA (e.g. corticotrophin releasing hormone, oestrogen synthase, IFN-γ and other cytokines). Environmental factors have also been studied in relation to RA. Female sex hormones may play a protective role in RA; for example, the use of the oral contraceptive pill and pregnancy are both associated with a decreased risk. However, the postpartum period has been highlighted as a risk period for the development of RA. Furthermore, breastfeeding after a first pregnancy poses the greatest risk. Exposure to infection may act as a trigger for RA, and a number of agents have been implicated (e.g. Epstein–Barr virus, parvovirus and some bacteria such as Proteus and Mycoplasma). However, the epidemiological data so far are inconclusive. There has recently been renewed interest in the link between cigarette smoking and RA, and the data presented so far are consistent with and suggestive of an increased risk.
Keywords
environmentfamily studiesHLAoccurrencerheumatoid arthritis
Introduction
This chapter reviews recent epidemiological data on the relative contributions of genetic and environmental risk factors for the development of RA. It considers and proposes the direct and indirect evidence to the contribution of various risk factors for disease susceptibility. The quality of the evidence varies and, where appropriate, this is highlighted.
Environmental factors
The term 'environment' is frequently used to describe all those susceptibility factors leading to disease that are not explicable on the basis of an identifiable genetic marker. In a strict sense, however, environment could be taken to refer to those factors external to the individual; for example, factors associated with diet, water or air-borne exposures. It is also important to consider factors implicated with diseases that are internal to the subject without an obvious genetic basis. An appropriate term for this group of factors is 'nongenetic host factors'.
Nongenetic host factors: hormonal and pregnancy factors
The increased risk of RA in females has lead to considerable effort in examining the role of hormonal and pregnancy factors in disease occurrence. In general, male sex hormones, particularly testosterone, are lower in men who have RA [25]. By contrast, levels of female sex hormones are not different between RA cases and controls [53].
Interestingly, exogenous hormonal influences are implicated in disease risk. The most widely studied of these is exposure to the oral contraceptive pill, based on an observation made over 20 years ago [
54
] (Fig.
2
). There have been several studies [
55
] confirming that women who take the oral contraceptive pill are at reduced risk of developing RA [
25
]. There is no clear explanation for this and the association exists despite the formulation of the oral contraceptive pill varying enormously both between populations and over time. A follow-up of the original study was undertaken that suggested the oral contraceptive pill was protective. This showed that the initial protection was lost on follow-up [
56
]. One conclusion might therefore be that oral contraceptive use may postpone, rather than totally protect against, the development of RA.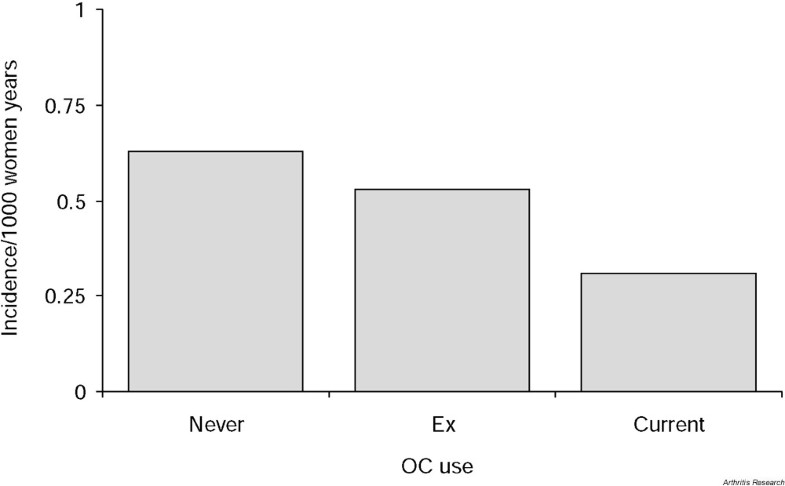 Pregnancy itself has been investigated as a risk factor in RA development. Studies on the influence of pregnancy on RA have produced conflicting results. A number of studies [25] have suggested that women who are nulliparous are at increased risk of developing the disease, although there is no increased risk in women who are single [57]. It would thus appear that subfertility highlights a group at higher risk.
Recent studies have suggested that pregnancy might also be important with the interesting observation that the postpartum period, particularly after the first pregnancy, represents a strong risk period of disease development [
58
,
59
] (Fig.
3
). Subsequent investigations showed that much of this increased risk could be explained by exposure to breastfeeding and it is women who breastfeed after their first pregnancy who are at the greatest risk [
60
]. The suggestion then arose linking breastfeeding with sub-fertility in so far as RA may be related to either increased prolactin or abnormal response to prolactin, this latter hormone being proinflammatory [
61
].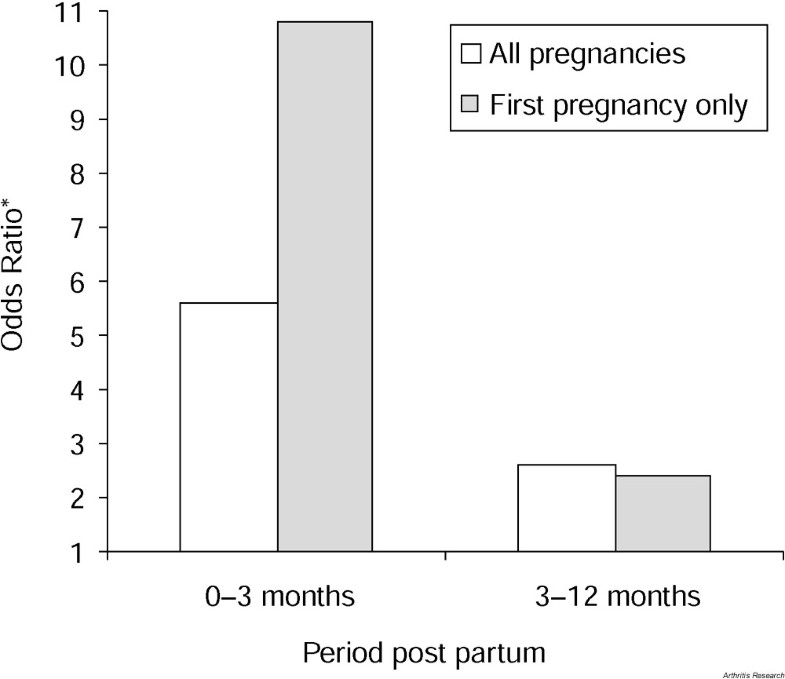 Nongenetic host factors: other
There have been a number of studies looking at other comorbidities that have an increased frequency in both subjects with RA and in their families. The most widely investigated has been the occurrence of other autoimmune diseases, particularly type 1 or insulin-dependent diabetes and autoimmune thyroid disease [62]. Other diseases, for example schizophrenia, have been shown to be negatively associated with RA development [63–65]. The significance of these findings is unclear.
There have been relatively few studies on anthropometric factors associated with RA, although one recent case–control study suggested that people who were obese were at higher risk [66]. The reason for this is unclear, and it is not certain whether this may represent a confounding factor of another exposure or whether people who are obese have, for example, increased production of oestrogens, which might pose a risk. A more recent case–control study found, however, after adjusting for age, smoking and marital status, that a link with obesity was nonsignificant [67].
Environmental factors: infection
Indirect evidence
There is much indirect evidence suggesting that exposure to infectious agents may be the trigger for RA. First, epidemiological data come from the observation of a decline in the incidence of RA in several populations [9, 16]. Many studies have indeed shown a halving in incidence over the past 30 years [68]. Given the genetically stable population, the most probable explanation is that of a decline in an infectious trigger. This effect of time on occurrence might also be related to the period of birth as well as to the current year of observations. The Pima Indians, for example, showed a decline in occurrence of disease, and an indepth study based on analysis of birth cohorts has shown a decline in the population occurrence of rheumatoid factor with increasingly recent birth cohorts [69].
There have been a few studies looking at clustering of RA in time and space, although there have been reports of nonrandom clusters occurring within the Norfolk Arthritis Register population [70]. Other indirect evidence regarding the role of an infectious agent has arisen from case–control studies suggesting that people who have had a blood transfusion, even some years prior to disease onset, may be at an increased risk of disease [66]. Recent practice has been to screen blood for a number of agents such as hepatitis, but the increased reporting of blood transfusion in older cohorts may indeed be explained by the increased likelihood of infection.
Possible infectious agents
There have been a large number of infectious agents that have been implicated in RA, including Epstein–Barr virus and parvovirus, as well as other agents, including bacteria such as Proteus and Mycoplasma. The epidemiological studies supporting or refuting these possible links are reviewed elsewhere [25] but, in general, such studies have been disappointing. One problem for the epidemiologist is that if RA represents the final common pathway of exposure to one of several different potential susceptibility organisms, many of which are also frequently observed in the general (i.e. nonarthritic population), it makes it more difficult to confirm a relationship with epidemiological studies.
Noninfectious environmental factors
There have been remarkably few studies on factors such as diet, although there is a theoretical basis for investigating the role of omega-3 fatty acids [71, 72]. Randomised trials suggest that diets high in eicosapentaenoic acid have a favourable effect on the outcome of RA [73–75]. This might be because such fatty acids compete with arachidonic acids, the latter of which are involved in inflammation. Whether such dietary factors have a role in RA onset is much less clear.
It is perhaps surprising, given how much this exposure has been investigated in other chronic diseases, that very little attention has been given to cigarette smoking until recently. However, findings from a number of recent studies showed that cigarette smoking is associated with an increased risk of RA [
66
,
67
,
76
–
79
] (Table
2
). Studies have also suggested that smoking is related to development of rheumatoid factor independent of RA. Indeed, in many of the epidemiological studies showing a relationship between smoking and RA, the positive findings have been restricted to those with rheumatoid factor.
Table 2
Summary of recent epidemiological studies showing the association between rheumatoid arthritis and cigarette smoking
| | | | | |
| --- | --- | --- | --- | --- |
| Study | Cases (n) | Controls (n) | Smoking group | Odds ratio (95% confidence interval) |
| [78] | 239 | 239 | 41–50 pack years | 13.5 (2.9–63.4) |
| | | | Ever | 1.8 (1.2–2.2) |
| | | | Never | 1.0 |
| [66] | 165 | 178 | Current | 0.95 (0.6–1.6) |
| | | | Ex | 1.7 (0.95–3.1) |
| | | | Never | 1.0 |
| [79] | 7697 | 370,000 | Current | 1.2 (1.1–1.3) |
| | | | Ex | 1.0 (0.95–1.1) |
| | | | Never | 1.0 |
| [67] | 361 | 5851 | Current (males) | 2.4 (1.5–3.9) |
| | | | Current (females) | 1.1 (0.8–1.6) |
| | | | Never | 1.0 |
Future prospects
There has been considerable recent interest in understanding the epidemiology of RA. There have been several population studies in many different countries around the world, and observations of differential occurrence (with time, between populations and between the genders) has stimulated a number of analytical studies looking for both genetic and environmental risk factors. Future studies will benefit from advances in molecular biology techniques to aid with the identification and characterisation of potential new genes for RA susceptibility. These studies, as already described, have revealed some tantalising clues that will require further follow-up in years to come.
Concluding remarks
RA presents an epidemiological challenge and further elucidation of both genetic and environmental factors, together with interactions between them, are likely to be revealed.
Organisations supplying funds for research
Authors' Affiliations
(1)
ARC Epidemiology Unit, School of Epidemiology & Health Sciences, University of Manchester, Manchester, UK
Copyright
© BioMed Central Ltd 2002