Erratum to: Novel hyaluronic acid–methotrexate conjugate suppresses joint inflammation in the rat knee: efficacy and safety evaluation in two rat arthritis models
Arthritis Research & Therapy
2016
18:121
Received: 18 May 2016
Accepted: 19 May 2016
Published: 31 May 2016
After publication of this article [
1
] it was noticed that Figs.
2
and
4
(seen below) contained incorrect characters. The corrected figures can be seen below and the original article has also been updated to reflect this.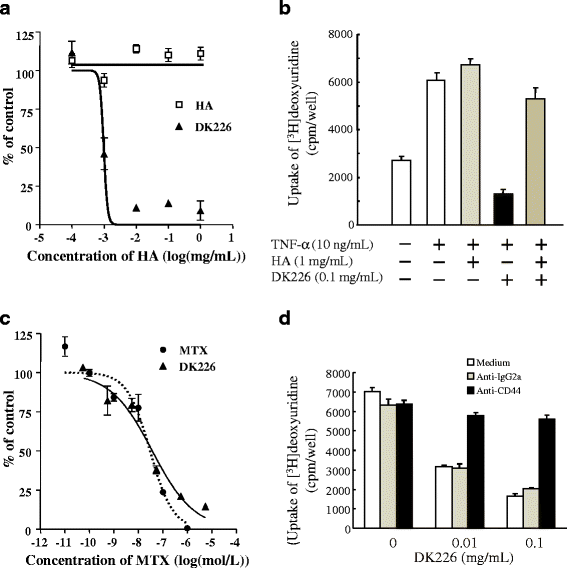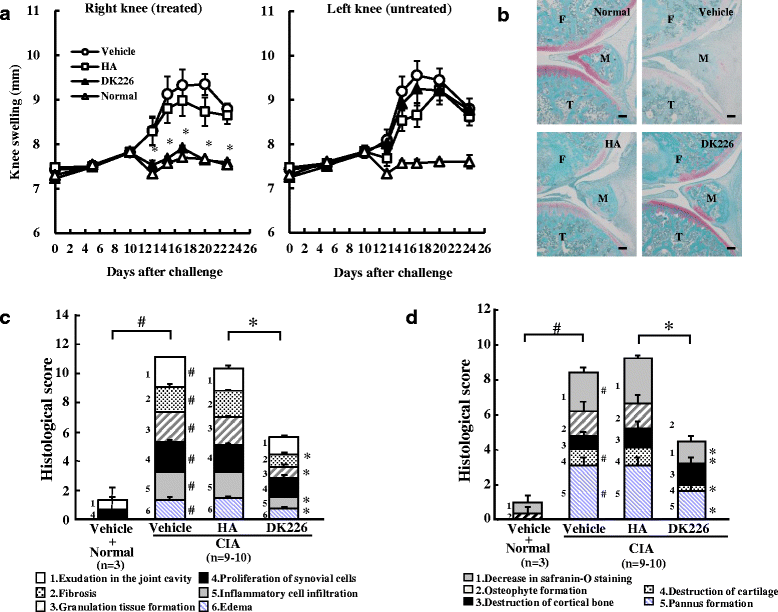 Open AccessThis article is distributed under the terms of the Creative Commons Attribution 4.0 International License (http://creativecommons.org/licenses/by/4.0/), which permits unrestricted use, distribution, and reproduction in any medium, provided you give appropriate credit to the original author(s) and the source, provide a link to the Creative Commons license, and indicate if changes were made. The Creative Commons Public Domain Dedication waiver (http://creativecommons.org/publicdomain/zero/1.0/) applies to the data made available in this article, unless otherwise stated.
(1)
Research Division, Chugai Pharmaceutical Co., Ltd., 1-135 Komakado, Gotemba Shizuoka, 412-8513, Japan
(2)
New Business Planning Department, Denka Co., Ltd., 2-1-1 Nihonbashi-Muromachi, Chuo-ku, Tokyo 103-8338, Japan
Tatsuya T, Yoshinobu H, Hidetomo K, Naoaki M, Ryoichi S, Tadashi M, Haruhiko S. Novel hyaluronic acid-methotrexate conjugate suppresses joint inflammation in the rat knee: efficacy and safety evaluation in two rat arthritis models. Arthritis Res Ther. 2016;18:79. doi:10.1186/s13075-016-0971-8.View ArticleGoogle Scholar