Correction to: Green tea polyphenol treatment is chondroprotective, anti-inflammatory and palliative in a mouse posttraumatic osteoarthritis model
Arthritis Research & Therapy volume 21, Article number: 1 (2019)
1221 Accesses

9 Citations

10 Altmetric
Correction to: Arthritis Res Ther
https://doi.org/10.1186/s13075-014-0508-y
Following publication of the original article [1], the authors reported an error in Figs. 2C and 5C. The incorrect and the correct figures are displayed below.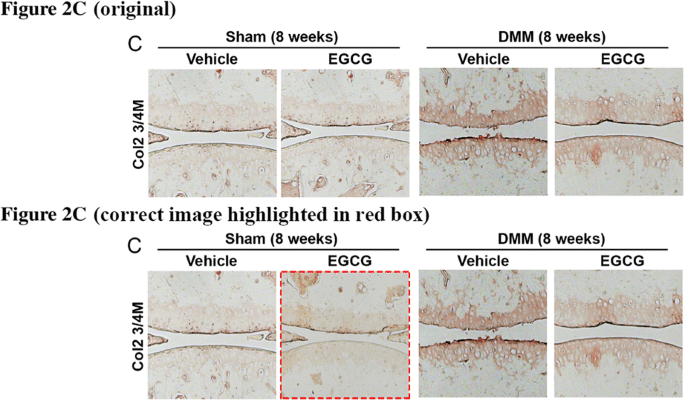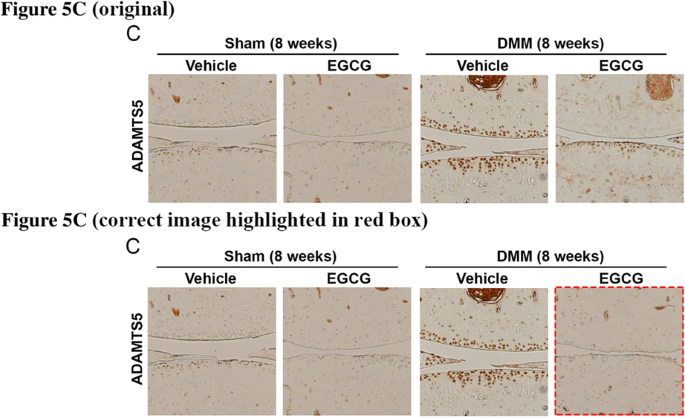 Reference
Leong DJ, et al. Green tea polyphenol treatment is chondroprotective, anti-inflammatory and palliative in a mouse posttraumatic osteoarthritis model. Arthritis Res Ther. 2014;16:508 https://doi.org/10.1186/s13075-014-0508-y.
Rights and permissions
Open Access This article is distributed under the terms of the Creative Commons Attribution 4.0 International License (http://creativecommons.org/licenses/by/4.0/), which permits unrestricted use, distribution, and reproduction in any medium, provided you give appropriate credit to the original author(s) and the source, provide a link to the Creative Commons license, and indicate if changes were made. The Creative Commons Public Domain Dedication waiver (http://creativecommons.org/publicdomain/zero/1.0/) applies to the data made available in this article, unless otherwise stated.
About this article
Cite this article
Leong, D.J., Choudhury, M., Hanstein, R. et al. Correction to: Green tea polyphenol treatment is chondroprotective, anti-inflammatory and palliative in a mouse posttraumatic osteoarthritis model. Arthritis Res Ther 21, 1 (2019). https://doi.org/10.1186/s13075-018-1791-9
Received:

Accepted:

Published:

DOI: https://doi.org/10.1186/s13075-018-1791-9