Dipeptidyl peptidase IV activity and/or structure homologs: Contributing factors in the pathogenesis of rheumatoid arthritis?
Arthritis Research & Therapy
2005
7:253
Published: 26 October 2005
Abstract
Several of the proinflammatory peptides involved in rheumatoid arthritis pathogenesis, including peptides induced downstream of tumor necrosis factor-α as well as the monocyte/T cell-attracting chemokines RANTES and stromal cell-derived factor (SDF)-1α and the neuropeptides vasoactive intestinal peptide (VIP) and substance P, have their biological half-lives controlled by dipeptidyl peptidase IV (DPPIV). Proteolysis by DPPIV regulates not only the half-life but also receptor preference and downstream signaling. In this article, we examine the role of DPPIV homologs, including CD26, the canonical DPPIV, and their substrates in the pathogenesis of rheumatoid arthritis. The differing specific activities of the DPPIV family members and their differential inhibitor response provide new insights into therapeutic design.
Keywords
Rheumatoid ArthritisRheumatoid Arthritis PatientVasoactive Intestinal PeptideSynovial FibroblastInflame Synovium
Introduction
A significant proportion of the biologically active peptides, including systemic and locally acting neuropeptides, lymphokines, cytokines and chemokines, contain an evolutionarily conserved amino-terminal penultimate proline residue as a proteolytic-processing regulatory element. This penultimate proline protects the peptide from general aminopeptidase activity, which has led to the view that the high specificity of the dipeptidyl aminopeptidases constitutes a critical regulatory 'check-point' [1]. Limited proteolysis of such peptides by dipeptidyl peptidase (DPP) IV and/or structural homolog (DASH)-related molecules may lead to both quantitative and, due to the diversification of their receptor preference, qualitative changes to their signaling potentials [2, 3]. Molecules of the DASH family have been invoked in the pathogenesis of a range of autoimmune processes, including systemic lupus erythematosus (SLE) and multiple sclerosis, in particular [4]. As these proteases and their substrates play a fundamental role in the migration and activation of immune cells and their interactions with extracellular matrix, we examine here their likely role in the progression of rheumatoid arthritis (RA).
It is tempting, although unrealistic, to propose that the marked changes in DPPIV enzymatic activity in blood plasma, synovial fluid (SF) and immune cells observed during the course of RA might be causally related to the disease etiology. Nevertheless, it is not presumptuous to propose that once DPPIV levels are altered they would participate in a positive-feedback cycle that could rapidly accelerate to exacerbate damage and thus take part in RA pathogenesis. Although this leads to speculation of therapeutic modalities based upon inhibition of DPPIV enzymatic activity, gene knockout experiments suggest that DASH family members can to some extent compensate, but not fully substitute, for each other [2, 5]. As a consequence, inhibition of DPPIV activity must be examined from the perspective of the enzymatic activities and interactions of all DASH family members rather than the functionality expressed by a single enzyme in an isolated biochemical framework.
The members of the DASH family
Initially, DPPIV activity was classified simply by the enzymatic reaction, cleavage of a dipeptide from the accessible amino terminus of proteins in which the second amino acid is a proline (EC 3.4.14.5). Its expression was high on endothelial cell membranes and also in tissues with strong secretory capacity, including ovary, pancreas, liver and particularly kidney where DPPIV constituted up to 14% of the total membrane protein. In these tissues, the DPPIV levels were constant and synthesis was believed to be constitutive. The field took a vast leap forward when it was established that a 105 to 110 kDa membrane-expressed human lymphocyte activation antigen, defined by the CD26 monoclonal antibody cluster, was identical to DPPIV and was subject to activation-induced regulation (for a review see [4]). This was rapidly followed by the discovery that CD26 is itself the high affinity lymphocyte adenosine deaminase (ADA)-binding protein. Because the anti-folate treatments for RA, exemplified by methotrexate, mediate their anti-inflammatory effects in part through locally increasing extracellular adenosine concentrations, the localization and functional activity of an adenosine-metabolizing protein on activated T lymphocytes would clearly be an undesirable state in RA [6–8].
Although the greatest part of systemic DPPIV activity resides in both membrane-bound and, to some degree, proteolytically cleaved soluble CD26, a significant amount of DPPIV activity can be attributed to a growing panel of other proteins, including fibroblast-activation protein α (FAP-α)/seprase, quiescent cell proline dipeptidase (QPP), DPP8, DPP9, attractin, N-acetylated α-linked acidic dipeptidases (NAALADases) and thymus-specific serine protease [9]. These proteins form the DASH group on the basis of having an associated DPPIV enzymatic activity with or without much structural homology, or being structurally similar but enzymatically inactive (DPP6, DPP10). In some instances, the DPPIV activity is clearly intrinsic whereas in others the nature of the DPPIV activity remains debatable. In these latter cases, DPPIV activity may represent association with minimal amounts of CD26, which results in enhanced substrate hydrolysis, or may represent a separate enzyme specificity that can also accept DPPIV substrates. The contamination issue has been extensively examined and, to date, in the case of attractin for example, there is no evidence of contamination of purified preparations by CD26 [10, 11]. This, however, does not exclude association with other family members. The possibility of alternative specificity is exemplified by the NAALADases, where the primary function appears to be glutamate carboxypeptidase II activity rather than aminodipeptidase functionality. Alternatively, the FAP-α/seprase protein exhibits both DPPIV and gelatinase activity; this latter property has profound effects upon the invasive properties of the expressing cell [2].
Most DPPIV/CD26 activity is membrane-expressed. There is, however, a strong circulating activity, which may be of critical importance for systemic bioactive peptide activity. Although debate remains as to the relative contributions of cleaved membrane CD26, attractin and secreted QPP to the soluble circulating DPPIV-like enzymatic activity, the functional consequences will be identical. Accordingly, this may provide a mechanism for restricting activity of paracrine/autocrine bioactive peptides at the site of release, and may further ensure rapid down-regulation of physiologically activated peptides such as glucagon-like peptide (GLP)-1, which is released by the intestine but targets the pancreas. In inflammatory reactions, it may provide a mechanism for restricting chemokine-responding T cells to the inflamed region. For example, both RANTES (regulated upon activation normal T-cell expressed and secreted) and stromal cell-derived factor (SDF)-1α are already known to be regulated by DPPIV [12, 13].
The DPPIV activity, gelatinase activity and ADA complex forming function are differentially represented within individual DASH proteins. In fact, some proteins such as DPP10 have clear structural homology but no DPPIV activity at all. They may retain some of the other activities, which include association with the hematopoietic-specific CD45RO tyrosine phosphatase, or interaction with collagen. In contrast to human DPPIV/CD26, the mouse enzyme has no ADA complex forming ability and is a marker of thymic differentiation but is not an activation antigen. Nevertheless, its membrane presence has profound influence over the signal transduction responses of the T cell. This cautions against extending too far CD26-related immune results in mice to conclusions concerning RA pathogenesis and therapy in humans.
DASH molecules in rheumatoid arthritis
Based upon the enzymatic activities of the DASH enzymes described above, it is immediately apparent that DPPIV-like and gelatinase activities, collagen binding and regulation of extracellular adenosine could all have substantial roles in every phase of an inflammatory response, from recognition and proliferation to cytokine/chemokine activity and chemotaxis. It is from this vantage point that we will now view RA as a chronic systemic inflammatory disease affecting mostly articular tissues. RA may be initiated by an unknown antigenic peptide derived either from an exogenous antigen or an autoantigen. Presentation of a putative arthritogenic peptide by RA-associated HLA-DRB1*0404 or HLA-DRB1*0401 results in release of IL-2 by CD4+ T cells and induction of clonal expansion of other CD4+ T cells [14]. Cytokine and growth factor release by the induced T cells stimulates B cells, synoviocytes, and monocytes/macrophages, which leads to enhanced leukocyte recruitment into the joint and synovitis. The synovial inflammation results in release of matrix metalloproteases and cysteine proteases, leading to proteolytic degradation of the connective tissue [15, 16]. Each of these processes will be affected by the presence of DPPIV, not directly but, rather, indirectly through the enzymatic processing of the bioactive peptides that regulate each stage. Reflecting this, the use of new specific DPPIV inhibitors to block RA and SLE development has led in the past year to three issued patents and eight pending applications in the United States alone.
The DASH family substrates: enzymatic regulation and their relationship with rheumatoid arthritis
The immune system receives input not only from the cells and messengers considered to be part of the classic immune network, but is clearly also influenced by neuroendocrine and reproductive signals. Consequently, the pathogenesis of the chronic disabling inflammatory diseases, of which RA is one, must take into account these extra-immune influences. By the same token, despite the understanding that multiple mediator abnormalities may contribute to RA development [64, 65], it is difficult to assess whether effects in vivo related to a neuroendocrine peptide are direct upon the immune cell, or indirect through creating an environment that modulates immune activity. For example, malnutrition leads to an immunosuppression that was not well understood until the discovery that adipocyte-derived leptin levels fall in the fasting condition or during inflammation, and T cell responses independent of the nutritional state can be restored by administration of leptin, which binds directly to receptors on T cells [66]. In several instances, there is clear evidence for neuroendocrine receptors on immune cells, and many of the ligands for these receptors have been identified as substrates for DPPIV activity. It is already well established that DPPIV cleavage can have powerful effects upon cytokine and chemokine activity. In the sections below, we will examine how the increased DPPIV activity associated with activated T cells may exacerbate the systemic inflammatory reaction characteristic of RA by modifying neuropeptide, cytokine and chemokine functionalities.
Neuropeptides
To date, neuropeptides that have been shown to directly modulate immune function through expressed receptors include SP, the pancreatic polypeptide family (including NPY), calcitonin gene-related peptide (CGRP), VIP and gastrin-releasing peptide (GRP). Remarkably, not only do the levels of several of these neuroendocrine peptides undergo distinct alterations in active RA, but all have been identified as substrates for DPPIV activity where the highly specific clipping of the amino-terminal dipeptide with a penultimate proline may have profound effects upon receptor agonism and downstream functionality (Fig.
1
). The presence of higher levels of surface DPPIV on systemic PB T cells will probably not have a significant effect upon the paracrine activities of these immune-activating neuropeptides, but the relative decrease of DPPIV/CD26 on the surface of SF-localized T cells may lead to a potentiation of the neuropeptide half-life, exacerbating the local inflammation.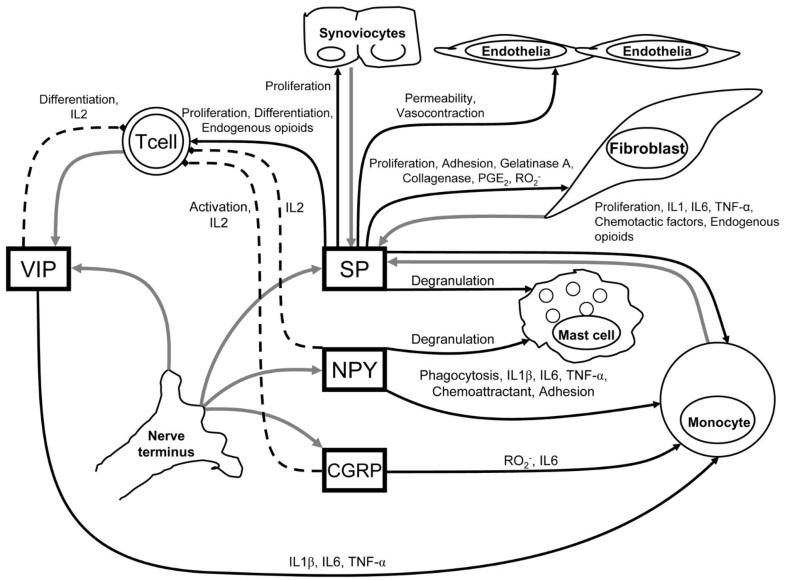 Cytokines
Cytokines are secreted by activated immune cells, mainly T cells and macrophages, as well as by other cell types such as fibroblasts. They have been found in synovial membrane and fluid in RA, psoriatic arthritis and OA, with quantitative differences observed dependent both upon disease type and severity [87–89].
Levels of TNF-α, IL-1 and IL-6 in RA SF and synovial tissues from RA patients are high and significantly higher than those in samples from controls and OA patients [
90
]. The ability of DPPIV to cleave these lymphokines is inversely correlated with the chain length [
91
]. It appears that DPPIV can cleave carboxy-shortened TNF-α, IL-1 and IL-6 but not the full-length mature peptides. The significance of this is difficult to interpret because the effects here of DPPIV would be anti-inflammatory. Further, the resistance to cleavage of full-length peptide has only been observed with CD26, and does not exclude cleavage by other DASH members, or their synergistic activity, or even an extracellular protein-assisted conformational change that would open the amino-terminal of the full-length protein to cleavage. In support of a mechanism more complex than simple CD26-mediated cleavage
in vitro
, full-length TNF-α undergoes a DPPIV-like cleavage in U937 human monocyte-like cells, and an identical activity was identified in both primary macrophages and monocytes [
92
]. Given the critical role ascribed to TNF-α in RA-associated inflammation [
93
], and that this lymphokine can itself induce fibroblasts and monocytes to produce downstream DPPIV substrates, including RANTES, macrophage inflammatory protein (MIP)-1 and IFN-γ inducible protein-10 (IP-10) [
94
–
97
], it is clear that DPPIV analysis should be global and not focused only on CD26 (Fig.
2
).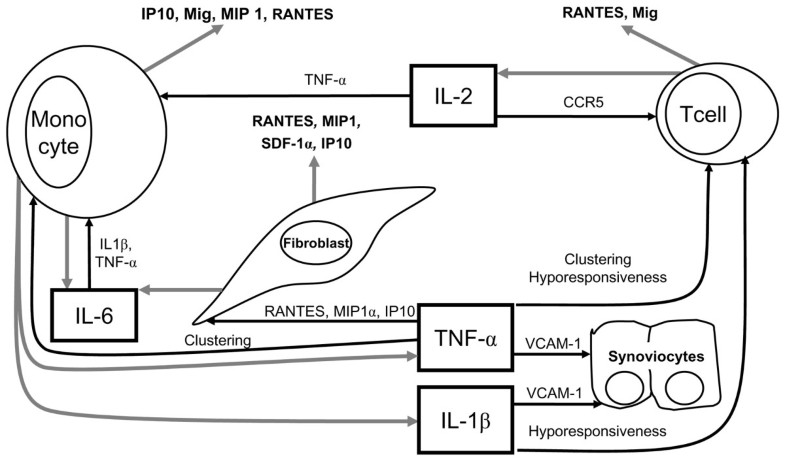 TNF-α induces IL-1β secretion by macrophages and monocytes, leading to activation of synoviocytes, T and B cells and increased production of structural protein degrading enzymes in the RA joint environment. A positive correlation was found between IL-6 and SP levels as well as between IL-6 and the cell count in SF of patients with RA. In contrast with SP, VIP and CGRP, an elevated IL-6 concentration was detectable also in blood plasma of RA patients [81]. Because DPPIV activity should be inhibitory for most of these processes, the reduced DPPIV activity observed within the enflamed synovium would lead to longer biological half-lives for all these lymphokines, with the consequent maintenance of the activated state.
Chemokines
Chemokines constitute a large superfamily of paracrine/autocrine 'chemotactic cytokines' that bind to G protein-coupled seven-span transmembrane receptors and control leukocyte migration and homing as well as maturation and release of inflammatory mediators. They are classified into four subfamilies (CXC, CC, C, and CX3C) based on the number and spacing of the first two or four cysteine residues. The pro-inflammatory cytokines such as TNF-α and IL-1β, which are believed to play a critical role in the pathogenesis of RA, have been shown to upregulate a number of chemokines from several cell types within the synovium. Although the relative contribution made by individual chemokines is not yet clear, a growing number of reports indicate that RANTES (CC ligand (CCL)5), MIP-1β (CCL4), monokine induced by interferon-γ (Mig; CXC ligand (CXCL)9), IP-10 (CXCL10) and SDF-1α (CXCL12) actively participate in RA pathogenesis and have been shown to be substrates for DPPIV activity [94–96, 98–101]. Amino-terminal processing of these molecules modifies, both quantitatively and qualitatively, their receptor preference and consequent functional properties.
In the RA synovial environment, Mig was found mainly in monocytic cells, whereas RANTES is expressed predominantly by CD3+ lymphocytes. Mig and IP-10, both ligands for the CXC receptor (CXCR)3, are attractants for lymphocytes mediating Th1-type responses in the RA enflamed joint. Their presence and expression create a gradient from the joint to the blood favoring Th1 cell migration into the tissue. In OA cases, the gradient appears to be generated in the opposite direction [102, 103]. Memory CD4+ T cells, the major cell population present in the synovium infiltrate, strongly express the chemokine receptors CXCR3, CXCR4, CXCR6 and CCR5, which all bind pro-inflammatory chemokines. SDF-1 is important for retaining cells in the inflamed joint, and its receptor (CXCR4) is strongly upregulated in the synovium by IL-15 and TGF-β, both of which are highly expressed in SF [95]. Production of SDF-1 by rheumatoid synovial fibroblasts is probably critical in maintaining the recruitment of CXCR4 expressing T cells from the periphery to inflamed synovium [104, 105]. Strong evidence that DPPIV-mediated inactivation of SDF-1 is an integral part of SDF-1 signaling and regulation of T cell attraction is provided by the report that CXCR4 and CD26 form a tight molecular complex and are internalized together following ligation and co-precipitate together in antibody-based pulldown assays [106]. Confirmation of these inferential findings has been demonstrated in mouse articular inflammatory models where DPPIV proteolysis of SDF-1α in vivo was shown to directly regulate T cell recruitment to the inflamed regions [55].
Robinson et al. [96] demonstrated elevated levels of RANTES, another DPPIV substrate, in PB, SF, and synovial tissues of RA patients. Expression of RANTES was undetectable in OA synovia, where inflammatory lymphocyte infiltration is not observed. Binding of RANTES to the chemokine receptors CC receptor (CCR)1, CCR3 and CCR5 leads to selective recruitment of T cells and monocytes into the synovium [94]. CCR3 and CCR5 receptors are upregulated on RA-derived cells, both in the periphery and in the inflamed synovium, rendering the cells more sensitive to local RANTES attractive gradients. Perhaps helping to exacerbate the initial inflammation, the receptor density increases as the SF leukocyte count increases. CCR5 expression is detected on the majority of cell types in the synovial environment, including macrophages, fibroblasts, vascular smooth muscle cells and perivascular lymphocytes [99]. Its expression on peripheral and synovial CD4+ cells in RA patients is further upregulated by IL-15, a pro-inflammatory cytokine [48]. RANTES is not the only DPPIV substrate elevated in RA; MIP-1α is also increased and also binds to CCR5 [97, 98]. Examination of CCR5 antagonists as a therapeutic modality have been shown to inhibit collagen-induced arthritis in mice, an effect ascribed to interference with T-cell migration [107].
Following cleavage of RANTES by DPPIV, loss of the amino-terminal dipeptide did not have a profound effect upon T cell chemotaxis, but resulted in a loss of monocyte attraction [108]. This may represent a shift in receptor expression on monocytes as there is evidence of an affinity shift for RANTES from CCR1 to CCR5 after DPPIV cleavage. In addition, these results examined only the effect of CD26 upon RANTES without considering other DASH enzyme activities. Analysis using MALDI-TOF of full-length RANTES following incubation with either attractin or CD26 reveals that attractin cleaves only the amino-terminal dipeptide while CD26 may then release a further dipeptide from the amino terminus consisting of amino acids Tyr3 and Ser4, and will similarly release the same dipeptide from synthetic (3–68) RANTES, a further digestion that may also influence receptor preference [56].
DPPIV enzymatic activity inhibitors in rheumatoid arthritis
Therapeutic options for modifying DPPIV activity in RA would, at first glance, seem facilitated by the recent advances in designing a large panel of inhibitors to block degradation of glucagon-like peptide 1 (GLP1), another DPPIV substrate that plays a critical role in controlling glucose metabolism [109]. Nevertheless, there are several concerns. DPPIV levels are low to normal in the inflamed synovium, with the consequence that chemokines such as SDF-1 and RANTES will have enhanced longevity. Administration of systemic DPPIV inhibitors will serve only to enhance the biological half-life, potentiating influx of activated T cells from the periphery. Conversely, the high level of DPPIV/CD26 on activated systemic T cells is essential for efficient transendothelial migration [44], and blocking of DPPIV activity may be critical for blocking migration into the synovium. The blocking of migration and enhanced degradation of chemokines will need to be carefully balanced, and experimental animal models may be limited for this purpose for several reasons. First, it remains to be shown that experimentally induced mouse arthritis really represents the systemic infiltration process seen in the human disease as opposed to a local inflammation that just happens to have been induced in the joint. Second, the role and functions of CD26 in the rodent are quite different to those in humans. Third, it is clear that members of the DASH family are not uniformly sensitive to inhibitors, each member expressing a unique spectrum of inhibition responses to a panel of DPPIV-specific inhibitors. Finally, as alluded to above, there are several peptide modulators of metabolism that are substrates for DPPIV activity, and systemic administration will affect these processes as well as immune processes.
The importance of these complicating factors relative to the desired reaction to be controlled cannot be predicted, and needs to be experimentally determined. Certainly, T cell proliferation and TNF-α production in vitro can be abrogated by DPPIV inhibitors [110]. Inhibition of DPPIV suppressed both cellular CD26 expression, serum DPPIV activity and prolonged allograft survival [31, 111]. Similar DPPIV inhibition in vivo led to an increase of immunosuppressive cytokine TGF-β1 in plasma, but did not cause a nonspecific general immunosuppression. Furthermore, DPPIV inhibitors have been shown to suppress T lymphocyte subpopulation migration into the inflamed tissue, as well as suppressing T cell DNA synthesis, and TNF-α, IL-1 and antibody production, all processes that may need to be controlled in RA [112]. Conversely, in some monocyte-derived cell populations, DPPIV enzymatic activity inhibitors may stimulate production of TNF-α [113].
Despite the compound and model-specific effects, there is increasing evidence that systemically distributed DPPIV inhibitors might have potent, dose-dependent anti-arthritic effects associated with down-regulation of a number of pro-inflammatory parameters both in vitro and in vivo in experimental animals [114–117]. Reinforcing the notion that systemic blocking of circulating T cell-associated DPPIV will be useful while synovial blocking might be counterproductive, DPPIV inhibitors were shown to increase the effect of SP on mitogen-induced proliferation of T cells, IL-2 production by T cells, immunoglobulin synthesis by B cells and TNF-α as well as other cytokine production by monocytes [68, 118, 119]. Similarly, the pro-inflammatory effects of NPY in concanavalin A-induced paw edema in rat was potentiated by co-application of a DPPIV inhibitor [80].
The potential to target systemic DPPIV and limit activity in the extracellular fluids would be desired pharmacologically, as would targeting of inhibitors to give broad spectrum inhibition of DASH family molecules. Ideally, preservation of DPPIV activity for peptides involved in metabolism and neurophysiology would be maintained. Such a trade-off may be accomplished not by complete broad inhibition of DPPIV activity, but simply by administration of inhibitor cocktails that would bring systemic cell-associated DPPIV activities within the low to normal range.
Conclusion
The chronic systemic inflammatory reaction characteristic of RA results in breakdown of cartilage and erosion of proximal bone. The initial insult that leads to development of autoreactive T cells remains enigmatic, but there can be no doubt that circulating activated T cells extravasate into the synovium where they release or express various factors that potentiate resorption of both cartilage and bone. The damaged synovial cells themselves release cellular components that mimic wound healing, leading to the further recruitment of immune cells. The predisposing factors, including genetic associations and possible initiating peptides, are not discussed here. This review instead addresses the involvement of DASH enzymatic activity in every step of the post-insult process, from T cell activation to extravasation, and from cartilage breakdown to the release of chemokines and cytokines that attract new T cells and monocytes, thereby increasing the inflammatory response and exacerbating degeneration. Some of the proposed interactions and mechanisms are outlined in Fig.
3
.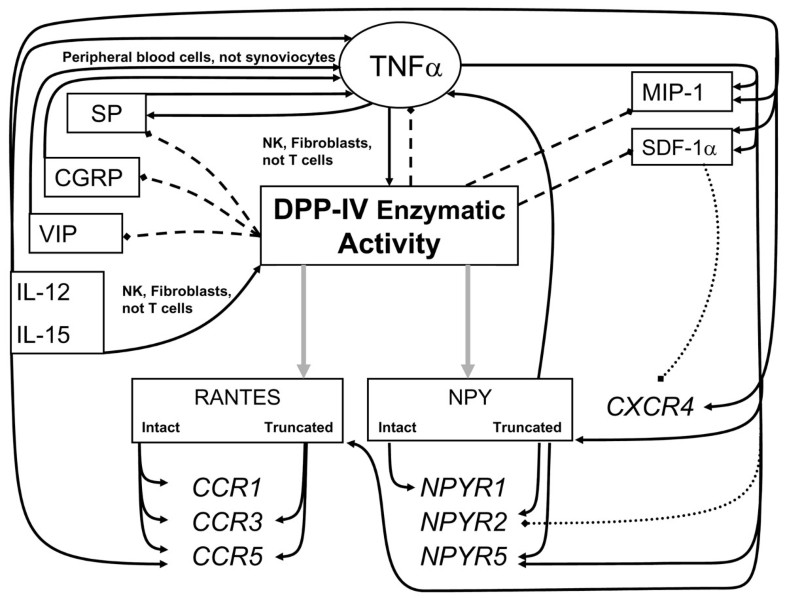 The DASH family members, predominantly CD26 and attractin, are rapidly upregulated on T cell activation. Following increased expression on the T cell surface, DPPIV plays a critical role in allowing the activated T cells to extravasate into the extracellular space. Once in the vicinity of the synovium, the DPPIV activity would be able to initiate amino-terminal degradation of the increased levels of pro-inflammatory neuropeptides, cytokines and chemokines that are present and are substrates for such activity. This degradation might be effective in down-regulating inflammation were it not for the remarkable observation that DPPIV activity in the RA inflamed synovium is low to normal and does not reflect the higher levels in the peripheral circulation, which themselves are lower than normal. The lower level of secreted DPPIV in RA is matched by a reciprocal increase in T cell membrane expression (Table 1), which leads to an increase in the extravasation potential of a T cell while simultaneously extending the chemoattractive capacity of DPPIV-sensitive RANTES and SDF-1α. Why is secreted CD26 low in the synovium? Ligation and cross-linking of CD26 leads to its internalization, and because CD26 can bind collagen, there exists a strong possibility that synovio-cytes internalize CD26 cross-linked by fragments from the degenerating synovial lining. Reduction of the membrane levels in this way would also reduce the amount available for cleavage and release. Proteoglycans released into the synovial fluid by articular degeneration may contribute further to chemoattraction because their presence is necessary for efficient presentation of basic-charged chemokines such as RANTES and SDF-1α to their respective receptors [120, 121]. The binding of chemokines by the proteoglycan fragments may also shield them from DPPIV proteolysis.
Therapeutic options include the systemic administration of DPPIV inhibitors together with TNF-α antagonists such as etanercept, adalimumab, and infliximab. The synergistic activity upon TNF-α and its downstream DPPIV-sensitive substrates would allow administration of lower doses of the TNF-α antagonists, thus reducing the incidence of adverse side effects [122]. Other potentially more innovative but complex approaches would include the systemic administration of DPPIV inhibitors to reduce circulating activated T cell activity with direct injection of recombinant DPPIV into the inflamed synovium to inactivate chemokines and reduce T cell and monocyte recruitment. Although collagen-induced arthritis in rodent models is of limited usefulness for modeling systemic RA processes, it would nevertheless be useful for testing of such novel approaches to the control of local inflammation in the synovium.
Abbreviations
ADA:

adenosine deaminase
CCL:

CC ligand
CCR:

CC receptor
CGRP:

calcitonin gene-related peptide
CXCL:

CXC ligand
CXCR:

CXC receptor
DASH:

dipeptidyl peptidase-IV activity and/or structure homologues
DPP:

dipeptidyl peptidase
FAP-α:

fibroblast-activation protein α/seprase
GLP-1:

glucagon-like peptide-1
GRP:

gastrin releasing peptide
HLA:

human leukocyte antigens
IFN:

interferon
IL:

interleukin
IP-10:

IFN-γ inducible protein-10
Mig:

monokine induced by interferon-γ
MIP:

macrophage inflammatory protein
NAALADase:

N-acetylated α-linked acidic dipeptidase
NK:

natural killer
NPY:

neuropeptide Y
OA:

osteoarthritis
PB:

peripheral blood
QPP:

quiescent cell proline dipeptidase
RA:

rheumatiod arthritis
RANTES:

regulated upon activation normal T-cell expressed and secreted
SDF:

stromal cell-derived factor
SF:

synovial fluid
SLE:

systemic lupus erythematosus
SP:

substance P
TGF:

transforming growth factor
TNF:

tumor necrosis factor
VIP:

vasoactive intestinal peptide.
Declarations
Acknowledgements
Work was supported by grant 7746-3 of the Grant Agency of the Ministry of Health of the Czech Republic (AS, EB) and by a Barr Award in Basic and Innovative Cancer Research (JSD-C). We thank Dr B Guild (Millennium Pharmaceuticals, Cambridge MA, USA) for permission to cite unpublished results.
Authors' Affiliations
(1)
Laboratory of Cancer Cell Biology of the 1st Faculty of Medicine, Charles University, Prague and the Institute of Physiology, Academy of Sciences, Prague, Czech Republic
(2)
Department of Medical Oncology, Dana-Farber Cancer Institute and Department of Medicine, Harvard Medical School, Boston, USA
(3)
Institute of Rheumatology, Prague, Czech Republic
Copyright
© BioMed Central Ltd 2005