Mesenchymal stromal cells: Biology of adult mesenchymal stem cells: regulation of niche, self-renewal and differentiation
Arthritis Research & Therapy
2007
9:204
Published: 19 February 2007
Abstract
Recent advances in understanding the cellular and molecular signaling pathways and global transcriptional regulators of adult mesenchymal stem cells have provided new insights into their biology and potential clinical applications, particularly for tissue repair and regeneration. This review focuses on these advances, specifically in the context of self-renewal and regulation of lineage-specific differentiation of mesenchymal stem cells. In addition we review recent research on the concept of stem cell niche, and its relevance to adult mesenchymal stem cells.
Keywords
Leukemia Inhibitory FactorMesenchymal Stromal CellCartilage Oligomeric Matrix ProteinAdult Mesenchymal Stem CellStem State
Introduction
Since the seminal identification of mesenchymal stem cells (MSCs) as colony-forming unit-fibroblasts (CFU-Fs) by Friedenstein and colleagues in 1970 [1] and the first detailed description of the tri-lineage potential of MSCs by Pittenger and colleagues [2], our understanding of these unique cells has taken great strides forward. MSCs have great appeal for tissue engineering and therapeutic applications because of their general multipotentiality and relative ease of isolation from numerous tissues. This review highlights recent discoveries in the areas of MSC self-renewal, differentiation, and niche biology, and presents molecular signaling and mechanistic models of MSC development.
MSC markers
Plastic-adherent multipotent cells, capable of differentiating into bone, cartilage and fat cells (among others), can be isolated from many adult tissue types. However, even if isolated by density-gradient fractionation, they remain a heterogeneous mixture of cells with varying proliferation and differentiation potentials. Although acceptable for cell-based therapeutic applications, a rigorous understanding of the MSC requires a better definition of what an MSC is. Many attempts have been made to develop a cell-surface antigen profile for the better purification and identification of MSCs. Particularly important is whether MSCs isolated from different tissues are identifiable by the same immunophenotype. Table
1
provides information on 16 surface proteins reported in various studies. Most of the studies focused on MSCs from human and mouse bone marrow, but some examined MSCs from other organs. There is a surprisingly small amount of variation between populations, even among cells isolated from different sources. It is also noteworthy that the mouse bone marrow-derived multipotent adult progenitor cell (MAPC) subpopulation [
3
], reported to have more differentiation potential than the MSC population as a whole, does not express specific, known surface markers.
Table 1
Surface antigens commonly identified during isolation of mesenchymal stem cells (MSCs)
Number of populations reported with specified antigen levelsb

Human MSCsc

Murine MSCsc

Marker type

Surface antigena

+

+/-

-

+

+/-

-

References

Positive

Stro-1

7

1

2

0

0

0

4–7,66,82–84

CD13

5

0

0

1

0

1

2,12,84–87,89–90

CD29

5

0

0

11

0

0

2,12,63,84–87,90

CD44

11

0

1

10

1

0

2,63,82,84–87,90–91

CD73

5

0

0

0

0

0

2,10,83–85

CD105

7

0

0

1

0

0

2,10,12,83–87

CD106

4

0

2

4

1

0

2,5,83–84,86–89

Negative

CD11b

0

0

3

0

1

5

2,82,86–88,90

CD31

0

3

10

0

0

6

2,82,84–91

CD34

1

1

10

5

6

3

2,12,63,82,84–89,91

CD45

0

0

11

0

0

6

2,82,84–91

CD117

0

2

3

1

1

13

2,63,82,87–90

Variable

Sca-1

0

0

0

6

5

4

63,87–88,90

CD10

6

0

5

0

1

0

82,85–87,89

CD90

11

1

1

2

4

10

2,12,63,82,84–85,87–91

Flk-1

2

1

1

0

0

5

82,88–89
Negative markers
There is a consensus that MSCs do not express CD11b (an immune cell marker), glycophorin-A (an erythroid lineage marker), or CD45 (a marker of all hematopoietic cells). CD34, the primitive hematopoietic stem cell (HSC) marker, is rarely expressed in human MSCs, although it is positive in mice. CD31 (expressed on endothelial and hematopoietic cells) and CD117 (a hematopoietic stem/progenitor cell marker) are almost always absent from human and mouse MSCs. Currently, the thorn in the side of the MSC biologist is the lack of a definitive positive marker for MSCs; there is a myriad of reported positive markers, with each research group using a different subset of markers. Without a definitive marker, in vivo studies on cell lineage and niche are difficult. Only the most characterized and promising markers with the highest specificities are described below.
Positive markers
Stro-1 is by far the best-known MSC marker. The cell population negative for Stro-1 is not capable of forming colonies (that is, it does not contain CFU-Fs) [4]. Negative selection against glycophorin-A, together with selection of strongly Stro-1-positive cells, enriches CFU-Fs in harvested bone marrow cells to a frequency of 1 in 10 [5]. Stro-1-positive cells can become HSC-supporting fibroblasts, smooth muscle cells, adipocytes, osteoblasts, and chondrocytes [6], which is consistent with the functional role of MSCs. In addition, expression of Stro-1 distinguishes between two cultured populations of MSCs that have different homing and HSC-supportive capacities [7]. However, Stro-1 is unlikely to be a general MSC marker, for three reasons: first, there is no known mouse counterpart of Stro-1; second, Stro-1 expression is not exclusive to MSCs; and third, its expression in MSCs is gradually lost during culture expansion [5], limiting the use of Stro-1 labeling to the isolation of MSCs and/or their identification during early passages. Because the exact function of the Stro-1 antigen is unknown, it is unclear whether loss of Stro-1 expression alone has functional consequences for MSC stemness. Application of Stro-1 as an MSC marker is therefore best done in conjunction with other markers (see below).
CD106, or VCAM-1 (vascular cell adhesion molecule-1), is expressed on blood vessel endothelial and adjacent cells, consistent with a perivascular location of MSCs (see the 'MSC niche' section below). It is likely to be functional in MSCs because it is involved in cell adhesion, chemotaxis, and signal transduction, and has been implicated in rheumatoid arthritis [8]. CD106 singles out 1.4% of Stro-1-positive cells, increasing the CFU-F frequency to 1 in 3, which are all high Stro-1-expressing cells and are the only Stro-1-positive cells that form colonies and show stem cell characteristics such as multipotentiality, expression of telomerase, and high proliferation in vitro [5]. Taken together, these data suggest that Stro-1 and CD106 combine to make a good human MSC marker.
CD73, or lymphocyte-vascular adhesion protein 2, is a 5'-nucleotidase [9]. Although also expressed on many other cell types, two monoclonal antibodies (SH-3 and SH-4) against CD73 were developed with specificity for mesenchymal tissue-derived cells [10]. These antibodies do not react with HSCs, osteoblasts, or osteocytes, all of which could potentially contaminate plastic-adherent MSC cultures. The persistence of CD73 expression throughout culture also supports its utility as an MSC marker.
Other markers
Many other surface antigens are often expressed on MSCs, but they are not highlighted above because of their lack of consistent expression or specificity or because of insufficient data. These include: CD271/NGFR [11], CD105, CD90/Thy-1, CD44, CD29, CD13, Flk-1/CD309, Sca-1, and CD10. (See Table 1 for further details.)
We recommend Stro-1, CD73, and CD106 as the most useful markers, although their functions remain to be determined. Cell migration, cytoskeletal response, and signaling pathway stimulation assays currently used to analyze other MSC membrane proteins may prove to be helpful in studying these markers [12].
MSC self-renewal and maintenance
Self-renewal refers to the biological pathways and mechanisms that preserve the undifferentiated stem state. Genomic arrays have been used to identify putative molecular signatures that maintain the stem cell state, including that of MSCs [
13
]. Candidate gene approaches have also been successful in understanding how MSCs self-renew (Figure
1
).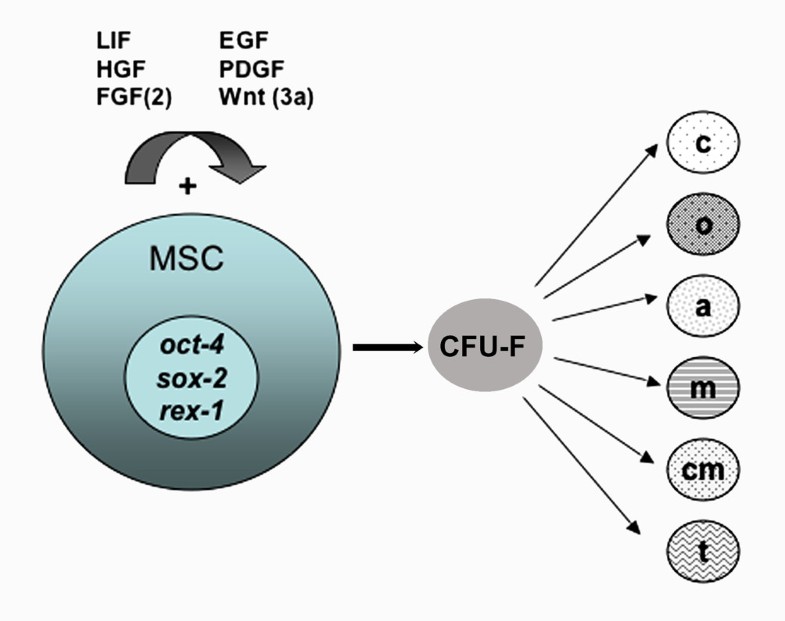 Leukemia inhibitory factor (LIF) [14, 15], fibroblast growth factors (FGFs) [16, 17], and mammalian homologues of Drosophila wingless (Wnts) [18, 19], among other growth factors and cytokines, have been implicated in MSC 'stemness' maintenance. These factors have drawn particular focus because of their demonstrated role in the self-renewal of other stem cell types, in the maintenance of undifferentiated embryonic mesenchymal tissue, and/or in dedifferentiation programs, including tumorigenesis.
LIF, a pleiotropic cytokine, maintains the stem state of MSCs [14] and other stem cells [15]. LIF also activates and represses osteoblast and osteoclast activities [20]. The bipotency of LIF suggests that the cellular environment and the developmental stage of the target cell influence its differential responses to LIF. Mechanisms of LIF action in MSC self-renewal are unknown but may involve paracrine crosstalk with neighboring cells [21].
FGF2 maintains the stem state of MSCs from a variety of species by prolonging their viability in culture [16], sometimes in a cell-autonomous fashion [17]. This is reminiscent of the maintenance of undifferentiated limb bud by an FGF4, FGF8, and FGF10 feedforward loop between the apical ectodermal ridge and underlying mesenchyme [22]. Extensive genetic mapping has established causal links between FGF/FGF-receptor allelic mutations and a spectrum of human craniosynostoses and achondrodysplastic syndromes [23], recapitulated in animal models [22]. Target genes of FGF involved in maintaining MSC stemness are not known. It is plausible that an autocrine regulatory loop may underlie FGF self-renewal function, as during vertebrate limb development [23].
Evidence from our laboratory suggests that Wnts may also regulate MSC maintenance [19], as they do in the self-renewal of hematopoietic, neural, intestinal, and skin stem cells [18]. Wnt3a treatment increases adult MSC proliferation while inhibiting their osteogenic differentiation [19]. However, discerning the exact involvement of Wnts is complicated by their pleiotropic effects. Examples of canonical Wnt functions include the promotion of long-term culture expansion of stem cells, increased in vivo reconstitution of hematopoietic lineages, and Wnt3a-specific maintenance of skin and intestinal stem cell populations [18]. Because stem cells may share signaling mechanisms with cancer cells that arise from deregulated differentiation programs, the sustained β-catenin expression observed in some colon carcinomas [24] suggests a downstream involvement of β-catenin in Wnt regulation of MSC self-renewal.
MSCs from a variety of mammalian species also express the embryonic stem cell gene markers oct-4, sox-2, and rex-1, among others [25]. Recent chromatin immunoprecipitation on chromatin immunoprecipitation array studies suggest that some Polycomb chromatin-associated proteins are involved globally in maintaining the repression of differentiation genes [26]. Thus, Polycomb proteins may indirectly maintain oct-4, sox-2, and rex-1 activation in MSCs; alternatively, Trithorax proteins, which complement Polycomb proteins [27] by maintaining the activation of homeotic genes, may directly regulate the expression of oct-4, sox-2, and rex-1. Biochemical studies linking stemness gene expression with chromatin-associated proteins will be an interesting future avenue of research.
Several other exciting areas of MSC biology that are beyond the scope of this review have recently begun to be explored. These areas concern the regulation of other cell types by MSCs, including MSCs as trophic mediators [28] and the immunomodulatory effects of MSCs [29].
MSC differentiation
The identification of specific signaling networks and 'master' regulatory genes that govern unique MSC differentiation lineages remains a challenge. The ability to modulate biological effectors to maintain a desired differentiation program, or possibly to prevent spurious differentiation of MSCs, is needed for effective clinical application, as in tissue engineering and regeneration. Some of the recently discovered lineage-restrictive molecular regulators and their mechanisms of action will be reviewed here.
MSC niche
In analyzing the differentiation of stem cells, it is critical to consider the influence of their tissue of origin. MSCs are now routinely isolated from the bone marrow of many mammalian model organisms, as well as from other tissues of mesodermal origin such as adipose, muscle, bone, and tendon. Recently, multipotent cells have also been isolated from many other tissue types of non-mesodermal origin. Specifically, a recent study reported plastic-adherent MSC-like colonies derived from the brain, spleen, liver, kidney, lung, bone marrow, muscle, thymus, and pancreas of mice [63], all with similar morphologies and immunophenotypes after several passages. In another study, murine MSCs were obtained from freshly isolated cells of the heart, liver, kidney, thymus, ovary, dermis, and lung on the basis of a CD45-/CD31-/Sca-1+/Thy-1+ phenotype [64], raising the question of what the common in vivo microenvironment of the MSC might be. Is there an MSC niche that is common to all of these tissues, or do MSCs function autonomously, in a manner that is independent of their environment?
Since Schofield first introduced the concept of a stem cell 'niche' in 1978 [65], the idea has gained wide support, particularly in recent years. In brief, the niche encompasses all of the elements immediately surrounding the stem cells when they are in their naïve state, including the non-stem cells that might be in direct contact with them as well as ECM and soluble molecules found in that locale. All of these act together to maintain the stem cells in their undifferentiated state. It is then assumed that certain cues must find their way into the niche to signal to the stem cells that their differentiation potential is needed for the regeneration or repopulation of a tissue.
Conclusion
Adult MSCs are a potentially powerful candidate cell type for regenerative medicine as well as for the study of cellular differentiation. A key requirement for both fields is the identification of MSCs in vivo. In mouse, genetic markers and pulse-chase techniques can be used to label stem cells [79]. In other systems, asymmetric division has been shown to be integral to stem cell self-renewal. This unique property of stem cells has been exploited to identify mouse muscle satellite cells [80] and could possibly be used to identify MSCs in vivo and to study their division. Once the true MSC population is identified, global characterization using gene arrays and surface antigen profiling may be achieved. The roles of each component of the MSC system should then be functionally analyzed. Critical challenges include identifying the signaling factors that promote the self-renewal of MSCs, as well as elucidating the master transcriptional regulatory switches and the crosstalk between the signaling pathways that mediate exclusive lineage differentiation in MSCs. Future investigations should incorporate combinatorial knockdown approaches using inducible and stable expression systems to address redundancy in signaling functions, for example within the TGF-β and Wnt families. The identification of specific cell-surface receptors activated by signaling molecules, such as TGF-βs (BMPs) and Wnts, during self-renewal and cytodifferentiation is also crucial to understanding the link between extracellular and intracellular signaling networks. Finally, alterations in the MSC niche will help to determine the intrinsic and extrinsic specificity of MSC regulators. In an elegant model experiment, quiescent muscle and liver stem cells of aged mice were rejuvenated when exposed to the circulating blood of younger animals [81]. That an extrinsic change can enhance stem cell functions presents hope for harnessing the healing powers of adult stem cells in the future.
Abbreviations
α SMA:

α-smooth muscle actin
bHLH:

basic helix-loop-helix
BMP:

bone morphogenetic protein
CFU-F:

colony-forming unit-fibroblast
ECM:

extracellular matrix
FGF:

fibroblast growth factor
GDF:

growth and differentiation factor
HAT:

histone acetyltransferase
HGF:

hepatocyte growth factor
HSC:

hematopoietic stem cell
LIF:

leukemia inhibitory factor
MAPK:

mitogen-activated protein kinase
MSC:

mesenchymal stem cell
MSK:

mitogen- and stress-activated protein kinase
PCAF:

p300/CBP-associated factor
PDGF:

platelet-derived growth factor
PPAR:

peroxisome proliferator-activated receptor
TAZ:

transcriptional coactivator with PDZ-binding motif
TGF-β:

transforming growth factor-β
TIP:

tension-induced/-inhibited protein
TNF-α:

tumor necrosis factor-α
Wnt:

mammalian homologue of Drosophila wingless.
Declarations
Acknowledgements
This work was supported by the Intramural Research Program of NIAMS, NIH (Z01 AR41131).
Authors' Affiliations
(1)
Cartilage Biology and Orthopaedics Branch, National Institute of Arthritis, and Musculoskeletal and Skin Diseases, National Institutes of Health, Department of Health and Human Services, Bethesda, USA
Copyright
© BioMed Central Ltd 2007