B-cell targeted therapeutics in clinical development
Arthritis Research & Therapy
2013
15(Suppl 1):S4
Abstract
B lymphocytes are the source of humoral immunity and are thus a critical component of the adaptive immune system. However, B cells can also be pathogenic and the origin of disease. Deregulated B-cell function has been implicated in several autoimmune diseases, including systemic lupus erythematosus, rheumatoid arthritis, and multiple sclerosis. B cells contribute to pathological immune responses through the secretion of cytokines, costimulation of T cells, antigen presentation, and the production of autoantibodies. DNA-and RNA-containing immune complexes can also induce the production of type I interferons, which further promotes the inflammatory response. B-cell depletion with the CD20 antibody rituximab has provided clinical proof of concept that targeting B cells and the humoral response can result in significant benefit to patients. Consequently, the interest in B-cell targeted therapies has greatly increased in recent years and a number of new biologics exploiting various mechanisms are now in clinical development. This review provides an overview on current developments in the area of B-cell targeted therapies by describing molecules and subpopulations that currently offer themselves as therapeutic targets, the different strategies to target B cells currently under investigation as well as an update on the status of novel therapeutics in clinical development. Emerging data from clinical trials are providing critical insight regarding the role of B cells and autoantibodies in various autoimmune conditions and will guide the development of more efficacious therapeutics and better patient selection.
Keywords
Systemic Lupus ErythematosusRheumatoid Arthritis PatientSystemic Lupus Erythematosus PatientLupus NephritisProgressive Multifocal Leukoencephalopathy
Introduction
B cells play a central role in the adaptive immune response and protection against pathogens. However, it is now evident that B cells also contribute to the pathobiology of many autoimmune diseases. B cells are not a homogeneous population of lymphocytes, but rather are a mixture of cells at different stages of maturation along the lineage (Figure
1
) and with unique functional properties. In healthy individuals, B-cell homeostasis and the representation of different B-cell subsets in peripheral blood and lymphoid organs is finely balanced. In autoimmune diseases, however, B-cell homeostasis and activation state can be significantly altered and self-tolerance lost.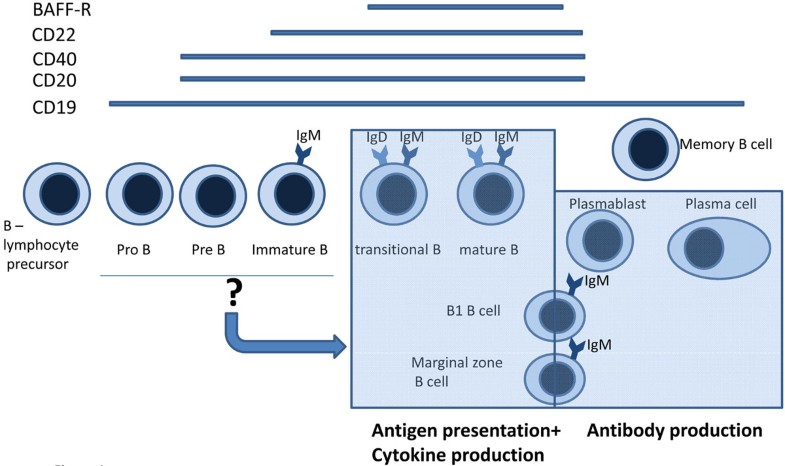 The demonstration that B-cell depletion with the CD20 antibody rituximab can lead to significant benefit to patients with rheumatoid arthritis (RA) has provided the original proof of concept for the targeting of B cells in autoimmune diseases. Although we still do not yet fully understand all aspects of B-cell contribution to disease and the mechanisms that can lead to the loss of B-cell tolerance, the pioneering studies with rituximab have led to a great variety of new approaches to target B cells with mAbs and other biologics, and many of these new molecules are currently undergoing testing in the clinic.
The following sections provide an overview of the current status of B-cell targeting biologics in the clinic. Importantly, one has to appreciate the large variety of B-cell subpopulations in the course of B-cell differentiation, activation, regulation, and function, as well as respectively characteristic molecules. This is particularly pertinent for the understanding and interpretation of data from clinical trials in different autoimmune diseases. While one can make various assumptions on the importance of certain targets from the physiological perspective and/or information obtained from studies in experimental models, it is the results of clinical trials that will provide the ultimate evidence for or against the efficacy and safety of a specific targeted therapy and, consequently, also insight into the true pathogenetic involvement of the respective pathway.
B cells can contribute to autoimmune disease through a variety of different mechanisms, including autoantibody production, antigen presentation, and cytokine production. Therapies focusing on B cells may thus have a variety and varying effects depending on the molecule or sub population targeted. To this end, it is essential to briefly highlight the rationale of these therapies in light of the diversity of the function of B cells and their subpopulations as well as addressing consequences of such therapeutics that may be of a more general nature and not necessarily related to a specific target.
B cells are the unique cell family capable of producing immunoglobulins (Figure 1). Once activated by antigens via the B-cell receptor (BCR), B cells also express other immunoglobulin isotypes as BCRs, dependent on their respective commitment. Immunoglobulin secretion then becomes a quality of plasma cells (PCs), but B1 and MZ B cells can also secrete IgM (Figure 1). Immunoglobulins are a central element in host defense. However, many autoimmune diseases are characterized by the production of autoantibodies that are either directly responsible for cell or organ damage or are characteristic for certain autoimmune diseases without (as yet) sufficiently understood pathogenic roles. This nature renders these diseases susceptible to B-cell targeted therapies in practice or theory.
PCs are only a small fraction of the total B lymphocyte pool (about 1%). However, they are responsible for the production of almost all immunoglobulins [1]. PCs are thought to arise mainly in response to T-cell-dependent antigens, although the existence of PCs after B-cell activation by T-cell-independent antigens has been reported [2]. As PCs migrate to the bone marrow, they become terminally differentiated, gain CD138 expression, and express low or no HLA. These cells are believed to be capable of living in the bone marrow for decades and providing humoral immunity to antigens seen over a lifetime.
Importantly, the frequency of plasmablasts/PCs in peripheral blood has been linked to the response of patients to B-cell targeted therapies in several studies (see below), and the various therapeutics in development may differ with regard to their impact on PCs and auto-antibody levels.
Some controversy exists regarding the existence of yet another antibody-producing B-cell population related to MZ B lymphocytes - B1 B cells, which at least in mice are a major subset [3, 4]. B1 B cells, which can be subdivided into CD5+ B1a and CD5- B1b cells (B1 cells not expressing CD5), mainly respond to antigens and produce antibodies that are independent of T-cell help (TI antigens, as opposed to T-dependent antigens) [5]. These B1 B cells deliver so-called natural antibodies that are frequently self-reactive, and therefore have been implicated in the secretion of various autoantibodies characteristic of autoimmune diseases [5–9]. While the majority of data concerning B1 B cells have been obtained in mice, a number of autoimmune phenomena in humans, including the production of autoantibodies such as rheumatoid factor, have been associated with CD5+ B cells. However, the overall role of B1 B cells in human immunology and contribution to disease is still a matter of debate [8–10]. B2 B cells (also termed follicular B cells) are the classical B cells and can be found in all secondary lymphoid organs and in the blood [3].
Antigen presentation is a fundamental activity in the generation of the adaptive immune response [11, 12]. Antigens can be presented by a variety of cell populations, be it cells that become antigen-presenting cells as a secondary or bystander effect or professional antigen-presenting cells, such as B lymphocytes.
To execute their primary function in the immune response - the production of high-affinity antibodies - B cells need the help of antigen-specific T cells, which is MHC class II restricted and involves multiple co-stimulatory signals such as CD40/CD40 ligand (CD40L) and ICOS/ICOS ligand [11–13]. The main route for antigen acquisition by B cells is via the BCR. This BCR signaling can be enhanced by antigens that have cleaved C3 complement attached to them via binding to CD21 and co-recruitment of CD19 [14], or can be inhibited by the inhibitory receptor CD32B (Fcγ receptor (FcγR) IIb) [15]. Secondly, B cells can acquire antigen via immunoglobulin-independent mechanisms such as pinocytosis [16].
The interaction of B cells with MHC class II restricted CD4+ antigen-specific T-helper cells renders them capable of class switch recombination and affinity maturation. These processes activate B cells, leading to upregulation of co-stimulatory molecules such as CD80 and CD86. Consequently, B cells become fully equipped antigen-presenting cells with the capacity to activate T cells [17–19].
B cells appear to have an essential role for antigen presentation in the context of antibody generation, but not for primary T-cell activation. Furthermore, in murine models of human RA, B cells have been shown to be involved in the generation of (auto)antigen-specific T-cell responses and were necessary for priming of arthritogenic T cells [20–22].
B cells are also a source of cytokines that shape the immune response. After activation, B cells produce proinflammatory cytokines such as IL-1, IL-6, granuloctye-macrophage cerebrospinal fluid and TNF, but also immunosuppressive ones such as transforming growth factor beta and, importantly, IL-10 [23, 24]. Studies in human and mice suggest that B-cell-derived cytokines are able to shape polarization of T cells. B-cell-derived IL-12 has been shown to augment IFNγ production by human T cells. Of note, this effect was independent of BCR crosslinking, but dependent on T-cell-derived CD40L and microbial stimuli (activators of Toll-like receptor 9), suggesting that antigen-unspecific bystander activation can influence T-cell polarization [25].
Lymphotoxin and TNF expressed by B cells are required for the maintenance of lymphoid follicles in Peyers patches of adult mice [26, 27]. B cells are also a source of receptor activator of NF-κB ligand, an essential regulator of osteoclastogenesis [28]. Increased osteoclastogenesis leading to local bone destruction is an important pathogenic aspect in multiple myeloma, but also in inflammatory arthritis [29–31].
Apart from these proinflammatory and immunostimulating roles of B-cell-derived cytokines, abundant data exist on the role of B cells in inhibiting or dampening an immune response. B cells that inhibit various (immune) pathologies have been termed regulatory B cells (Bregs) in analogy to regulatory T cells (see article by Kalampokis and colleagues, this issue) [32–34]. The most important mediator of the effects of Bregs is IL-10, but transforming growth factor beta might also be involved [35, 36]. There is thus ample evidence that the role of B cells in immunity as well as autoimmunity is not confined to the production of (auto)antibodies, but that this cell type plays important roles in shaping the outcome of physiological as well as pathological immune responses (Figure 1). Therapeutic approaches currently pursued in the clinic are not yet geared towards targeting specific B-cell subsets, but have nonetheless already generated some very promising results in a variety of autoimmune indications.
Specific therapeutic approaches to target B cells
Targeting B-cell survival factors and key cytokines
B-cell survival, differentiation, and functional properties are tightly regulated by a variety of cytokines and chemokines. Targeting survival and differentiation factors with specific mAbs or fusion proteins is an alternative approach to targeting B-cell surface antigens for active cell depletion.
In the mouse, B-cell activating factor (BAFF; also termed Blys), a TNF family member, has been shown to be an important survival signal for transitional B cells, but BAFF alone is not a survival signal for human transitional B cells in in vitro culture [150, 151]. In clinical trials with Belimumab, however, in vivo BAFF blockade predominantly resulted in loss of transitional and naïve B cells, but not of memory B cells [152].
BAFF, as well as its close family member APRIL, have also been implicated in class switch recombination. Of note, APRIL appears to be a major driving source for IgA production and may play an important role in mucosal immunity [153]. Several other cytokines such as IL-10 and type I interferon have been reported to stimulate PC differentiation [154, 155], but in humans IL-21 is the major cytokine responsible for maintaining the humoral immune response by induction of PC differentiation from both naive and memory B cells [156, 157].
Splenic memory and germinal center B cells can be driven to differentiation by IL-10 and CD40L [154]. However, IL-21 is the most potent inducer of PC differentiation in the spleen [158–161]. BAFF also has the unique ability to substitute for CD40L in driving PC differentiation of human MZ B cells when co-stimulated with IL-21 [162]. BAFF has also been reported to co-stimulate PC differentiation of naive blood B cells in combination with IL-17, anti-CD40, and anti-IgM [163]. Although BAFF has been shown to be an important survival signal to PCs, it appears that April is one of the key survival factors for long-lived PCs in the bone marrow [164]. Of the many soluble factors involved in B-cell function and regulation, therapeutic approaches thus far have largely focused on the TNF family members BAFF and APRIL. More recently, IL-21 has gained significant attention owing its important role in the generation of PCs and antibody production.
Blockade of co-stimulatory pathways
Adaptive immune responses are shaped and controlled by co-stimulatory receptor-ligand pairs, which are classified into several families. Co-stimulatory molecules of the immunoglobulin superfamily include the CD28/ CD80/CD86 (B7.1/B7.2), CTLA4/CD80/CD86 (B7.1/B7.2), PD-1/PDL, and ICOS/B7RP-1 (ICOS-L) pathways. The co-stimulatory CD40/CD40L (CD154), OX40/OX40 ligand, and GITR/GITR ligand receptor/ligand pairs belong to the TNF/TNF receptor superfamily [188]. Costimulatory signals triggered by interaction with antigenpresenting cells are critical for an effective T-cell response. B cells can also present antigen to T cells and receive costimulatory signals in return. These signals are important for humoral immune responses by promoting germinal center reaction and PC differentiation. Therapeutic approaches aimed at interfering with B-cell responses by blocking co-stimulatory molecules have largely focused on two pathways, ICOS/B7RP-1 and CD40/CD40L.
ICOS-deficient patients are characterized by a severe reduction in the number of B lymphocytes and absence of memory switched B cells and PCs [189]. Defects in germinal center formation and class switch recombination have also been reported in ICOS and ICOS ligand (B7RP-1) deficient mice, underscoring the importance of this signaling axis [190].
CD40 (TNFRSF5) is a cell surface receptor on B cells, monocytes, macrophages, dendritic cells, eosinophils, and activated CD8 T cells [191]. The ligand for CD40, CD40L (CD154, TNFSF5), is transiently expressed on activated CD4, CD8, and γδ T cells, as well as on activated B cells, activated platelets, dendritic cells, smooth muscle cells, vascular endothelial cells, and epithelial cells. The broad expression of both receptor and ligand emphasize the important but also complex role this pathway plays in the regulation of immune responses. Mutations in the CD40L gene are the cause of the X-linked hyper-IgM syndrome, a disease characterized by an overabundance of IgM in the serum and a lack of IgG, IgE, and IgA [192]. In addition, mutations in CD40L have been identified in a subset of patients with common variable immunodeficiency, which is characterized by a defect in B-cell differentiation and hypogammaglobulinemia [193]. These observations as well as an abundance of data from mouse models clearly establish CD40/ CD40L as central pathway required for humoral immune responses. Further, serum levels of soluble CD40L have been found to be elevated in a variety of autoimmune conditions, including SLE, RA, Sjögren's syndrome, and inflammatory bowel disease, and were correlated to autoantibody titers and disease activity [191, 194].
Blocking B7RP-1 (ICOSL) with AMG-557
AMG-557 is a fully human IgG2 mAb directed against the ICOS ligand B7RP-1 [195]. Preclinical studies demonstrated that treatment with blocking anti-B7RP-1 mAbs has activity in several mouse models of inflammatory and autoimmune disease. For example, in the NZB/NZW F1 mouse lupus model, blockade of B7RP-1 reduced serum titers of anti-dsDNA autoantibodies, the incidence of proteinuria, and significantly increased survival [196]. Similarly, treatment with anti-B7RP-1 mAb reduced disease activity in the collagen-induced arthritis model. Blockade of the ICOS/B7RP-1 pathway with anti-B7RP-1 also inhibited T-cell activation and reduced the numbers of T-follicular helper cells as well as germinal center B cells [196]. The anti-human-B7RP-1 mAb AMG-557 is in early stage clinical testing. The first study initiated was a dose escalation trial in SLE patients, positive for antinuclear antigen autoantibodies (ClinicalTrials.gov:NCT00774943). In addition, phase 1 trials in patients with subacute cutaneous lupus erythematosus and psoriasis are ongoing. Results from these clinical studies are not yet available (Table 1).
Targeting ICOS-expressing T cells with MEDI-570
MEDI-570 is a human IgG1 mAb directed against ICOS and was generated from the human anti-human-ICOS IgG2κ mAb JTA-009 [197]. Similar to MEDI-551, MEDI-570 has enhanced ADCC effector function, due to the lack of fucose from the Fc carbohydrate. In cynomologus monkeys, MEDI-570 resulted in a dose-dependent and reversible depletion of ICOS+ T cells in blood and secondary lymphoid organs. Consistent with the depletion of T-follicular helper, splenic germinal centers were reduced in size and frequency, which was accompanied by a significant reduction of germinal center B cells. This effect was reversible, with new germinal centers forming 30 days after MEDI-570 administration, indicative of follicular reconstitution [198]. MEDI-570 is being evaluated as a treatment for SLE, based on depletion of ICOS+ T cells, with loss of the effector cytokines and loss of support for germinal center formation and reduction in autoantibody production. A phase 1 single ascending dose trial in patients with moderate to severe SLE is ongoing (ClinicalTrials.gov:NCT01127321) (Table 1).
Blockade of CD40 ligand with CDP7657
Several blocking mAbs targeting CD40L were developed, and two of these - ruplizumab (BG9588, hu5c8) and toralizumab (IDEC-131, hu24-31) - were evaluated in phase 1 and phase 2 clinical trials. Some of these trials, such as the phase 2 trial of ruplizumab in lupus nephritis and a phase 1 trial of toralizumab in ITP, showed some early but promising signs of clinical activity [191]. Further clinical development of these mAbs, however, was suspended due to thromboembolic events observed in some of the treated patients. Similarly, development of the anti-CD40L mAb ABI793 was stopped after thromboembolisms were observed in preclinical studies in nonhuman primates. A probable explanation for this complication, which appears to be a class effect, is the formation of platelet aggregates by binding of the IgG1 mAbs to CD40L on the platelet surface and simultaneous engagement of the FcγR CD32A, which is also expressed on platelets, by the mAb Fc. This hypothesis is supported by recent findings with anti-CD40L mAbs in a human CD32A TG mouse model [199]. New approaches are being developed to target and neutralize CD40L, while avoiding platelet-dependent adverse effects. One such approach has already entered the clinic.
CDP7657 is an anti-CD40L Fab fragment under development for the treatment of SLE [200]. The monovalent nature of the molecule and lack of the mAb Fc are designed to minimize or eliminate the risk for platelet aggregation and thromboembolisms observed with the anti-CD40L mAbs in IgG1 format. CDP7657 is pegylated to increase the halflife of the low molecular weight molecule. In a preclinical humanized SCID mouse model, CDP7657 demonstrated dose-dependent inhibition of antibody responses to tetanus toxoid. CDP7657 also inhibited primary and secondary immune responses to tetanus toxoid in a nonhuman primate mode [200]. CDP7657 is currently being evaluated in a single-dose phase 1 study conducted in healthy volunteers and SLE patients (ClinicalTrials.gov:NCT01093911) (Table 1).
Effects beyond B cells
The success of rituximab has resulted in significant interest in targeting CD20, leading to this variety of anti-CD20 mAbs with different functional properties. However, based on CD20 expression along the B-cell lineage, all of these mAbs are expected to deplete B-cell subsets in blood and tissues similar to rituximab. Importantly, antibody-secreting PCs do not express CD20 and are therefore not directly targeted for depletion by rituximab and other CD20 mAbs [54, 132]. The lack of a direct impact on PCs may explain the inconsistent effects of rituximab on various autoantibodies [54, 201]. While rheumatoid factor levels in RA and anti-dsDNA autoantibodies can drop significantly after B-cell depletion therapy, other autoantibodies are only modestly affected or not at all. One possible explanation for this is that some autoantibodies are generated by short-lived PCs, which have a survival span of only a few weeks, and will be eliminated over time in the absence of a replenishing B-cell pool. However, another suggestion is that short-lived PCs still express CD20 levels that are sufficient for depletion by rituximab, based on results from a study conducted in a human CD20 TG mouse model [202]. Whether this latter mechanism is indeed effective in human patients remains unclear. In either case, autoantibody-secreting PCs will still persist in survival niches in the bone marrow or inflamed tissues, contributing to disease flares or symptoms [203].
The relevance of PCs in disease is further emphasized by the finding that elevated PC numbers at baseline predict poor or nonresponse to rituximab and ocrelizumab in RA [62, 204]. The concept of targeting PCs in autoimmune diseases is beginning to be explored in the clinic. The proteasome inhibitor bortezomib, which eliminates PCs and is approved for the treatment of multiple myeloma, has proven efficacious in an experimental model of SLE clinically and by significantly decreasing autoantibody titers in preventive and therapeutic approaches [205]. At the 2012 EULAR conference, Hiepe and colleagues reported on a small study with bortezomib in treatment refractory SLE patients. Bortezomib significantly decreased disease activity scores and serum anti-dsDNA autoantibody titers. Patients with lupus nephritis also experienced a decline in proteinuria [206]. These results further support the rationale for direct or indirect targeting of PCs, which provide additional benefit to patients, provided that any such approach is not associated with an unacceptable safety profile.
Autoimmune diseases are complex in their origin and pathobiology, however, and several other cell types - such as CD4 and CD8 T cells, macrophages, dendritic cells as well as others - have been implicated. The relative contribution of B cells and PCs versus other cell types, and the relevance of regulatory cells such as regulatory T cells and Bregs, may also vary between different indications. In addition, as outlined above, B cells may influence other inflammatory cells through the production of cytokines, antigen presentation and other mechanisms. Interestingly, a variety of diseases that have traditionally been considered to be T-cell-mediated, such as RRMS, do respond well to B-cell depletion therapy. Several clinical studies have investigated the impact of B-cell depletion on some of these key cell populations. For example, B-cell depletion with rituximab resulted not only in near-complete depletion of B cells from the cerebrospinal fluid of MS patients, but also in an approximately 50% reduction of T cells [207, 208]. Further, in RA patients, rituximab reduced Th17 cells from synovial tissue, which was correlated with better clinical outcome [209]. This study, however, did not find significant effects of rituximab on regulatory T cells, Th1 cells, or TNFα responses. The effect of B-cell depletion on T cells was also investigated in SLE patients treated with rituximab. Here, rituximab resulted in depletion of naïve and memory B cells from blood, along with substantial reductions in CD40L+ and ICOS+ CD4 T cells [58]. One should note, however, that other B-cell targeted therapies have more restricted (or selective) effects on B cells, and may therefore differ significantly with regard to their effects on other inflammatory cells - but this has not yet been studied in detail in patients. How varying effects on non-B-cell populations will influence efficacy of different B-cell targeted therapeutics in various indications will have to be determined in ongoing and future clinical trials.
The various strategies pursued to target B cells are clearly not interchangeable and we have to learn how to best tailor the therapy to the condition. Results from the ongoing clinical trials with B-cell targeted biologics spanning a wide array of mechanisms will greatly increase our understanding of autoimmune diseases and will provide the basis for optimally matching the therapeutic approach to a given patient population to improve clinical efficacy while minimizing potential side effects.
Abbreviations
ACR:

American College of Rheumatology
ADCC:

antibody-dependent cellular cytotoxicity
AIHA:

autoimmune hemolytic anemia
APRIL:

a proliferation-inducing ligand
BAFF:

B-cell activating factor
BCR:

B-cell receptor
BILAG:

British Isles Lupus Assessment Group
Breg:

regulatory B cell
CDC:

complement-dependent cytotoxicity
CD40L:

CD40 ligand
dsDNA:

double-stranded DNA
Dsg:

desmoglein
EULAR:

annual European Congress of Rheumatology
EXPLORER:

Exploratory Phase II/III SLE Evaluation of Rituximab
FcγR:

Fcγ receptor
IFN:

interferon
IL:

interleukin
ITP:

immune thrombocytopenia
LUNAR:

Lupus Nephritis Assessment with Rituximab
mAb:

monoclonal antibody
MHC:

major histocompatibility complex
MS:

multiple sclerosis
NF:

nuclear factor
PC:

plasma cell
PML:

progressive multifocal leukoencephalopathy
RA:

rheumatoid arthritis
RRMS:

relapsing remitting multiple sclerosis
SLE:

systemic lupus erythematosus
TEARS:

Tolerance and Efficacy of Rituximab in Sjogren's Disease
TG:

transgenic
Th:

T-helper
TNF:

tumor necrosis factor.
Declarations
Acknowledgements
The authors would like to thank Nancy Craighead for expert editorial assistance and Barbara Rowe for her invaluable contributions to make this supplement issue possible.
Declarations
This article has been published as part of Arthritis Research & Therapy Volume 15 Supplement 1, 2013: B cells in autoimmune diseases: Part 2. The supplement was proposed by the journal and content was developed in consultation with the Editors-in-Chief. Articles have been independently prepared by the authors and have undergone the journal's standard peer review process. Publication of the supplement was supported by Medimmune.
Authors' Affiliations
(1)
Department of Rheumatology, Medical University of Vienna, Vienna, Austria
(2)
2nd Department of Medicine, Hietzing Hospital, Vienna, Austria
(3)
MedImmune, LLC, Department of Research, Gaithersburg, USA
Copyright
© Blüml et al.; licensee BioMed Central Ltd. 2013
This article is published under license to BioMed Central Ltd. This is an open access article distributed under the terms of the Creative Commons Attribution License (http://creativecommons.org/licenses/by/2.0), which permits unrestricted use, distribution, and reproduction in any medium, provided the original work is properly cited.