B-cell receptor signaling studies in patients with lupus: preliminary results
Arthritis Research & Therapy volume 14, Article number: A60 (2012)
Background
There is significant evidence from murine and human genomic studies that B-cell receptor (BCR) signaling abnormalities are potential factors in the pathogenesis of lupus. However, data on signaling deviations in lupus patients are scant. We have undertaken a project to comprehensively study BCR signaling deviations in lupus patients.
Methods
Peripheral blood mononuclear cells will be isolated and frozen. B cells will be stimulated with F(ab')2 anti-IgM and anti-IgG. Using eight-parameter flow cytometry, we will determine signaling amplitude, as measured by phosphorylated ERK1/2, in IgG memory cells (CD20+IgG+), mature naïve (CD20+,CD27low,CD38low), transitional (CD20+,CD38high,CD10high), B1 (CD20+,CD27high) and IgM memory B cells (CD20+,IgM+,CD27high,CD86high). We will measure pERK levels at baseline (time 0), 1 minute (early signal), 5 minutes (peak signal) and 15 minutes (late signal). We will establish normal parameters by studying BCR signaling in 100 nonautoimmune individuals. We will then determine the prevalence of low and high BCR signaling deviations in 100 lupus patients. Signaling deviations will be correlated with clinical data.
Preliminary results
We have optimized a protocol that enables us to identify each of the above B-cell subsets while assaying phospho-ERK levels. Results from four lupus patients indicate that this protocol is able to identify signaling differences between individuals with lupus. See Figure 1.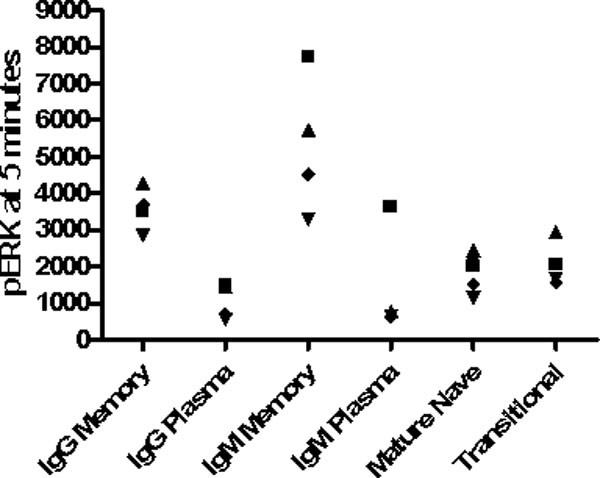 Conclusion
The extent to which signaling deviations contribute to autoimmunity in patients with lupus remains to be determined. By elaborating a robust method to assay BCR signaling, we hope not only to measure this pathogenic factor but also to answer fundamental questions, such as whether diminished BCR signaling correlates with a broader autoimmune phenotype, as would be postulated by the impaired negative selection that is caused by diminished signaling. In the future, we will aim to convert signaling studies from research tools to clinical tools.
Additional information
M Faludi, A Mao contributed equally to this work.
Rights and permissions
This article is licensed under a Creative Commons Attribution 4.0 International License, which permits use, sharing, adaptation, distribution and reproduction in any medium or format, as long as you give appropriate credit to the original author(s) and the source, provide a link to the Creative Commons licence, and indicate if changes were made. The images or other third party material in this article are included in the article's Creative Commons licence, unless indicated otherwise in a credit line to the material. If material is not included in the article's Creative Commons licence and your intended use is not permitted by statutory regulation or exceeds the permitted use, you will need to obtain permission directly from the copyright holder. To view a copy of this licence, visit http://creativecommons.org/licenses/by/4.0/. The Creative Commons Public Domain Dedication waiver (http://creativecommons.org/publicdomain/zero/1.0/) applies to the data made available in this article, unless otherwise stated in a credit line to the data.
About this article
Cite this article
Faludi, M., Mao, A., Vinet, E. et al. B-cell receptor signaling studies in patients with lupus: preliminary results. Arthritis Res Ther 14 (Suppl 3), A60 (2012). https://doi.org/10.1186/ar3994
Published:

DOI: https://doi.org/10.1186/ar3994
Keywords
Peripheral Blood Mononuclear Cell

Memory Cell

Negative Selection

Signaling Abnormality

Pathogenic Factor