Epigenetic contributions in the development of rheumatoid arthritis
Arthritis Research & Therapy
2012
14:227
Published: 9 November 2012
Rheumatoid arthritis (RA) is a chronic inflammatory disease affecting about 1% of the population. Both genetic predisposition and environmental factors, as well as an aberrant activation of the innate and adapted immune system, play a role in the pathogenesis. The major pathological phenomena of RA are the massively elevated levels of inflammatory cytokines produced by activated B cells and T cells, as well as other cell populations and a synovial hyperplasia, resulting in damage of the cartilage and bone. Characteristically, peripheral joints are often affected in a symmetric distribution. During active disease states, RA leads to swelling and pain, resulting in disability, joint destruction and, ultimately, loss of function. A number of characteristics - such as the occurrence of erosions at the time of presentation shortly after onset of symptoms, synovial infiltrates in clinically unaffected joints and the appearance of autoantibodies long before the onset of the disease - suggest that the disease develops long before clinical symptoms become apparent [1]. At least two subsets of RA exist, which are divided by the presence or absence of antibodies against citrullinated peptide antigens (ACPA). The presence or absence of ACPA has been proven one of the best clinical predictors for disease outcome. Recent genome-wide association studies suggested that ACPA-positive RA and ACPA-negative RA also differ significantly in the frequency of risk alleles. The most important genetic risk factors accounting for 30 to 50% of the overall risk for RA are mainly confined to the human leukocyte antigen locus [2].
In recent years, knowledge about pathogenic mechanisms and treatment strategies in RA has significantly improved. Only one-third of patients respond well to the first-line treatment methotrexate [3], however, and although the application of biological drugs including therapeutic antibodies directed against TNFα is of great benefit for affected patients, all currently available therapies are more or less effective in controlling symptoms and there is still a subgroup of nonresponding patients. No cure for the disease so far exists and the entire cause of the disease remains elusive.
In the last years, resident synovial fibroblasts (SF) emerged as key players in the development of RA that actively contribute to joint destruction. RASF are the most common cell type at sites of invasion. By implanting healthy human cartilage together with RASF into severe combined immunodeficient mice, Lefèvre and colleagues demonstrated that activated RASF migrate
in vivo
and spread the disease to sites of implanted cartilage. Whereas RASF actively degraded human cartilage, control implanted SF from osteoarthritis (OA) patients and dermal fibroblasts from healthy donors did not. Since RASF were able to destroy cartilage even in the absence of cellular and humoral immune responses, this study revealed that RASF are capable of maintaining their activated phenotype without further stimulation of the inflammatory environment in the synovium [
4
]. RASF differ from healthy synovial fibroblasts by their morphology and an aberrant gene expression pattern [
5
]. RASF are characterized by the expression of antiapoptotic molecules, protooncogenes and a lack of expression of tumor suppressor genes. Owing to their ability to produce pro-inflammatory cytokines and chemokines, RASF further attract inflammatory cells of the immune system to the synovium. In addition, RASF produce enzymes such as matrix metalloproteinases (MMPs) that promote invasion into and destruction of cartilage [
5
]. In recent years RASF were also characterized by aberrant epigenetic modifications that might explain their intrinsic activated phenotype (Figure
1
), and in the future they might provide the missing link between RA, risk factors and a lack of therapy response.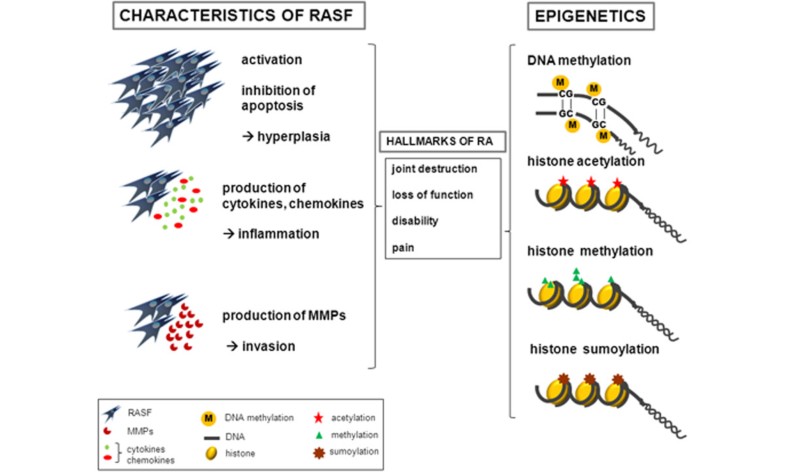 Originally, epigenetic modifications were described as heritable alterations of gene expression or cellular phenotypes that were caused by mechanisms other than changes in the DNA sequence. In a more revised definition of epigenetics, also environmentally induced and shorter lived, reversible alterations of the histone code were included [6]. Epigenetic modifications determine the stability of the chromatin structure, the genome integrity, the modulation of gene expression, embryonic development, genomic imprinting and X-chromosome inactivation (XCI) in females [7]. Beside DNA methylation, large networks of post-translational modifications on histone tails, such as acetylation, phosphorylation, methylation, ubiquitination or sumoylation, appear to represent different regulatory mechanisms of chromatin activity in several biological settings [8]. In this review we draw a detailed picture for the role of diverse epigenetic modifications in the development of RA with a special focus on epigenetic modifications in RASF.
(1)
Center of Experimental Rheumatology, University Hospital Zurich and Zurich Center of Integrative Human Physiology, Gloriastrasse 23, CH-8091 Zurich, Switzerland
© BioMed Central Ltd 2012