Interaction of the endocrine system with inflammation: a function of energy and volume regulation
Arthritis Research & Therapy
2014
16:203
Published: 13 February 2014
Abstract
During acute systemic infectious disease, precisely regulated release of energy-rich substrates (glucose, free fatty acids, and amino acids) and auxiliary elements such as calcium/phosphorus from storage sites (fat tissue, muscle, liver, and bone) are highly important because these factors are needed by an energy-consuming immune system in a situation with little or no food/water intake (sickness behavior). This positively selected program for short-lived infectious diseases is similarly applied during chronic inflammatory diseases. This review presents the interaction of hormones and inflammation by focusing on energy storage/expenditure and volume regulation. Energy storage hormones are represented by insulin (glucose/lipid storage and growth-related processes), insulin-like growth factor-1 (IGF-1) (muscle and bone growth), androgens (muscle and bone growth), vitamin D (bone growth), and osteocalcin (bone growth, support of insulin, and testosterone). Energy expenditure hormones are represented by cortisol (breakdown of liver glycogen/adipose tissue triglycerides/muscle protein, and gluconeogenesis; water retention), noradrenaline/adrenaline (breakdown of liver glycogen/adipose tissue triglycerides, and gluconeogenesis; water retention), growth hormone (glucogenic, lipolytic; has also growth-related aspects; water retention), thyroid gland hormones (increase metabolic effects of adrenaline/noradrenaline), and angiotensin II (induce insulin resistance and retain water). In chronic inflammatory diseases, a preponderance of energy expenditure pathways is switched on, leading to typical hormonal changes such as insulin/IGF-1 resistance, hypoandrogenemia, hypovitaminosis D, mild hypercortisolemia, and increased activity of the sympathetic nervous system and the renin-angiotensin-aldosterone system. Though necessary during acute inflammation in the context of systemic infection or trauma, these long-standing changes contribute to increased mortality in chronic inflammatory diseases.
Keywords
Growth Hormone
Androgen
Thyroid Hormone
Osteocalcin
Sympathetic Nervous System
Introduction
Two questions are asked with respect to the 'interaction of the endocrine system with inflammation': (a) How does inflammation influence the endocrine system, and does it influence disease? (b) How do hormones influence inflammation and immune cells? Both questions have been extensively addressed over the last decades (for example, [1–3]). Most often, the two questions were posed independently of each other. A theory to integrate both questions has recently been demonstrated in the context of chronic inflammation considering rheumatic diseases.
This theory explains neuroendocrine changes in chronic inflammatory diseases (CIDs) on the basis of three pillars: (i) energy-rich fuel allocation is important for an activated immune system [
4
,
5
], (ii) increased activity of the water retention system accompanies energy allocation to the immune system [
6
], and (iii) evolutionary medicine explains that these inflammation-driven energy expenditure programs were positively selected for acute but not chronic systemic inflammation, and chronic use of these programs is highly unfavorable [
7
]. The platform of the theory is based on the fact that brain, muscle, and immune system use similar amounts of energy-rich fuels (Figure
1
). This circumstance necessitates precise regulation of energy-rich fuel allocation to these three systems (Figure
2
). The theory says that the activated immune system is the independent stimulus of the observed endocrine and neuronal changes in inflammation as part of an energy re-allocation program.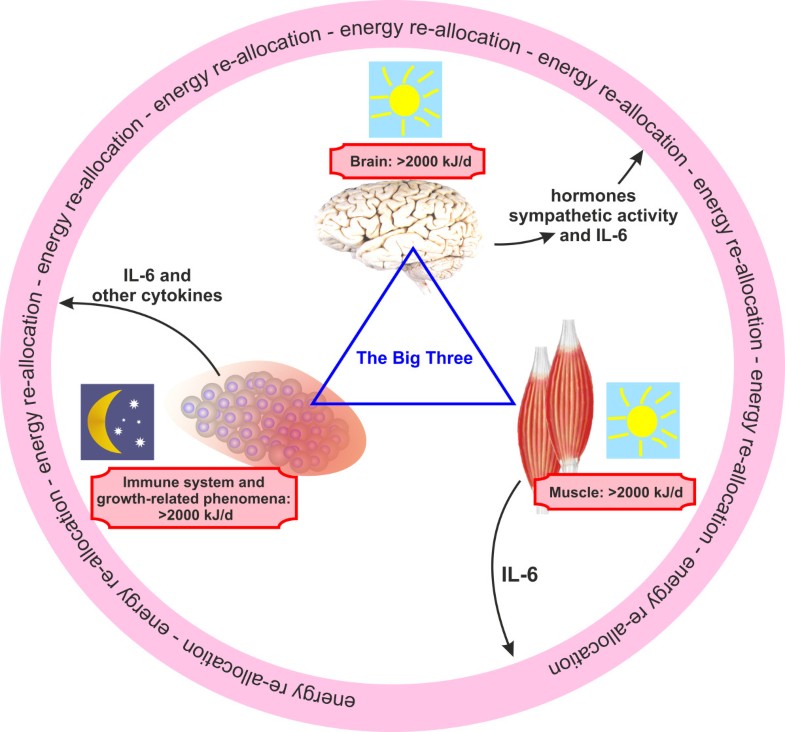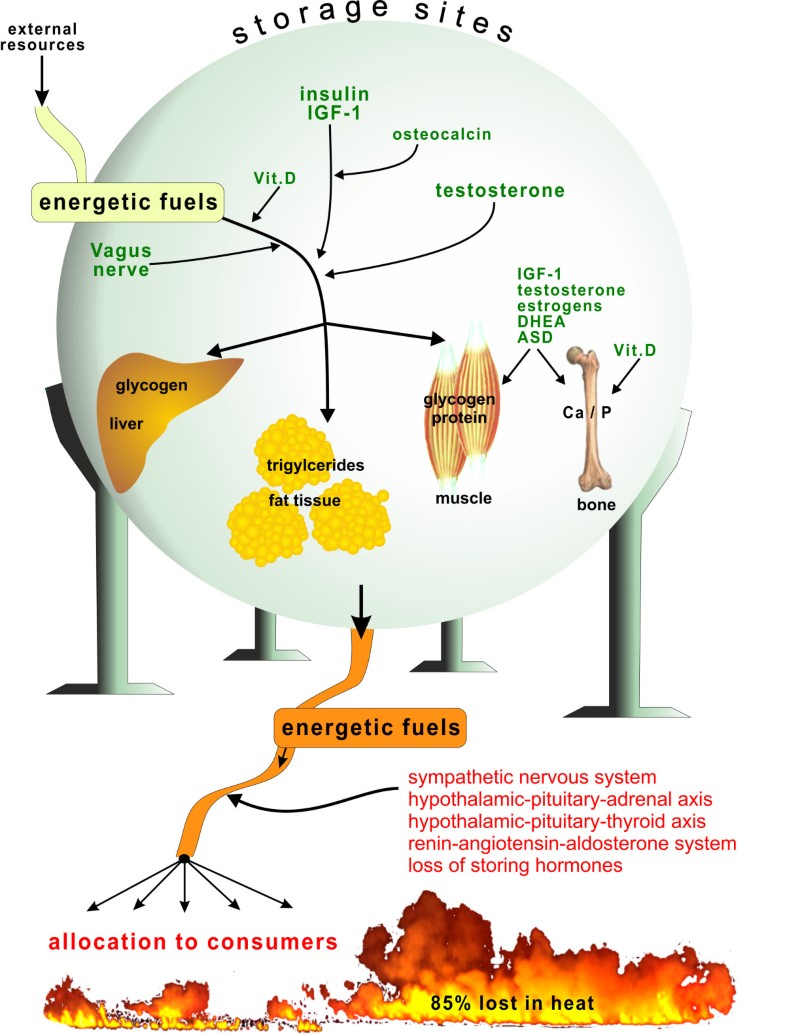 Since aging, chronic psychological stress, and mental illnesses are also accompanied by chronic smoldering inflammation (such as in CID), many aspects apply to age- and stress-related diseases and mental illness. Chronic smoldering inflammation in humans is already established with elevations of serum IL-6 from normal levels of 1 pg/mL to approximately 10 to 100 pg/mL of serum IL-6, leading to an increase of resting metabolic rate in healthy volunteers [8]. The observable increase of inflammatory cytokines at relatively low serum levels can induce a re-allocation program of energy-rich fuels directed toward the activated immune system. This is confirmed by studies that describe a close interrelation of slightly elevated serum levels of C-reactive protein (IL-6-dependent) and a key element of the energy re-allocation program, namely insulin resistance [9, 10].
The review starts with the description of energy storage and energy expenditure hormones. Then, this review briefly summarizes major effects of these hormones on the immune system/inflammation. Finally, it demonstrates changes of these hormonal systems observed in CIDs and consequences thereof. This review deals with energy regulation on a systemic level but not with the question of cellular bioenergetics and ATP generation, which was addressed in a recent publication in the context of rheumatic diseases [5].
Energy storage hormones
Under normal conditions without activated brain, muscle, or immune system and with undisturbed food intake, energy-rich fuels are stored in specialized organs (adipose tissue, muscle, liver; approximately 560,000 kJ in an 86-kg person; we need 10,000 kJ/day in our sedentary way of life [6]). Under resting conditions and high food supply, energy storage usually outweighs energy expenditure. Under natural conditions in the wild, the situation is balanced in that storage and expenditure are similar (for example, [11]). The following neuroendocrine factors are important for storage.
Energy expenditure hormones
Energy expenditure hormones are typically released upon stressful events such as hypoglycemia or other forms of stress such as acute inflammation or trauma. This can happen in acute inflammatory situations such as systemic infectious diseases, which induce an energy re-allocation program with three major pathways: (i) release of energy-rich fuels from storage sites into circulation (liver glucose, muscle amino acids, glycerol, and free fatty acids from fat tissue), (ii) inhibition of uptake of energy-rich fuels into liver, muscle, and fat tissue by intentionally induced insulin resistance, and (iii) inhibition of growth-related and reproductive functions [4]. Similar programs are used in CIDs.
Hormone effects on inflammation and observed changes in chronic inflammation: consequences for energy and volume regulation
Conclusions
For some time, the role of energy expenditure hormones and energy storage hormones has been known in critically ill patients with acute inflammation [147]. Transfer of knowledge from acute inflammation to CIDs was blocked by the understanding that quite different pathways might be activated. In addition, most CID researchers worked in the field of aberrant immune activation or autoimmunity, but not many people devoted time to the research field of neuroendocrine immune mechanisms in CIDs. Considerations of evolutionary medicine paved the way to understand that many neuroendocrine pathways used in acute inflammatory illness are similarly used in CIDs [6]. However, the long-term use of these pathways is harmful.
Table
2
identifies effects of individual energy storage and energy expenditure hormones on the immune system and inflammation. This table also summarizes observed changes in CIDs and consequences of long-term application of these adaptive programs, positively selected for short-lived inflammation. It turns out that many neuroendocrine pathways support immune activation (third column in Table
2
), which in light of autoimmunity or immunity toward harmless microbes in the gut/skin/respiratory tract is a misused program. In addition to inducing immune activation, many reported neuroendocrine mechanisms induce insulin resistance, cachexia, osteoporosis, and volume overload/hypertension (water retention). In epidemiological studies, these elements were related to higher mortality and morbidity in CIDs. Thus, long-standing use of neuroendocrine pathways is in itself a disease-aggravating etiologic factor.
Table 2
Changes of the hormonal systems in chronic inflammatory rheumatic diseases
Effect on immune system/inflammation

Observed changes in chronic inflammatory rheumatic diseases

Long-term consequences

Energy storage hormones

Insulin

Direct support of immune cells

Hyperinsulinemia, insulin resistance

Insulin resistance, cachexia,

Pro-inflammatory in a state of systemic insulin resistance

Stimulation of sympathetic nervous systema

Leukocytes do not become insulin-resistant

Immune activation

Insulin-like growth factor-1

Low IGF-1, IGF-1 resistance

Cachexia, osteoporosis, immune activation

Androgens

Inhibition of immune system and inflammation [148]

Hypoandrogenemia

Cachexia, loss of fertility, osteoporosis

Insulin resistance, immune activation

Estrogens

Bi-modal role: support of B lymphocytes and T helper type 2; inhibition of macrophages, natural killer cells, and T helper type 1 (see [27])

Normal peripheral and high local estrogen levels, high 16α-hydroxylated estrogensb

Local juxtainflammatory fat deposition

Low 2-hydroxylated estrogensc

Immune activation (16α-hydroxylated forms)

Vitamin D

Bi-modal role: support of innate immunity and inhibition of adaptive immunity [149]

Hypovitaminosis D is common

Osteoporosis, cachexia

Immune activation toward Th1 and Th17

Osteocalcin

Not known

Little and ambiguous results

Unclear

Vagus nerve

Immunosuppressive in acute inflammation (TNF)

Low activity

Loss of appetite, gastrointestinal disturbances, immune activation

Energy expenditure hormones

Cortisol

Immunosuppressive

Normal to slightly increased in GC-free patients, low levels in GC-pretreated patients

Cachexia, osteoporosis

Volume overload

Not much influence on immune system

Sympathetic nervous system (noradrenaline/adrenaline)

β-Adrenergic: suppressive for innate immunity and T helper type 1 lymphocytes, support of B lymphocytes

High activity

Cachexia, osteoporosis

α-Adrenergic: support of inflammation

Hypertension, volume overload

Immune activation due to nerve fiber lossd

Growth hormone

Immunostimulatory

Little and ambiguous results

Cachexia, osteoporosis

Thyroid hormones (T3)

Directly immunostimulatory

Low T3 levels, diminished activity of the hypothalamic-pituitary-thyroid gland axis but possibly normal T3 levels in muscle

Cachexia

Indirectly via provision of inorganic iodide

Immune activation in granulocytes

RAAS (angiotensin II)

Directly immunostimulatory

Elevated activity

Volume overload, hypertension

Cachexia, insulin resistance, osteoporosis

Immune activation
Although this theory can explain many complications in CIDs, no treatment schemes exist to treat these individual abnormalities in CIDs. The next decade should address treatment rules to overcome these complications because they determine advanced mortality in our patients with CIDs.
Abbreviations
ACE:

Angiotensin-converting enzyme
AT:

Angiotensin type
CID:

Chronic inflammatory disease
ER:

Estrogen receptor
HPA:

Hypothalamic-pituitary-adrenal
IFN:

Interferon
IGF-1:

Insulin-like growth factor-1
IL:

Interleukin
RA:

Rheumatoid arthritis
RAAS:

Renin-angiotensin-aldosterone system
SLE:

Systemic lupus erythematosus
SNS:

Sympathetic nervous system
T3:

Tri-iodothyronine
T4:

Thyroxine
TNF:

Tumor necrosis factor
TSH:

Thyroid gland-stimulating hormone.
Authors' Affiliations
(1)
Laboratory of Experimental Rheumatology and Neuroendocrine Immunology, Division of Rheumatology, Department of Internal Medicine, University Hospital, Regensburg, Germany
Copyright
© Straub; licensee BioMed Central Ltd. 2014
This article is published under license to BioMed Central Ltd. The licensee has exclusive rights to distribute this article, in any medium, for 6 months following its publication. After this time, the article is available under the terms of the Creative Commons Attribution License (http://creativecommons.org/licenses/by/2.0), which permits unrestricted use, distribution, and reproduction in any medium, provided the original work is properly cited.