Parietal and intravascular innate mechanisms of vascular inflammation
Arthritis Research & Therapy
2015
17:16
Published: 28 January 2015
Abstract
Sustained inflammation of the vessel walls occurs in a large number of systemic diseases (ranging from atherosclerosis to systemic vasculitides, thrombotic microangiopathies and connective tissue diseases), which are ultimately characterized by ischemia and end-organ failure. Cellular and humoral innate immunity contribute to a common pathogenic background and comprise several potential targets for therapeutic intervention. Here we discuss some recent advances in the effector and regulatory action of neutrophils and in the outcome of their interaction with circulating platelets. In parallel, we discuss novel insights into the role of humoral innate immunity in vascular inflammation. All these topics are discussed in light of potential clinical and therapeutic implications in the near future.
Keywords
Systemic Lupus Erythematosus
Giant Cell Arteritis
Thrombotic Thrombocytopenic Purpura
Pattern Recognition Receptor
Eculizumab
The clinical spectrum of vascular inflammation
Blood vessels act as tissue integrators by granting the diffusion of oxygen, nutrients and particulate signals throughout the body. The immune function emerges during evolution as a tool to defend the circulatory system from threats to its integrity. Each static player (that is, the vessel walls) or dynamic player (that is, blood components) of the circulatory system rapidly shifts towards a defensive, inflamed state and cooperates with evolutionary more recent adaptive immune responses. Vessels might thus represent the archetypical scenario for the very early initiation of the inflammatory response.
Under physiological conditions, self-limiting inflammatory processes occur in the circulating blood that necessarily involve the vessel walls, when the immune system effectively copes with microbial and nonmicrobial threats, eliminating the original noxa and guiding vessel regeneration and eventual healing. Threats that cannot be removed or persistent deregulated immune responses directed against endogenous vascular constituents in turn underlie vascular diseases.
Atherosclerosis and its complications represent the leading cause of mortality in westernized countries and the most frequent clinical manifestations of the effects of persisting vessel inflammation. The priming event in vascular inflammation in atherosclerosis is exquisitely metabolic, since the origin of the disease is associated with the accumulation of lipoproteins endowed with oxidative potential in the intimal layer with ensuing lipidogenic persistent inflammation. The characteristic atherosclerotic lesion (that is, the atheromasic plaque) typically develops assuming an eccentric shape.
In addition to these consolidated data, novel evidence is progressively emerging about the implications of persistent vascular inflammation for a large number of systemic diseases; in particular, those diseases in which autoimmunity plays a crucial role such as systemic sclerosis (SSc), systemic lupus erythematosus (SLE), dermatomyositis and other connective tissue diseases, thrombotic microangiopathies (TMAs) and systemic vasculitides. Some of these diseases have received more significant attention in recent years and could serve as clinical and pathophysiological paradigms.
SSc is an autoimmune disease of unknown etiology, characterized by widespread organ dysfunction, peripheral ischemia and fibrotic substitution. Vascular immune-mediated injury of small arteries and capillaries is an early event in the natural history of the disease and often takes place before fibrosis is established. Endothelial activation and apoptosis are thought to constitute the priming process in the progression of vascular injury. Recent studies provide evidence for a role of neutrophil-dependent interleukin (IL)-6 signaling in mediating the early phase of vascular injury in SSc [1]. Vessel remodeling and intimal proliferation in turn could arise as a response to endothelial dysfunction and rheologic disturbances [2,3]. Endothelial cells and myofibroblasts could both be involved in neointima formation in SSc. The latter cell subset can derive from resident pericytes, transdifferentiating cells or bone marrow-derived precursors [4]. Lung involvement comprises interstitial lung disease and pulmonary arterial hypertension and represents a major issue in the management of SSc, given the high mortality rate and the poor efficacy of available treatments. Conventional immunosuppressive treatments are only partially or not at all effective in controlling and reversing vascular events (for example, pulmonary arterial hypertension) whose pathogenesis is only partially defined [2].
TMAs such as thrombotic thrombocytopenic purpura, hemolytic uremic syndrome (HUS) and pre-eclampsia are characterized by widespread endothelial injury and expression of thrombogenic stimuli such as von Willebrand factor (vWF), due to the release of endotheliotropic toxins (characteristic of typical HUS), impaired inhibition of the complement system (atypical HUS) or other noncharacterized stimuli, possibly in the setting of jeopardized ADAMTS-13 activity (thrombotic thrombocytopenic purpura) [5]. Endothelial injury/activation in turn reflects on platelets and the coagulation system, with microvascular thrombosis and end-organ ischemia.
Systemic vasculitides comprise heterogeneous diseases, characterized by persistent inflammatory damage of the vessel walls [6]. According to the Chapel Hill Consensus Conference, there are seven classes of systemic vasculitides: large vessel vasculitides (including giant cell arteritis (GCA) and Takayasu's arteritis), small vessel vasculitides (including anti-neutrophil cytoplasmic antibody-associated vasculitides (AAV), IgA vasculitis and cryoglobulinemic vasculitis), medium vessel vasculitides (including Kawasaki's disease and polyarteritis nodosa), variable vessel vasculitides (including Behçet's disease), single organ vasculitides, vasculitides associated with systemic disease and vasculitides associated with probable etiology. Although the pathogenetic mechanisms and clinical scenarios differ, the diseases share the inflammatory involvement of vessels as the primary event in the disease natural history and the associated multiorgan systemic involvement.
Blood vessel checkpoints: role of vessel-residing cells in the initiation of the inflammatory response
Circulating leukocytes interact with cells that resides within the vessel walls as well as with other circulating cells that interact with blood vessels in order to gain information about ongoing damage in surrounding tissues and eventually to extravasate. To this purpose, either cells located in the lumen of blood vessels or cells located at the periphery of the vessel wall are able to productively interact with circulating and extravasating leukocytes and drive their subsequent effector responses. Cells that define the internal wall of blood vessels, such as the endothelium or the platelets recruited at sites of vessel injury to surrogate the function of the endothelium, indeed sense potential threats to the integrity of vessels and surrounding tissues through an array of pattern recognition receptors (PRR) [
7
,
8
]. After rapid mobilization of intracellular stores, endothelial cells and platelets expose a large array of signaling molecules such as P-selectin (from the endothelial and platelet side), vWF (from endothelial Weibel–Palade bodies) and inflammatory signals such as the high mobility group box 1 protein, the soluble form of CD40 ligand, leukotrienes LTA4 and LTB4 and tissue factor [
7
]. Later responses involve the transcriptionally regulated synthesis of E-selectin, vascular cell adhesion molecule 1 and intercellular adhesion molecules (Figure
1
B1).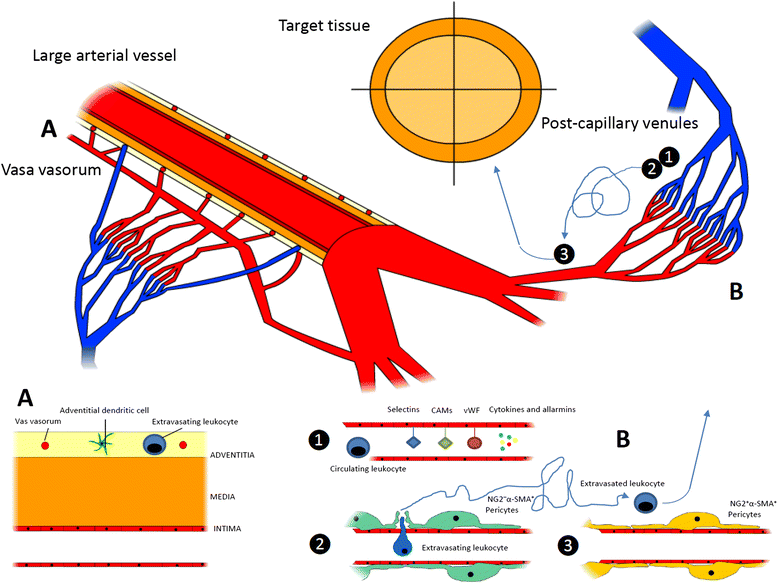 Rolling/crawling neutrophils, monocytes and innate-like lymphocytes, besides being directly activated by the original inflammatory stimuli, recognize the changes on the vessel cell surface, and in turn generate signals that expand the sensitivity of blood vessels [6]. The recognition of potentially harmful agents in the context of blood vessels thus prompts the development of a tripartite crosstalk involving the endothelium, platelets and leukocytes [7].
During migration towards target tissues, leukocytes (at least of the myeloid lineage) receive additional information after interacting with vascular pericytes (Figure 1B2,B3). These poorly defined cells, wrapped around the endothelium, play a role that has only recently gained attention as a secondary pre-tissue checkpoint. Venular neuron–glial antigen 2-negative/alpha-smooth muscle actin-positive (NG2− α-SMA+) pericytes directly provide navigation support during extravasation, modifying their shape in response to inflammatory signals forming gaps and thus providing preferential exit routes to neutrophils through the venular wall [9] (Figure 1B2). By contrast, capillary or arteriolar neuron–glial antigen 2-positive/alpha-smooth muscle actin-positive (NG2+ α-SMA+) pericytes recruit myeloid leukocytes after completion of diapedesis (even from relatively distant sites) and enhance their survival as well as the speed and the linearity of their migration in the perivascular interstitial space (Figure 1B3). As such, this latter pericyte subset might be specifically involved in the maintenance of inflammation associated with small arteries and capillaries [10]. Pericytes contribute to the remodeling of vessels and of surrounding tissues under conditions of hypoxia [4,11] and regulate the vascular tone, possibly by acquiring vascular smooth muscle cell-like features [11].
Spreading of inflammation through large arterial vessel walls involves unique pathophysiological pathways. In fact, large arteries are themselves vascularized, as they are served by a specific set of small vessels in the adventitial layer, called the vasa vasorum. Adventitial dendritic cells are thought to coordinate the recruitment of activated CD4+ T lymphocytes from the vasa vasorum and to influence the deployment of T-helper (Th)1/Th17-driven immune responses in the underlying vessel layers [12] (Figure 1A). Interactions between vessel-residing dendritic cells and T cells have been extensively studied in GCA and are required for full establishment of the disease [13]. However, evidence that similar phenomena also occur in atherosclerosis is progressively being acquired [14]. In the specific setting of GCA, two cytokine clusters apparently drive the inflammatory process: (a) the steroid-sensible IL-6/IL-17 cluster, which would be sustained by Th17 cells; and (b) the IL-12/interferon gamma cluster due to the persistent activity of Th1 cells, responsible for the progression or refractoriness of the disease despite corticosteroid or anti-IL-6 drugs [13].
Downstream of the activation of vessel-residing dendritic cells and extravasated lymphocytes, stromal cells are thought to participate in vessel inflammation by providing quantitative and qualitative alterations of the extracellular matrix. (1) Quantitative expansion of the extracellular matrix, together with the proliferation of stromal cells and infiltrating leukocytes, is responsible for vessel thickening and eventually occlusion. (2) In addition, the disruption of the histological architecture of the vessel wall is accompanied by changes in the signal that the extracellular space provides to residing and infiltrating cells. In particular, recent evidence suggests that imbalances in the immune-regulatory functions of the stromal microenvironment (for example, signaling through galectin 1A, fibronectin and syndecan) could be responsible for the constitutional activation of dendritic cells in large vessel vasculitides [13]. Endothelial dysfunction constitutes one of the pathogenic hallmarks of atherosclerosis, which is also characterized by a centrifugal development of vessel inflammation from the luminal side towards the medial and adventitial layers. By contrast, large vessel vasculitides are thought to be characterized by a centripetal pattern of inflammation. Nonetheless, signs of endothelial activation are also detectable in patients with GCA [15,16] and recent studies support a role of anti-endothelial antibodies in causing vascular injury in this context [17].
Innate players in vascular inflammation
Conclusions
Humoral and cellular innate immunity both contribute to the origin of vessel inflammation, to its acute complications and to the long-term vascular remodeling that underlies vessel injury and end-organ ischemia. Early alterations of the barrier function of vessels, which rely on both endothelial cells and pericytes, license leukocytes for vessel wall and surrounding tissue infiltration and for ensuing acute and chronic inflammatory responses. Neutrophils and platelets are key interacting players in the initiation and perpetuation of vascular inflammation. We are acquiring insight about the role of humoral innate immunity in physiologically shaping the extent and the specific features of inflammation throughout the vascular system. These regulator mechanisms are jeopardized in persistent inflammatory diseases and might represent crucial targets for restoring vascular homeostasis.
Abbreviations
AAV:

Anti-neutrophil cytoplasmic antibody-associated vasculitides
ACPA:

Anti-citrullinated peptides antibodies
ANCA:

Anti-neutrophil cytoplasmic antibodies
aRNP:

Anti-ribonuclear protein
CRP:

C-reactive protein
GCA:

Giant cell arteritis
HUS:

Hemolytic uremic syndrome
IL:

Interleukin
MBL:

Mannose binding lectin
MPO:

Myeloperoxidase
NET:

Neutrophil extracellular trap
PR3:

Proteinase 3
PRR:

Pattern recognition receptors
PTX3:

Pentraxin 3
RA:

Rheumatoid arthritis
SLE:

Systemic lupus erythematosus
SSc:

Systemic sclerosis
TCC:

Terminal complement complex
Th:

T-helper
TMA:

Thrombotic microangiopathy
TNF:

Tumor necrosis factor
TSG-6:

TNF-stimulated gene 6 protein
vWF:

von Willebrand factor
Declarations
Acknowledgements
The work in the authors' laboratories is supported by the Italian Ministry of Health (Fondo per gli Investimenti della Ricerca di Base-IDEAS to PR-Q, and Ricerca Finalizzata to PR-Q and AAM), by the Associazione Italiana Ricerca sul Cancro (AIRC IG11761 to AAM) and by the Italian Ministry of University and Research (PRIN 2010 to AAM).
Authors' Affiliations
(1)
IRCCS Ospedale San Raffaele, Milan, Italy
(2)
Università Vita Salute San Raffaele, Milan, Italy
Copyright
© Ramirez et al.; licensee BioMed Central. 2015
This is an Open Access article distributed under the terms of the Creative Commons Attribution License (http://creativecommons.org/licenses/by/4.0), which permits unrestricted use, distribution, and reproduction in any medium, provided the original work is properly credited. The Creative Commons Public Domain Dedication waiver (http://creativecommons.org/publicdomain/zero/1.0/) applies to the data made available in this article, unless otherwise stated.