Molecular mechanisms of autoimmunity triggered by microbial infection
Arthritis Research & Therapy
2005
7:215
Published: 30 August 2005
Abstract
Autoimmunity can be triggered by microbial infection. In this context, the discovery of Toll-like receptors (TLRs) provides new insights and research perspectives. TLRs induce innate and adaptive antimicrobial immune responses upon exposure to common pathogen-associated molecules, including lipopeptides, lipopolysaccharides, and nucleic acids. They also have the potential, however, to trigger autoimmune disease, as has been revealed by an increasing number of experimental reports. This review summarizes important facts about TLR biology, available data on their role in autoimmunity, and potential consequences for the management of patients with autoimmune disease.
Keywords
Systemic Lupus Erythematosus
Lupus Nephritis
Plasmacytoid Dendritic Cell
Viral dsRNA
Glomerular Mesangial Cell
Introduction
Autoimmunity is believed to develop from genetic predispositions while the onset of autoimmune tissue injury or disease flare is often triggered by microbial infection. Diseases such as type I diabetes mellitus, lupus erythematosus, myocarditis, rheumatoid arthritis, and multiple sclerosis often manifest themselves in association with microbial infection. Patients with chronic forms of autoimmunity may experience symptomatic disease flares following infections. These clinical observations raise a set of questions: what classes of receptors recognize microbes or vaccine adjuvants in the host? What molecular mechanisms induce immune activation upon recognition of the pathogen? And how does antimicrobial immunity modulate tolerance? Answers to these questions are expected from the recent discovery of Toll-like receptors (TLRs). TLRs have been identified as a new family of innate receptors that recognize a set of microbial molecules known as pathogen-associated molecular patterns (PAMPs). The role of TLRs in antimicrobial immunity continues to be extensively studied. However, an increasing number of reports provide evidence that TLR ligation can trigger autoimmune tissue injury. In this review, we summarize important facts on TLR biology and available data on their role in autoimmunity. Furthermore, we provide future research perspectives that could influence the management of patients with autoimmune disease.
TLRs recognize pathogen-associated molecular patterns
To date, 11 proteins related to the
Drosophila
gene
Toll
have been characterized in vertebrates [
1
] (Figure
1
; Table
1
).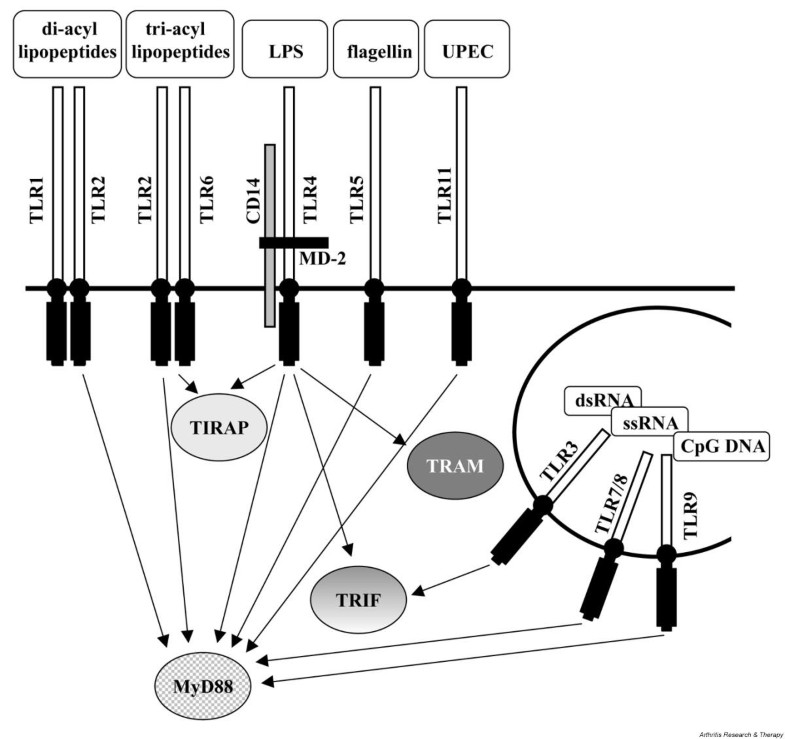 Table 1
Important microbial ligands of Toll-like receptors
| Receptor | Ligand | Pathogen |
| --- | --- | --- |
| TLR1 | Triacyl lipopeptides | Bacteria, mycobacteria |
| TLR2 | Peptidoglycan | Gram-positive bacteria |
| | Lipoteichoic acid | Gram-positive bacteria |
| | Lipoprotein, lipopetides | Different pathogens |
| | Atypical lipopolysaccharide | Leptospira interrogans |
| | Glycoinositolphospholipids | Trypanozoma cruzii |
| | Zymosan | Fungi |
| TLR3 | Double-stranded RNA | Viruses |
| TLR4 | Lipopolysaccharide | Gram-negative bacteria |
| | Fusion protein | Respiratory syncytial virus |
| | Taxol | Plants |
| TLR5 | Flagellin | Bacteria |
| TLR6 | Diacyl lipopeptides | Mycoplasma |
| TLR7 | Single-stranded RNA | Viruses |
| | Imidazoquinoline, Loxoribine, Bropirimine | Synthetic compounds |
| TLR8 | Single-stranded RNA | Viruses |
| | Imidazoquinoline | Synthetic compounds |
| TLR9 | CpG-DNA | Bacteria, viruses |
| | Hemozoin | Plasmodium falciparum |
| TLR10 | Nd | Nd |
| TLR11 | Nd | Uropathogenic E. coli |
| | Profilin-like molecule | Toxoplasma gondii |
Ligating TLRs induces innate and adaptive antimicrobial immunity
PAMPs that ligate TLRs induce potent mechanisms of innate antimicrobial immunity. TLRs that signal through MyD88 induce NF-κB-dependent expression of pro-inflammatory cytokines and chemokines, which trigger local and systemic inflammation including arthritis [42]. For example, both CpG DNA and LPS can cause a massive release of tumour necrosis factor-α and other pro-inflammatory mediators in mice, while TLR4-deficient and TLR9-deficient mice fail to respond to the respective ligands [21, 30]. In macrophages and antigen-presenting cells, TLR ligation induces the phagocytic capacity as an important component of pathogen control and antigen-processing [43]. Viral nucleic acids ligate a selected set of TLRs. For example, TLR3 signals through the adaptor TRIF, which induces expression of type I IFNs, a major component of antiviral immunity [44]. TLR9 signalling through MyD88 by plasmacytoid dendritic cells can also produce high amounts of type I IFNs upon recognition of bound viral CpG-DNA [35]. Antimicrobial immunity involves adaptive immunity, however, which also is readily activated by TLRs [45, 46]. Upon TLR ligation, antigen-presenting cells upregulate expression of co-stimulatory molecules and secrete modulatory cytokines. TLR ligation mostly induces secretion of Th1 cytokines, which drives subsequent T cell functions towards Th1-type immunity [47]. Thus, TLR ligands are being increasingly explored as vaccine adjuvants [48, 49]. Many other aspects of TLR biology in antimicrobial immunity have been described in great detail in several excellent reviews [1, 45, 46, 50, 51]. In the following part of this review we focus on those mechanisms that link TLR-induced immunity to mechanisms clearly involved in autoimmunity.
TLR ligation and autoimmunity
Autoimmunity is obviously caused by several coincident mechanisms that relate to the presence of autoreactive immune cell subsets and loss of tolerance. Tolerance is maintained by controlling autoreactive T and B cells as well as by tolerogenic stimuli provided by dendritic cells that constantly process autoantigens [52]. It is thought that autoimmunity develops upon uncontrolled proliferation of autoreactive immune cell subsets and non-tolerogenic cytokine signalling by antigen-presenting cells in a host with defects in tolerance control. Consistent with the observation that microbial infections are common triggers of autoimmunity, several lines of evidence show that TLR ligation can cause autoimmune tissue injury.
TLR9 and DNA recognition in lupus
As DNA particles are important autoantigens in lupus, recognition of CpG motifs in self DNA through TLR9 might be involved in the pathogenesis of systemic lupus erythematosus. In fact, immune complexes isolated from lupus patients can activate plasmacytoid dendritic cells to produce cytokines, chemokines, and IFN-α through TLR9 [73]. Whether such patient-derived immune complexes contain self-DNA or microbial DNA remains elusive [74]. CpG motifs in self DNA need to be protected from activating TLR9 to prevent autoimmunity. In vertebrates at least three such mechanisms exist.
Clinical implications and future perspectives
In view of the aforementioned potential of microbial molecules to trigger or modulate autoimmunity, new hypotheses arise that may influence the management of patients with autoimmune disease.
Concerns about therapeutic use of TLR agonists in patients with autoimmune disease
Mycobacterial vaccine adjuvants have now been identified to ligate TLRs. Experimental studies that exposed rodents with lupus to TLR agonists, for example, experimental autoimmune encephalomyelitis, collagen-induced arthritis, immune complex glomerulonephritis and other types of autoimmune tissue injury, raise considerable concern about the safety of TLR agonists in patients with autoimmune disease [55–57, 92]. These studies reported disease aggravation after repeated injections with, for example, CpG-ODN, but side effects of TLR ligands may relate to the dose, treatment intervals, and route of administration [29, 93]. Topical application or a single vaccination regimen might have less effects on pre-existing autoimmunity. CpG-DNA is currently in clinical trials for the treatment of cancer, atopy and as vaccine adjuvant [48, 93, 94]. So far, clinical or serological signs of drug-induced lupus or flares of autoimmunity have not been reported in recently reported trials that applied CpG-DNA as a vaccine adjuvant for vaccination against influenza or hepatitis B virus [93, 95, 96].
Therapeutic use of TLR antagonists in patients with autoimmune disease
As discussed above, chloroquine already has an established role in the treatment of milder forms of lupus. In addition, suppressive DNA elements may modulate the stimulatory effects of CpG DNA. In vitro studies suggest that CpG-DNA-induced activation of B cells, macrophages, or dendritic cells can be blocked with ODN containing suppressive DNA motifs [75, 80]. Thus, suppressive ODN may represent a functional antagonist for TLR9 signalling induced by CpG-DNA, a hypothesis supported by our studies with MRLlpr/lpr mice. These findings support a role for TLR9 signalling in the pathogenesis of lupus. Thus, developing specific small molecule TLR9 antagonists may represent a new approach as a preventive therapy for systemic lupus erythematosus.
Conclusion
TLRs are critical receptors for innate pathogen recognition. Their specific role in modulating innate and adaptive immunity also interferes with the mechanisms that maintain tolerance in the host. Thus, TLR ligation can contribute to loss of tolerance by multiple mechanisms. The specific roles of individual signalling pathways for several different autoimmune conditions remain a future challenge in this field. A role for TLR9 in the pathogenesis of lupus is suggested for both infection-induced disease flares as well as for the recognition of CpG motifs in self DNA. Preliminary studies with functional antagonists of TLR signalling suggest that TLRs may provide a new set of potential targets for the treatment of autoimmune diseases.
Abbreviations
CpG:

unmethylated cytosine-guanosine
ds:

double stranded
IFN:

interferon
IL:

interleukin
LFA:

lymphocyte function associated antigen
LPS:

lipopolysaccharide
MHC:

major histocompatibility complex
MyD88:

myeloid differentiation (primary-response) factor 88
NF:

nuclear factor
ODN:

oligodeoxyribonucleotide
PAMP:

pathogen-associated molecular pattern
ss:

single stranded
Th:

helper T cell
TIR:

Toll-IL-1 receptor
TLR:

Toll-like receptor.
Declarations
Acknowledgements
The work was supported by a grant from the Deutsche Forschungsgemeinschaft (AN372/4-1 and GRK 1201) and the Fritz Thyssen Foundation to HJA.
Authors' Affiliations
(1)
Medical Policlinic, Ludwig-Maximilians-University, Munich, Germany
Copyright
© BioMed Central Ltd 2005