Molecular imaging of rheumatoid arthritis: emerging markers, tools, and techniques
Arthritis Research & Therapy
2014
16:208
Received: 16 October 2013
Accepted: 8 April 2014
Published: 15 April 2014
Abstract
Early diagnosis and effective monitoring of rheumatoid arthritis (RA) are important for a positive outcome. Instant treatment often results in faster reduction of inflammation and, as a consequence, less structural damage. Anatomical imaging techniques have been in use for a long time, facilitating diagnosis and monitoring of RA. However, mere imaging of anatomical structures provides little information on the processes preceding changes in synovial tissue, cartilage, and bone. Molecular imaging might facilitate more effective diagnosis and monitoring in addition to providing new information on the disease pathogenesis. A limiting factor in the development of new molecular imaging techniques is the availability of suitable probes. Here, we review which cells and molecules can be targeted in the RA joint and discuss the advances that have been made in imaging of arthritis with a focus on such molecular targets as folate receptor, F4/80, macrophage mannose receptor, E-selectin, intercellular adhesion molecule-1, phosphatidylserine, and matrix metalloproteinases. In addition, we discuss a new tool that is being introduced in the field, namely the use of nanobodies as tracers. Finally, we describe additional molecules displaying specific features in joint inflammation and propose these as potential new molecular imaging targets, more specifically receptor activator of nuclear factor κB and its ligand, chemokine receptors, vascular cell adhesion molecule-1, αVβ3 integrin, P2X7 receptor, suppression of tumorigenicity 2, dendritic cell-specific transmembrane protein, and osteoclast-stimulatory transmembrane protein.
Keywords
Rheumatoid Arthritis
Infliximab
Molecular Imaging
Folate Receptor
Inflame Joint
Introduction
Anatomical imaging techniques have long been used to diagnose and monitor rheumatoid arthritis (RA). Over the past decade, these techniques have dramatically improved. For example, it is now possible to detect bone erosions within 6 to 8 weeks after arthritis onset. Nevertheless, pure anatomical imaging of even the earliest structural damage misses the preceding molecular, cellular, and physiological changes in the very early stages of RA pathogenesis. Molecular imaging, currently being developed in many domains of medical research and diagnostic practice, offers the possibility to visualize the early functional changes in RA [1]. This non-invasive technique allows early diagnosis, disease monitoring, guidance of treatment strategy, and possibly prediction of the outcome following the selected treatment. For example, patients can be selected for receiving a certain drug on the basis of the presence of the corresponding drug target, as was suggested for treatment of refractory monoarthritis patients with TNF-α antagonists after imaging with 99mtechnetium (Tc)-infliximab [2]. Some RA drugs are relatively expensive; hence, it is important to determine which patients may respond to a proposed therapy and which ones will not. Additionally, patients who are likely to develop a more severe disease can be identified and selected for more intensive treatment or more frequent monitoring. Molecular imaging of joint pathology both in human and in animal models of arthritis will improve our knowledge of the pathogenesis of the disease. In animals, imaging can be performed before and at different time points after the clinical onset of arthritis in the same animal with minimal perturbation of the experiment, and therefore more information can be obtained with fewer animals. Questions such as 'which are the earliest processes taking place in the pathogenesis of arthritis?' and 'which cells are most important in the disease process at which stage?' might become answered by live-animal imaging with specific probes. In addition, imaging of early-onset inflammation requires sensitive techniques characterized by limited background and non-specific signals.
Review
The pathogenesis of arthritis – which cells can we target?
RA is a chronic autoimmune disease, affecting approximately 1% of the population worldwide. The disease is characterized by polyarthritis of the diarthrodial joints, primarily the small joints of hands and feet. A hallmark of RA is inflammation of the synovium (synovitis) with influx of mainly macrophages, T cells and B cells [
3
,
4
]. The synovial fluid is likewise enriched in immune cells, predominantly neutrophils [
5
] (Figure
1
).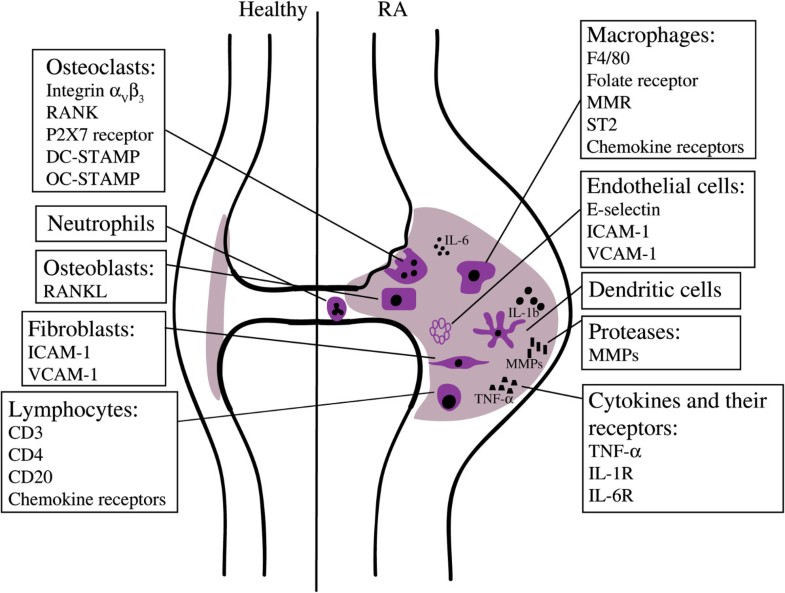 Macrophages are central effectors of synovial inflammation in RA and their abundance and degree of activation are correlated with disease severity [6]. Macrophages act through release of inflammatory factors, phagocytosis, and antigen presentation [4]. In RA, precursors from the monocyte/macrophage lineage are attracted from the blood to the inflamed joint and fuse to become active multinucleated osteoclasts, causing bone destruction.
T cells represent approximately 40% of immune cells in the synovial infiltrate of RA joints and have been implicated in different steps of RA pathology; they promote development of an autoimmune response and production of autoantibodies. Another role of T cells is the production of cytokines and induction of cytokine production by other cells [7]. B cells contribute to RA by the production of autoantibodies, antigen presentation, and T-cell activation [8]. They are indispensable for the development of arthritis as evident from the observation that the depletion of B cells abrogates the development of collagen-induced arthritis (CIA), an animal model for RA [9], and by the effectiveness of the B cell-depleting antibody, rituximab, that binds the CD20 surface molecule on B cells and inhibits the disease [10].
Synovial fibroblasts contribute to RA pathology by releasing matrix-degrading enzymes, including matrix metalloproteinases (MMPs) and cathepsins, which cause cartilage destruction [11]. Osteoblasts differentiate from mesenchymal stem cells and produce bone matrix. At their surface, these cells express receptor activator of nuclear factor-kappa-B ligand (RANKL), which is essential for osteoclast formation [12]. Blood vessel formation is elevated in RA joints and is associated with increased numbers of endothelial progenitor cells. Endothelial cells express cell adhesion molecules that facilitate rolling, binding, and transendothelial migration of leukocytes [13].
The evolution of arthritis imaging
Anatomical imaging techniques
Conventional radiography is readily available, inexpensive, and reproducible. It allows the visualization of anatomical changes in established RA, such as erosions, joint space narrowing, and juxta-articular bone loss [14]. Ultrasonography (grey-scale imaging, power Doppler) has been in use for over 30 years. It can be routinely used in the clinic and was found to be more sensitive and accurate than clinical examination or conventional radiography [15]. This technique provides information on bone degradation, synovitis, and inflammation of tendons and entheses. Since ultrasound cannot penetrate bone, osteitis cannot be detected [16]. Practical impediments are the lack of standard protocols for evaluation of RA and, therefore, strict dependence on the physician's skills. Hence, implementation studies in daily practice are still needed. When magnetic resonance imaging (MRI) was introduced, it soon became evident that this technique outperforms radiography in detecting early bone erosions [17, 18]. MRI images are two- and three-dimensional and have a higher contrast resolution, consequently soft tissues can be distinguished more efficiently. With MRI it is possible to detect synovial hyperplasia, bone changes, and cartilage degradation but also signs of RA in the pre-erosive phase [14]. It has now become the gold-standard modality for imaging synovitis in patients with early arthritis. Interestingly, several publications report accurate prediction of radiographic damage by MRI assessment of erosions or inflammation [19, 20]. In a study of 42 patients with early RA, baseline MRI erosion scores could predict the development of erosions that became visible by radiography after 1 year. Absence of MRI-detectable erosions predicted the absence of erosions after this time period [21].
Molecular imaging – state of the art
Structural imaging techniques, though very useful, fail to provide information on the underlying biochemical processes. Therefore, novel imaging modalities using molecular probes such as optical imaging (bioluminescence, fluorescence, and near-infrared, or NIR; 600 to 750 nm) or nuclear imaging (scintigraphy; positron emission tomography, or PET; and single-photon emission computed tomography, or SPECT) are currently being improved for arthritis imaging.
The term optical imaging encompasses techniques, such as bioluminescence and fluorescence, that use light as the primary imaging method. Bioluminescence enables visualization of biological processes in vivo. It is a powerful tool for preclinical imaging but less applicable in a clinical setting as it requires administration of foreign enzymes. Fluorescence imaging holds more promise for clinical applications, especially since the development of NIR probes that allow deeper penetration into tissues and less background interference. Nuclear imaging techniques, such as scintigraphy, PET, and SPECT, use markers that are labeled with radioisotopes. Radioactive tracers provide the advantage of deep tissue penetration and low background compared with optical imaging techniques. PET and SPECT produce three-dimensional images and are more sensitive than structural imaging. SPECT is less expensive than PET and uses radiotracers with a longer half-life but has a lower resolution. Additionally, linkage of SPECT tracers requires modifications that might interfere with binding of the marker to the target.
Use of molecular imaging methods might facilitate early diagnosis, disease monitoring, and guidance of treatment strategy, but studies unequivocally demonstrating their value in daily practice are needed. Molecular imaging could be very useful for the selection of patients in phase II clinical trials that evaluate new drugs in a small patient group. The imaging allows measurement of the expression of a given therapeutic target in each individual patient. The level of this expression may be used to select those patients who are most likely to respond to the new therapy. Such an analysis may limit the number of patients who are required in a phase II proof-of-concept trial and may improve the chances of success, but will depend on factors such as the inter-individual variability and the response stratification prediction of the imaging. Imaging is also a powerful tool for animal experimentation; it enables researchers to gather data over a period of time in the same animal. Since the 1990s, molecular imaging has been applied to study arthritis in preclinical imaging of experimental animal models and has evolved from the use of simpler methods, such as autoradiography and planar gamma camera imaging, to more advanced techniques, including fluorescence, PET, and SPECT imaging, that show higher sensitivity and provide more detailed information. The development of the necessary equipment allowing small animal imaging has led to important progress in the field. Fluorescence imaging has greatly advanced as a whole-animal imaging technique and this is due mostly to the development of NIR fluorophores. The background signal in lower wavelengths strongly decreases sensitivity of fluorescence imaging but is significantly less in the NIR range. Nuclear imaging has become more accessible for preclinical research as well; PET and SPECT scanners have been adapted for imaging of small animals.
Emerging techniques and markers to facilitate molecular imaging of arthritis
Conclusions
The field of molecular imaging has grown substantially in the past two decades; tools and techniques have evolved, and new molecular markers are being identified. Molecular imaging will be of help in a preclinical context by offering a reliable and subjective manner to assess the disease severity and by providing more detailed knowledge of the disease process. Some of the markers will enter the clinic to facilitate diagnosis, monitoring of disease progression, and determination of treatment strategy in a subset of patients. Finally, an important role for molecular imaging may be situated in the assessment of efficacy of new drugs and in the design and evaluation of clinical trials.
Abbreviations
18 F-FDG:

18fluoro-2-deoxy-D-glucose
99mTc-MDP:

99mtechnetium-methylene diphosphonate
CIA:

Collagen-induced arthritis
CT:

Computed tomography
DC-STAMP:

Dendritic cell-specific transmembrane protein
ICAM-1:

Intercellular adhesion molecule-1
IL:

Interleukin
MMP:

Matrix metalloproteinase
MMR:

Macrophage mannose receptor
MRI:

Magnetic resonance imaging
NIR:

Near-infrared
OC-STAMP:

Osteoclast-stimulatory transmembrane protein
PET:

Positron emission tomography
RA:

Rheumatoid arthritis
RANK:

Receptor activator of nuclear factor-kappa-B
RANKL:

Receptor activator of nuclear factor-kappa-B ligand
RGD:

Arg-Gly-Asp
SPECT:

Single-photon emission computed tomography
ST2:

Suppression of tumorigenicity 2
Tc:

Technetium
Th:

T helper
TNF-α:

Tumor necrosis factor-alpha
VCAM-1:

Vascular cell adhesion molecule-1.
Declarations
Acknowledgments
We are grateful to Prof. Alfons Billiau for critical revision of the manuscript. Our work was supported by grants from the Regional Government of Flanders (GOA program), the Belgian Federal Government (Interuniversitary Attraction Poles program), and the Government Agency for Innovation by Science and Technology (IWT, Strategisch Basisch Onderzoek project coordinated by Patrick De Baetselier, Laboratory of Cellular and Molecular Immunology, VIB Laboratory of Myeloid Cell Immunology, Brussels, Belgium).
Authors' Affiliations
(1)
KU Leuven, Laboratory of Immunobiology, Rega Institute, Leuven, Belgium
(2)
Department of Development and Regeneration; Rheumatology, KU Leuven, Skeletal Biology and Engineering Research Center, University Hospital Leuven, Leuven, Belgium
(3)
Department of Nuclear Medicine, UZ Brussel, Jette, Belgium
(4)
In Vivo Cellular and Molecular Imaging Center, Vrije Universiteit Brussel, Jette, Belgium
Copyright
© Put et al.; licensee BioMed Central Ltd. 2014
This article is published under license to BioMed Central Ltd. The licensee has exclusive rights to distribute this article, in any medium, for 6 months following its publication. After this time, the article is available under the terms of the Creative Commons Attribution License (http://creativecommons.org/licenses/by/4.0), which permits unrestricted use, distribution, and reproduction in any medium, provided the original work is properly cited.