Research article

Open Access
Biosemantics guided gene expression profiling of Sjögren's syndrome: a comparative analysis with systemic lupus erythematosus and rheumatoid arthritis
Arthritis Research & Therapy
2017
19:192
Received: 18 October 2016
Accepted: 31 July 2017
Published: 17 August 2017
Abstract
Background
Sjögren's syndrome (SS) shares many clinical and pathological similarities with systemic lupus erythematosus (SLE) and rheumatoid arthritis (RA). These autoimmune diseases mostly affect women. In this study, concept profile analysis (CPA) and gene expression meta-analysis were used to identify genes potentially involved in SS pathogenesis.
Methods
Human genes associated with SS, SLE, and RA were identified using the CPA tool, Anni 2.1. The differential mRNA expression of genes common to SS and SLE (SS-SLE) was determined in female peripheral blood mononuclear cells (PBMCs) using NCBI-GEO2R. Differentially expressed (DE) SS-SLE PBMC genes in common with the SS-SLE CPA-identified genes were analyzed for differential expression in salivary glands or synovial biopsies, and for genes common to SS and RA and SLE and RA, analyzing differential expression in salivary glands in SS, synovial fibroblasts in RA, and synovial fluid in SLE. Among common genes, DE genes found in salivary gland mRNA expression in patients with SS were used for gene enrichment and SS molecular network construction. Secondary analysis was performed to identify DE genes unique to the disease site tissues, by excluding PBMC and CPA common DE genes to complement the SS network.
Results
We identified 22 DE genes in salivary gland datasets in SS that have not previously been clearly associated with SS pathogenesis. Among these, higher levels of checkpoint kinase 1 (CHEK1), V-Ets avian erythroblastosis virus E26 oncogene homolog 1 (ETS1), and lymphoid enhancer binding factor 1 (LEF1) were significantly correlated with higher matrix metalloproteinase 9 (MMP9) levels. Higher MMP9 levels have been implicated in degradation of salivary gland structural integrity, leading to hypo-salivation in patients with SS. Salivary gland mRNA expression of MMP9 and the expression of cytokine CXCL10 were higher in patients with SS. CXCL10 has been shown to increase MMP9 expression and therefore may also play an important role in SS pathogenesis.
Conclusion
Using CPA and gene expression analysis, we identified factors targeting MMP9 expression and/or function, namely CHEK1, CXCL10, ETS1, LEF1, and tissue inhibitor of metalloproteinase 1; altered mRNA expression of these could increase expression/activity of MMP9 in a concerted manner, thereby potentially impacting SS pathogenesis.
Keywords
Sjögren's syndrome
Systemic lupus erythematosus
Rheumatoid arthritis
Gene expression
Meta-analysis
Concept profile analysis
Background
Sjögren's syndrome (SS) is a chronic autoimmune disease affecting up to 3% of the population [1]. SS is primarily characterized by dysfunctional exocrine glands due to lymphocytic infiltration, resulting in excessive dry mouth (xerostomia) and dry eyes (xerophthalmia) [2]. Autoimmune diseases often share common clinical and pathological features such as innate immune response activation, chronic inflammation, development of specific autoantibodies, and systemic dysfunction of multiple organs [1, 3, 4]. SS is most closely associated with the two autoimmune disorders, systemic lupus erythematosus (SLE) and rheumatoid arthritis (RA) [5]. Autoimmune diseases are usually more common in women. In particular, SS and SLE overwhelmingly affect women, with a ratio of women to men of 9 to 1 [6–9]. RA also affects more women than men but less drastically (ratio of 2-3 to 1) [9, 10].
Despite overlapping pathophysiological markers shared among SS, SLE and RA, the exact mechanism responsible for the onset and progression of these diseases is not fully understood [9, 11]. In recent years, in the search for biomarkers unique to SS or common between SS, SLE, and RA, several meta-analyses studies have been performed to compare multiple SS gene expression datasets with each other or in conjunction with SLE and RA datasets [11–13]. In these studies, gene expression analyses were conducted using data from peripheral blood mononuclear cells (PBMCs) or from the biopsies of tissues affected in each disease, i.e., the salivary glands (SGs) in SS, and synovial biopsies in SLE and RA [11–13].
Most previous meta-analyses studies have focused on identification of the genes that demonstrate the largest fold change in messenger RNA (mRNA) expression among SS patient samples compared to controls. Large fold changes in transcriptional expression of certain genes observed in these studies, however, could be irrelevant to disease etiology. The large fold changes may be characteristic of disease progression during advanced stages rather than at disease onset or during pre-symptomatic stages. For example, high levels of type I interferon (IFN)-related genes (e.g., IFN-α) are expressed in PBMCs and SG biopsies from patients with SS [14, 15]. However, increased levels of this cytokine in the SGs could be largely attributed to lymphocytic infiltration [14, 15] and not directly related to the SS etiological mechanisms initiated in the SGs. Indeed, having the recently identified potential disease susceptibility genes [2, 16, 17], along with infection by viruses with high tropism for the exocrine glands, are conditions suspected to play important roles in the etiology of SS ahead of the development of systemic autoimmune responses [18, 19].
Moreover, SS predominantly occurs in women and an X chromosome dosage effect has been recently identified [20]. Previous meta-analysis studies comparing SS, SLE, and RA mostly used gene expression data from both male and female patients [11, 12]. There is a mounting body of evidence suggesting that higher susceptibility to SS in women could be associated with the aberrant expression of specific genes located on the X chromosome in conjunction with X-linked epigenetic events, possibly involving the activation of endogenous retroviruses [21–25].
The use of concept profile analysis (CPA) based on biosemantics text-mining has emerged as a promising approach for biomedical discoveries especially when the amount of data is limited or inadequate, limited categories of controls are used, or there is a lack of general understanding in disease mechanisms [26–28]. Similar to Gene Ontology (GO) analysis, in CPA each biological entity (e.g., genes, diseases, symptoms, pathways, chemicals, drugs, tissues, or toxins) can represent a concept of a profile belonging to another concept and be ranked in the order of relevance within a list, thus defining a hierarchy based on literature mining [26–28]. Concept profiles can be matched against the human genome using data mining tools [26].
In this study, we used CPA to establish lists of genes relevant to SS, SLE, and RA with the goal of identifying novel candidate biomarkers of SS etiology or markers critical to the development of SS. Genes common to SS, SLE, and RA, and genes unique to either disease, were identified using publically available gene expression datasets.
Results
Our overarching goal was to identify candidate biomarkers of SS (the focus of this study) by using two approaches, namely analysis 1 (Fig. 1) and analysis 2 (Additional file 2: Figure S1), each consisting of 4 phases. In analysis 1, we derived genes associated with SS, SLE, and RA by using CPA (i.e., Anni 2.1) and compared those genes to the DE genes of the SS, SLE, and RA PBMC datasets (phases 1 and 2). DE genes found to be in common were further evaluated against SS, SLE, and RA DE genes belonging to the disease sites (e.g., salivary glands for SS) (phase 3). We identified genes DE in PBMCs and at least two SS SG datasets, excluding genes differentially expressed in the opposite direction in a third SS SG dataset. Further, to prevent the possibility of missing SS DE genes in SGs but not in PBMCs, analysis 2 was performed by eliminating the PBMC DE genes and keeping only SG DE genes. We also performed a comparison between SLE and RA (complementary analysis) for information purposes, using the same approach as in analysis 1. A summary of the results is presented subsequently.
Discussion
The pathophysiology of autoimmune disorders such as SS, SLE, and RA is complex, yet all share some common clinical features such as active innate immune response, T cell signaling, and chronic inflammation [3, 4]. The etiology of these diseases remains poorly understood [4, 23, 24], although there is a growing body of evidence that X chromosome dosage, viral infection, and retro-element activation might play an important role in the onset of SS and SLE [20, 21, 23–25].
The majority of previous approaches have focused primarily on inter-disease gene expression between SS, SLE, and RA at the expense of intra-disease gene expression. Additionally, in previously performed meta-analysis studies of SS, SLE, and RA, gene expression profiles of PBMCs only were reported [11, 12]. Other meta-analysis studies have focused on a single disease (e.g., SS, SLE, or RA) using samples from the disease site (e.g., SGs for SS, synovial fluid for SLE, or synovial fibroblasts for RA) [13, 48, 49]. A major caveat of these meta-analysis approaches is the lack of gene expression comparison between PBMCs and the primary site of disease pathology. Thus, the mechanistic changes in PBMCs, which could potentially correlate to changes at the primary site of disease or provide clues as to how these changes might govern tissue-specific autoimmunity, remain largely unexplored. Also, small expression changes in gene subsets acting in concert to significantly impact a biological disease pathway may have not been fully characterized in these previous studies [50].
To our knowledge, this is the first study combining concept mining analysis (CPA using Anni 2.1) and gene expression analysis data on PBMCs along with primary disease site tissues in female patients with SS, SLE, or RA. This study focused on SS by comparing independent mRNA expression datasets generated from PBMCs along with disease-site specimens for SS (SGs), SLE (synovial fluid), and RA (synovial fibroblasts).
Our CPA-identified genes were investigated for their differential expression in PBMC datasets across the three diseases (SS, SLE, and RA) and then further analyzed for their differential expression in datasets generated from disease-site specimens. Minute curation of datasets and the use of CPA identified 22 DE genes in female patients with SS that have not yet been clearly attributed to SS pathophysiology. Among these 22 genes, 21 (excluding CES1) along with the other previously identified genes involved in SS pathogenesis (e.g., MMP9 and TIMP1) formed a tight molecular network (network 1) with a high level of confidence. This result is suggestive of the potential importance of these genes in SS development and progression. Our results are overall consistent with the previous findings showing differential regulation of most genes involved in various biological pathways such as IFN-α signaling, chemotaxis, or response to viral infection.
Additionally, CES1 which was not part of network 1, was found DR by more than fourfold in SGs and UR (~1.6-fold) in PBMCs, indicating that this downregulation may not be directly associated with lymphocytic infiltration. The role of the CES1 gene in SS pathogenesis warrants further investigation. CES1 has been linked to the pathogenesis of non-Hodgkin's lymphoma, possibly involving a mechanism by which the downregulation or deficiency in CES1 reduces the ability of macrophages to kill cancer cells [51]. In addition, patients with SS are 44 times more susceptible to developing non-Hodgkin's lymphoma compared to the normal population [52].
Perez et al. showed that high MMP9/TIMP1 mRNA and protein ratios correlated closely with destruction of the basal lamina of acinar and periductal cells in patients with SS [40, 53]. MMP9 came under our scrutiny because its expression is considerably higher in all of the SG-related microarray gene expression datasets, whereas its expression remained unchanged in the PBMCs of patients with SS. Our meta-analysis confirmed that MMP9 mRNA expression is UR in the SGs of patients with SS, as has been previously described [40, 53].
We identified genes (i.e., CHEK1, ETS1, LEF1, TIMP1, and CXCL10) in network 1 and/or network 2, which were DE in all SG datasets of patients with SS. These genes regulate the expression or function of MMP9 [44–46, 54–56]. CHEK1, CXCL10, ETS1, and LEF1 have been previously shown to UR MMP9 expression in experimental systems in vitro [44–47, 55, 57]. Additionally, DR of TIMP1 in all SG datasets is consistent with a previous study that showed TIMP1 downregulation at the mRNA level, using RT-PCR, and at the protein level, using immunohistochemical assays [40]. TIMP1 downregulation at the protein level was shown to increase MMP9 function in a post-translational process [40]. Also, RAD51 (Additional files 8, 9 and 10: Figures S5, S6, S7) is involved in DNA repair processes such as telomerase repair by direct interaction with CHEK1, a process that might impact X chromosome inactivation [58–61]. Furthermore, the upregulation of ETS1 found in our study of three SG datasets, is consistent with the study by Liang et al. [58]. In this study, higher ETS1 expression in SS was shown based on the same parotid gland dataset used in our study. The expression of ETS1 remained unchanged in the SS PBMC dataset analyzed in our study, suggesting a role in the disease pathophysiology and/or the etiology of SS in regard to a possible pre-existing susceptibility within the SG.
In the present study, we also confirmed CXCL10 to be one of the most significantly UR cytokines in all SS patient datasets, as compared to other cytokines such as IL-6, IL-8 and CCL5. CXCL10 is known to increase MMP9 expression [47, 57]. Importantly, we also found CXCL10 expression to be significantly higher in PBMCs from patients with SS (2.17 FC). In contrast CHEK1, ETS1, and LEF1 were only found UR in the SG datasets. Notably, TLR7, a gene found by the complementary analysis that yielded 381 genes, was significantly UR (3.34 FC) in all SG datasets, but not in the PBMCs from patients with SS. TLR7 has been shown to upregulate expression of cytokines such as CXCL10 in SLE via recognition of nucleic acids including retro-element Alu RNA or foreign RNA/DNA from incoming viruses. In particular CXCL10 is known to induce MMP9 expression, which could damage the extracellular matrix (ECM) and SG cells, potentially affecting saliva secretion [62]. Further, in SGs CXCL10 is known to trigger recruitment and chemotaxis of monocytes [47]. We also analyzed the expression of TIMP1, a major inhibitor of MMP9 in all SG datasets of patients with SS. As anticipated, the expression of this gene was lower in the SG datasets of these patients compared to controls.
Overall, the results from both analyses raise the possibility that combined effects of candidate genes, CHEK1, ETS1, LEF1, TIMP1, and CXCL10, might lead to increased MMP9 levels that can potentially be detrimental to the structural integrity of the SGs in patients with SS. Furthermore, TIMP1 is an X-linked gene that has been investigated for the effects of its polymorphisms in X chromosome inactivation [63, 64]. Whether TIMP1 has any role in the imbalance of the female/male ratio remains to be determined. Because mRNA expression levels do not necessarily correlate with protein levels, biological experiments are warranted to demonstrate whether direct or combined regulatory effects of CHEK1, ETS1, LEF1, and TIMP1 on MMP9 expression or function indeed occur in patients with SS.
Based on our findings and current literature, we propose a model providing an explanation for the potential impact on the etiology and pathophysiology of SS of the candidate genes discussed (Fig.
4
). In this model, we have also taken into consideration the potential role of viruses, retro-elements and other environmental factors in SS. The present study uncovered the potential impact of PBMC DE genes on tissue-specific gene expression profiles related to SS. This fundamental comparison could provide a deeper understanding of the etiology of SS or similar diseases. We have shown that combining CPA with curated gene expression datasets can be useful in identifying candidate biomarkers of complex diseases or in the targeted drug discovery process [
26
–
28
,
65
].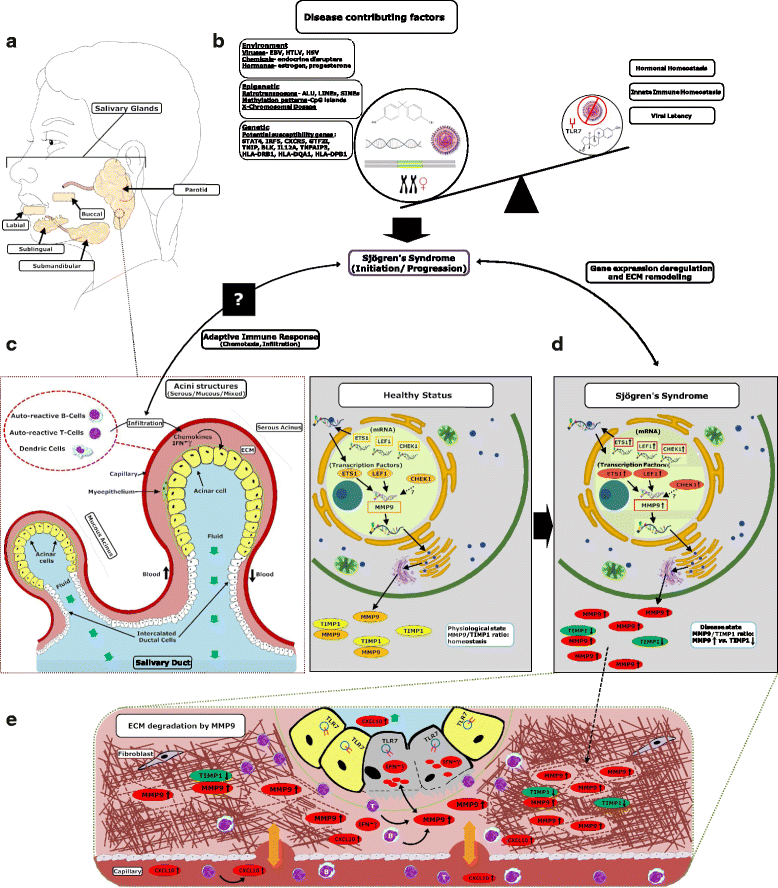 A limitation of our analysis is the lack of uniformly normalized data across platforms and optimal controls in the original experiments. One of the eight datasets used was based on an Illumina platform and the rest were from the Affymetrix platform, indicating that the FC in expression is approximate. Also, there are fundamental differences between the cellularity and gene expression profiles of different cell types within the SG tissue, including periductal, acinar and infiltrated mononuclear cells. The microarray datasets available in GEO2R for SS have been generated from the studies that did not account for these differences in cellularity, e.g., by using a laser capture microdissection technique. Nevertheless, to find the most relevant candidate genes involved in the pathogenesis of SS, our approach compared datasets from the related autoimmune diseases, SS, SLE, and RA.
Conclusions
Overall, our meta-analysis combining both CPA and gene expression analysis supports the hypothesis that increased levels of MMP9 resulting from dysregulation of CHEK1, ETS1, LEF1, TIMP1 and CXCL10 might contribute to the pathogenesis of SS. Further molecular and biochemical experiments are required to confirm potential biomarkers associated with the MMP9 regulatory pathway in order to better understand the etiology of this complex disease. In conclusion, targeting multiple MMP9 effectors might be a useful strategy for therapeutic development in SS.
Abbreviations
BLK:

B lymphoid tyrosine kinase
CCL5:

C-C motif chemokine ligand 5
CD19:

Cluster of differentiation 19
CD4:

Cluster of differentiation 4
CES1:

Carboxylesterase 1
CHEK1:

Checkpoint kinase 1
COL11A2:

Collagen type XI alpha 2
CPA:

Concept profile analysis
CXCL10:

C-X-C motif chemokine ligand 10
DE:

Differentially expressed
DR:

Downregulated
ECM:

Extracellular matrix
ETS1:

V-Ets avian erythroblastosis virus E26 oncogene homolog 1
FC:

Fold change
GO:

Gene Ontology
GTF2I:

General transcription factor IIi
GWAS:

Genome-wide association study
HLA-DPB1:

Major histocompatibility complex, class II, DP beta 1
HLA-DQA1:

Major histocompatibility complex, class II, DQ alpha 1
HLA-DQB1:

Major histocompatibility complex, class II, DQ beta 1
HLA-DRB1:

Major histocompatibility complex, class II, DR beta 1
HUGO:

Human Genome Organization
IFN:

Interferon
IL12A:

Interleukin 12A
IL-6:

Interleukin 6
IL-8:

Interleukin 8
ISG:

Interferon stimulated gene
KEGG:

Kyoto Encyclopedia of Genes and Genomes
LEF1:

Lymphoid enhancer binding factor 1
LSG:

Labial salivary gland
MMP9:

Matrix metalloproteinase 9
mRNA:

Messenger ribonucleic acid
MSG:

Minor salivary gland
NCBI-GEO:

National Center for Biotechnology Information-gene expression omnibus
PBMC:

Peripheral blood mononuclear cells
PG:

Parotid gland
PTTG1:

Pituitary tumor-transforming 1
RA:

Rheumatoid arthritis
SG:

Salivary gland
SLE:

Systemic lupus erythematosus
SNP:

Single nucleotide polymorphisms
SS:

Sjögren's syndrome
STAT4:

Signal transducer and activator of transcription 4
STRING:

Ssearch tool for the retrieval of interacting genes/proteins
TAP2:

Transporter 2, ATP-binding cassette, sub-family B
TIMP1:

Tissue inhibitor of metalloproteinase
TNFAIP3:

Tumor necrosis factor, alpha-induced protein 3
TNIP1:

TNFAIP3 Interacting protein 1
UR:

Upregulated
Declarations
Acknowledgements
This work was supported by the Carolinas HealthCare System Research Fund. We also thank Drs. Jan Kors of Erasmus University Medical Center and Kristina Hettne of Leiden University Medical Center, Netherlands for helpful discussions on the application of the Anni 2.1 program related to a similar project.
Funding
Funding was from the Carolinas HealthCare System Research Fund.
Availability of data and materials
All the supporting data is fully available upon request.
Authors' contributions
Study concept and design: J-LCM, FBM, MTB, and NRS. Acquisition of data: NRS and BDN. Analysis and interpretation of the data: J-LCM, FBM, NRS, BDN, and CBS. Statistical analysis: J-LCM. All authors were involved in drafting the manuscript, and in critical revision of the manuscript and approval of the final version. All authors read and approved the final manuscript.
Authors' information
Not applicable.
Ethical approval and consent to participate
Not applicable, as the metadata were obtained from the NCBI-GEO database [GEO:GSE48378; GSE10325; GSE15573; GSE23117; GSE40611; GSE40568; GSE36700; GSE7669] and were analyzed using GEO2R.
Consent for publication
Not applicable, as the metadata were obtained from the NCBI-GEO database and were analyzed using GEO2R.
Competing interests
The authors declare that they have no competing interests.
Publisher's Note
Springer Nature remains neutral with regard to jurisdictional claims in published maps and institutional affiliations.
Open AccessThis article is distributed under the terms of the Creative Commons Attribution 4.0 International License (http://creativecommons.org/licenses/by/4.0/), which permits unrestricted use, distribution, and reproduction in any medium, provided you give appropriate credit to the original author(s) and the source, provide a link to the Creative Commons license, and indicate if changes were made. The Creative Commons Public Domain Dedication waiver (http://creativecommons.org/publicdomain/zero/1.0/) applies to the data made available in this article, unless otherwise stated.
Authors' Affiliations
(1)
Department of Oral Medicine, Carolinas Medical Center, Carolinas HealthCare System, Charlotte, USA