Emerging technologies in autoantibody testing for rheumatic diseases
Arthritis Research & Therapy
2017
19:172
Abstract
Testing for the presence of antinuclear antibodies (ANAs) is a key step in the diagnosis of systemic lupus erythematosus (SLE) and other systemic autoimmune rheumatic diseases (SARD). The standard slide-based indirect immunofluorescence (IIF) test is widely used, but is limited by a relative lack of specificity for SLE and not all SARD-ANAs are detected. Alternative immunoassays that might offer enhanced diagnostic and prognostic information have evolved, and some of these have entered clinical practice. This review summarizes the current state of ANA testing and multiplex techniques for detecting other autoantibodies, the possibility of point-of-care testing, and approaches for applications in early disease stages.
Keywords
Systemic autoimmune rheumatic diseasesSystemic lupus erythematosusAntinuclear antibodiesAutoantibodiesBiomarkersPoint of care testingImmunoassays
Background
Systemic autoimmune rheumatic diseases (SARD) afflict 3–5% of the population [1] and are associated with enormous burdens on individuals and society due to poor quality of life, lower productivity, and growing direct and indirect healthcare costs [2, 3]. A hallmark of SARD is the presence of autoantibodies directed against a spectrum of intracellular autoantigens, in general referred to as antinuclear antibodies (ANAs) [4]. Often, ANAs are the only disease-specific serological markers for an underlying SARD and, as such, many have become part of classification criteria developed to provide a common basis for disease prediction and prognosis, an accurate diagnosis, disease monitoring, entry into therapeutic trials, and understanding the pathogenesis of the SARD [4–7]. While the ANA test is generally requested as a means of confirming a diagnosis and intent to treat a specific SARD, in a general practice setting it is also used as an approach to case finding [8]. Although clinicians formulate a differential diagnosis based on history and physical examination, practice analysis shows that most readily act only after receiving confirmatory or exclusionary laboratory test results [9, 10]. Hence, it is important to have an understanding of the proper use of autoantibody testing and its value, as well as limitations [4].
One of the major challenges in adopting an evidence-based approach to ANA testing is the discrepancies observed in studies that characterize autoantibodies as biomarkers of disease onset and disease activity. These discrepancies are due to a wide range of variables that include technical aspects of clearly defined methodology and assay performance, but are also due to a lack of prospective or longitudinal studies, patient selection bias, use of inconsistent definitions for disease activity, variations in nomenclature of autoantibodies, frequency of testing, and effects of therapy, which contribute to conflicting results [11, 12]. It should also be noted that disease activity, disease severity, and the ensuing irreversible tissue and organ damage should be conceptually distinguished, and measurement tools for these parameters may be different [13]. Despite these potential problems in interpreting ANA results, the clinician's goal of making an early and accurate diagnosis as well as judging disease activity has made the practice of ordering autoantibodies widespread and frequent [14, 15]. For example, more than 90% of US rheumatologists use serial anti-dsDNA autoantibody titers to monitor disease activity in systemic lupus erythematosus (SLE) [10].
In this review, we outline the use of common and emerging technologies that are used to detect antinuclear and related autoantibodies (Table
1
).
Table 1
Advantages of various ANA immunoassay techniques
| Assay Type | Low cost | Rapid | Automated | Sensitivity | Specificity | Quantitative | Availability | Reproducibility | High throughput | Small sample volume |
| --- | --- | --- | --- | --- | --- | --- | --- | --- | --- | --- |
| IIF | + | + | (++)* | ++ | + | ++ | ++ | + | + | – |
| ELISA | ++ | ++ | ++ | +++ | ++ | ++ | ++ | ++ | ++ | + |
| LIA | – | ++ | ++ | ++ | ++ | ++ | ++ | + | + | ++ |
| ALBIA, CIA, other bead-based arrays | ++ | +++ | +++ | +++ | ++ | +++ | ++ | + | +++ | +++ |
| Planar array | ++ | ++ | ++ | ++ | ++ | + | – | – | ++ | ++ |
| Point-of-Care | + | +++ | – | + | ++ | + | – | ++ | – | + |
Detection of early disease
In the past decade, it has become clear that autoantibodies are present in the preclinical stages of SARD including SLE [69, 70]. This information has raised interest in pushing the diagnostic window earlier in the time course, prior to the development of significant morbidity or organ damage. Patients with ILE have fewer autoantibodies than SLE patients as well as lower ANA titers [71]. Studies using two-dimensional autoantigen arrays have shown that ILE patients have patterns of autoreactivity that lie intermediate between healthy individuals and those with SLE [52]. Furthermore, ratios of autoantibodies expressed in IgG and IgM classes differ, with the ILE patients showing relatively greater IgM-class autoreactivity. ILE patients are not necessarily individuals who are in early stages of lupus, but ILE is clearly a category that includes patients at high risk of progression to classifiable SLE. In one small study, 3 of 22 patients with ILE who progressed to SLE over a mean time period of 2.4 years showed significant increases in some IgG specificities detected on an array [72]. One of these was SSB, consistent with other findings indicating that this specificity increases late in the preclinical period [73]. Whether something like the SLE exclusion test array that has already been discussed [62] might help to discriminate ILE patients with and without risk of progression is an interesting possibility that has not been investigated.
Point of care (POC) diagnostic technologies
The consultative and diagnostic services in rheumatology are not typically considered clinical emergencies, which require same-day diagnostic or clinical decisions. While this may hold true for certain chronic and noninflammatory conditions, it is important to appreciate that SLE, vasculopathies, and antiphospholipid syndrome can present with or develop intercurrent acute and life-threatening features which need to be diagnosed and acted upon quickly to prevent irreversible immune-mediated damage and mortality. It is in this and other clinical settings that POC testing may be useful [
74
]. It has been estimated that 10–25% of all patients with rheumatologic disorders visiting emergency departments require hospital admission, and up to one-third of hospitalized patients need intensive care [
75
–
78
]. These emergencies may present as a rapidly evolving multisystem organ failure, as a mimic of other conditions such as an infectious disease, or with misleading, deceptively benign clinical signs. In a clinic setting, a negative result of a POC ANA test might offer immediate insight and eliminate the need for ordering other expensive autoantibody profiles or referral to a specialist (Fig.
3
). Similar approaches could apply to acute-onset vasculopathies such as granulomatosis with polyangiitis or renal-pulmonary syndrome where a specific POC test based on proteinase 3, myeloperoxidase, and/or glomerular basement membrane antibodies might have value as an adjunct to initiating immediate immunotherapy [
79
]. Having a high level of suspicion, sufficient clinical knowledge, and a method for detection of circulating autoantibody markers are factors that contribute significantly to a timely diagnosis. The use of specific autoantibody testing for the diagnostic process in an acute clinical setting is growing in demand. Availability of a POC for ANA testing has the potential to change practice patterns, not just in rheumatology but also in primary care [
80
].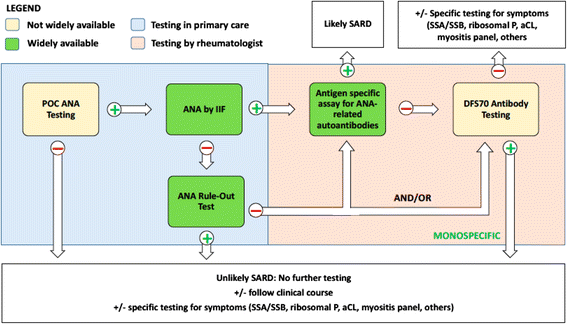 New technologies ranging from fairly simple lateral flow technologies to more sophisticated lab-on-a-chip that deliver rapid, low-cost, highly specific, and quantitative results is a goal of point of care testing. Current POC immunoassay technologies come in various configurations and complexities (reviewed in [74, 81]). Several of the newer biosensors have equaled or surpassed traditional central laboratory methods in performance metrics such as sensitivity, specificity, and especially time to result. Devising reliable assays for measuring a specific antibody in human serum is more difficult than measuring most nonantibody analytes in biological fluids, because any one antibody specificity is usually a tiny fraction of total serum immunoglobulin. Nonspecific binding of immunoglobulin may have impeded the development of reliable antibody biosensors. However, recent and evolving advances in the technologies of immunosensors have provided improving accuracy in quantification and low detection limit in testing for some autoantibodies (i.e., anti-dsDNA) commonly used in rheumatology clinical practice [82, 83]. By virtue of its rapid, bed-side, real-time data collection capability, POC testing has the potential to change the practice of medicine, and rheumatology will not be an exception. Commercialization, regulatory certification, and clinician acceptance of POC autoantibody testing in rheumatology is a work in progress.
Conclusion
ANA testing has been in clinical use for more than 60 years and was a major advancement in defining SLE as a disease. Measurements of ANAs and related autoantibodies are now commonly used by rheumatologists and nonspecialist providers for diagnosis and classification of SLE and other SARD. However, limitations of the currently available tests have prompted development of other approaches that would offer greater specificity, prognostic value, cost efficiency, and other advantages. These approaches include multiplexed planar and bead arrays as well as rapid detection methods for POC testing, with small sample volumes. Applications including those that would provide assessment of the risk of disease progression are likely to enter clinical practice in the next decade.
Abbreviations
ALBIA:

Addressable laser bead immunoassay
ANA:

Antinuclear antibody
BAFF:

B cell activating factor
CIA:

Chemiluminescence immunoassay
CSF:

Cerebrospinal fluid
DFS70:

Dense fine speckles 70
ELISA:

Enzyme-linked immunosorbent assay
Fab:

Antigen-binding antibody fragment
IFN:

Interferon
IIF:

Indirect immunofluorescence
ILE:

Incomplete lupus erythematosus
LEDGF:

Lens epithelium-derived growth factor
LIA:

Line immunoassay
LN:

Lupus nephritis
NET:

Neutrophil extracellular trap
NPSLE:

Neuropsychiatric systemic lupus erythematosus
POC:

Point of care
SARD:

Systemic autoimmune rheumatic diseases
SLE:

Systemic lupus erythematosus
Declarations
Acknowledgements
Not applicable.
Availability of data and materials
Not applicable.
Authors' contributions
NJO and MJF organized the topics for review. NJO, MYC, and MJF contributed equally to the writing and preparation of illustrations. All authors reviewed and approved the final version submitted for publication.
Authors' information
NJO is Professor of Medicine and Chief of Rheumatology at the Penn State M.S. Hershey Medical Center in Hershey PA. MYC is a member of the Division of Rheumatology at the University of Calgary, Alberta, Canada. MJF is a professor in the Department of Medicine and Department of Biochemistry and Molecular Biology at the University of Calgary.
Ethical approval and consent to participate
Not applicable.
Consent for publication
Not applicable.
Competing interests
NJO has a research grant from Mallinckrodt Pharmaceuticals and has been a site investigator for Resolve Therapeutics, Aurina Pharmaceuticals, Pfizer, and Horizon Pharmaceuticals. She has been an unpaid consultant for Immunarray Ltd. and IQuity, Inc. MJF is a consultant to Inova Diagnostics Inc. (San Diego, CA, USA), Werfen International (Barcelona, Spain), and has received gifts in kind from Euroimmun GmbH (Luebeck, Germany) and Alexion Pharma Canada. MYC declares that she has no competing interests.
Publisher's Note
Springer Nature remains neutral with regard to jurisdictional claims in published maps and institutional affiliations.
Open AccessThis article is distributed under the terms of the Creative Commons Attribution 4.0 International License (http://creativecommons.org/licenses/by/4.0/), which permits unrestricted use, distribution, and reproduction in any medium, provided you give appropriate credit to the original author(s) and the source, provide a link to the Creative Commons license, and indicate if changes were made. The Creative Commons Public Domain Dedication waiver (http://creativecommons.org/publicdomain/zero/1.0/) applies to the data made available in this article, unless otherwise stated.
Authors' Affiliations
(1)
Penn State M.S. Hershey Medical Center, Hershey, USA
(2)
Cumming School of Medicine, University of Calgary, Calgary, Canada