An update on the genetic architecture of hyperuricemia and gout
Arthritis Research & Therapy
2015
17:98
Abstract
Genome-wide association studies that scan the genome for common genetic variants associated with phenotype have greatly advanced medical knowledge. Hyperuricemia is no exception, with 28 loci identified. However, genetic control of pathways determining gout in the presence of hyperuricemia is still poorly understood. Two important pathways determining hyperuricemia have been confirmed (renal and gut excretion of uric acid with glycolysis now firmly implicated). Major urate loci are SLC2A9 and ABCG2. Recent studies show that SLC2A9 is involved in renal and gut excretion of uric acid and is implicated in antioxidant defense. Although etiological variants at SLC2A9 are yet to be identified, it is clear that considerable genetic complexity exists at the SLC2A9 locus, with multiple statistically independent genetic variants and local epistatic interactions. The positions of implicated genetic variants within or near chromatin regions involved in transcriptional control suggest that this mechanism (rather than structural changes in SLC2A9) is important in regulating the activity of SLC2A9. ABCG2 is involved primarily in extra-renal uric acid under-excretion with the etiological variant influencing expression. At the other 26 loci, probable causal genes can be identified at three (PDZK1, SLC22A11, and INHBB) with strong candidates at a further 10 loci. Confirmation of the causal gene will require a combination of re-sequencing, trans-ancestral mapping, and correlation of genetic association data with expression data. As expected, the urate loci associate with gout, although inconsistent effect sizes for gout require investigation. Finally, there has been no genome-wide association study using clinically ascertained cases to investigate the causes of gout in the presence of hyperuricemia. In such a study, use of asymptomatic hyperurcemic controls would be expected to increase the ability to detect genetic associations with gout.
Keywords
Uric Acid
Gout
Hyperuricemia
Serum Urate
Mendelian Randomization
Introduction
Hyperuricemia is necessary but not sufficient for gout. Gout is typically characterized by recurrent self-resolving attacks of acute inflammatory arthritis and occurs in about a quarter of people with elevated serum urate levels (hyperuricemia) [
1
]. The metatarsal-phalangeal joint of the big toe is most often affected, but gout commonly affects other joints. Two important physiological mechanisms determine hyperuricemia: (a) increased production of the urate in the liver from dietary and endogenous substrates that raise purine levels and (b) reduced renal and gut excretion of uric acid (Figure
1
). In the presence of hyperuricemia, factors controlling the formation of monosodium urate (MSU) crystals in synovial fluid and the subsequent innate immune inflammatory response are relatively poorly understood. However, activation of Toll-like receptors and inflammasome-mediated release of the pro-inflammatory cytokine interleukin-1β is known to be a central pathway [
2
]. Like any other complex phenotype, hyperuricemia and gout result from the interplay between inherited genetic risk variants and environmental exposures [
3
]. The genetic component will be discussed in this review, and environmental exposures that interact with genetic risk variants will also be considered.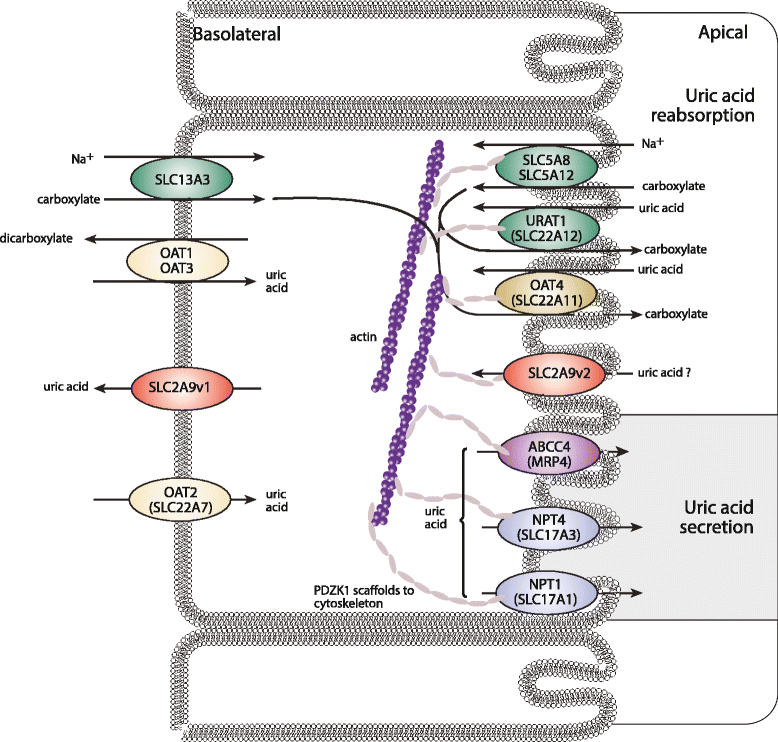 A genome-wide association study (GWAS) scans the genome, in an unbiased fashion using common genetic variants (typically single-nucleotide polymorphisms), for loci causally associated with a particular phenotype. Genes contained within the associated loci are candidates for involvement in causal pathogenic pathways. Köttgen and colleagues [4] reported, in a GWAS of more than 140,000 European individuals, statistically significant associations of 28 separate genetic loci with serum urate levels. This study confirmed the association with urate levels of 10 loci discovered in earlier and smaller GWASs [5-7]. Reviewed elsewhere [8-11], the 10 are dominated by loci containing genes that were either known (SLC22A11/OAT4, SLC22A12/URAT1, SLC17A1/NPT, and PDKZ1) or novel (SLC2A9/GLUT9 and ABCG2) renal and gut transporters of uric acid. The GCKR (glucokinase regulatory protein) locus implicates production of urate by glycolysis, but the functional relevance of the remaining loci (SLC16A9/MCT9, INHBC, and RREB1) is unclear, although MCT9 may be a renal sodium transporter and has been linked to urate via carnitine metabolism [6]. Predictably most, but not all, of these 10 loci consistently associate with gout in multiple ancestral groups [4,12,13].
The lead associated genetic variants at SLC2A9 and ABCG2 collectively explain, depending on sex, 3% to 4% of the variance in urate levels. On average, the urate-raising allele at SLC2A9 increases serum urate by 0.373 mg/dL (0.022 mmol/L) and the urate-raising allele at ABCG2 by 0.217 mg/dL (0.013 mmol/L), both of which are clinically significant amounts [4]. SLC2A9 and ABCG2 have equivalent effects in men; SLC2A9 has a stronger effect in women than men and vice versa for ABCG2 [4]. Sex-specific effects aside, both loci (in particular, SLC2A9) exert very strong control on urate levels, when compared with the effect of the other 26 confirmed urate loci that collectively explain a similar proportion of variance. Thus, there is considerable research interest in understanding the molecular basis of urate control by SLC2A9 and ABCG2 and their clinical significance.
Abbreviations
eSNP:

Expression single-nucleotide polymorphism
FEUA:

Fractional excretion of uric acid
GRAIL:

Gene Relationships Across Implicated Loci
GxE:

Gene-environment
GWAS:

Genome-wide association study
MSU:

Monosodium urate
OR:

Odds ratio
ROS:

Reactive oxygen species
SNP:

Single-nucleotide polymorphism
SSB:

Sugar-sweetened beverage
Declarations
Acknowledgments
The author would like to thank Philip Tan for sharing his expertise on SLC2A9.
Authors' Affiliations
(1)
Department of Biochemistry, University of Otago, Dunedin, New Zealand
Copyright
© Merriman; licensee BioMed Central. 2015
This is an Open Access article distributed under the terms of the CreativeCommons Attribution License (http://creativecommons.org/licenses/by/4.0), which permits unrestricted use, distribution, and reproduction in any medium, provided the original work is properly credited. The Creative Commons Public Domain Dedication waiver (http://creativecommons.org/publicdomain/zero/1.0/) applies to the data made available in this article, unless otherwise stated.